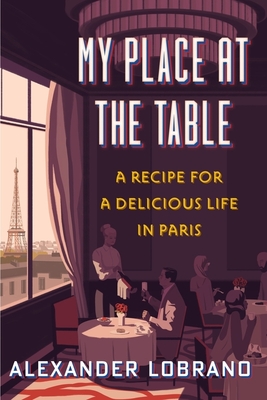 My Place At The Table
A Recipe for a Delicious Life in Paris
Hardcover

* Individual store prices may vary.
Other Editions of This Title:
Digital Audiobook (5/31/2021)
MP3 CD (6/1/2021)
Description
In this debut memoir, a James Beard Award–winning writer, whose childhood idea of fine dining was Howard Johnson's, tells how he became one of Paris's most influential food critics  

Until Alec Lobrano landed a job in the glamorous Paris office of Women's Wear Daily, his main experience of French cuisine was the occasional supermarket éclair. An interview with the owner of a renowned cheese shop for his first article nearly proves a disaster because he speaks no French. As he goes on to cover celebrities and couturiers and improves his mastery of the language, he gradually learns what it means to be truly French. He attends a cocktail party with Yves St. Laurent and has dinner with Giorgio Armani. Over a superb lunch, it's his landlady who ultimately provides him with a lasting touchstone for how to judge food: "you must understand the intentions of the cook." At the city's brasseries and bistros, he discovers real French cooking. Through a series of vivid encounters with culinary figures from Paul Bocuse to Julia Child to Ruth Reichl, Lobrano hones his palate and finds his voice. Soon the timid boy from Connecticut is at the epicenter of the Parisian dining revolution and the restaurant critic of one of the largest newspapers in the France.

A mouthwatering testament to the healing power of food, My Place at the Table is a moving coming-of-age story of how a gay man emerges from a wounding childhood, discovers himself, and finds love. Published here for the first time is Lobrano's "little black book," an insider's guide to his thirty all-time-favorite Paris restaurants.
 
Praise For My Place At The Table: A Recipe for a Delicious Life in Paris…
"A redoubtable restaurant critic and 30-year resident of Paris sets the table with an enticing menu of memories...Lobrano writes with mouthwatering elan, dash, and feeling."—Kirkus "Lobrano's story is inspiring, and his prose lush and inviting. Readers will savor every last page."—Publishers Weekly "Rest assured, there's never a dull moment in My Place at the Table. It's a veritable feast of humility, humor and emotion."—BookPage "Like so many food-lovers, Alec Lobrano dreamed of a life in Paris. Unlike the rest of us, he made the dream come true. In this warm, delicious, and extremely candid book, he lets us in on all his secrets. Everyone who loves French food will want to read this memoir."  —Ruth Reichl   "A flat-out wonderful read, full of the stories and secrets that make eating in Paris what we want to be doing right now. Lobrano has a genius for finding characters at every level of the food chain—the peasant chef, or the grande dame home cook, or the bistro revolutionary with his simple, perfect dishes—and for owning up to tasting foods for the first time and describing them with surprising poetic flair. Reading My Place at the Table on a New York subway, I did something I have never done: I missed my stop." —Bill Buford, best-selling author of Heat and Dirt   "In this coming-of-age tale, Alec Lobrano chronicles his discovery of taste during a challenging youth, which led him to emerge as one of the most astute and brilliant writers on French cuisine. Few understand France, and its cuisine, as deeply as Alec, and readers will devour My Place at the Table, which is seasoned by his sharp humor, a soupçon of heartbreak, and the satisfaction of triumph, all framed by his reminiscences of delicious dining at Paris's most lauded tables. This book is truly a recipe for pleasure! —David Lebovitz, author of My Paris Kitchen and French Drinks   "Alexander Lobrano's beautiful memoir about finding himself through writing about food is charming, wise, and often very funny. An American who has lived in Paris for more than thirty years, he offers fresh insights into French culinary culture." —Alice Waters    "A long-lasting love story with the French food scene told with wit, verve, and great expertise."  —Chef Alain Ducasse   "Lobrano excels in weaving a full and timeless human story with bits of mouthwatering epicureanism. He elevates food to an essential anchor of memory in a rich and dynamic human story and shows us that deliciousness, in food and in writing, is achieved through authenticity, clarity, and vulnerability. This book is another example of why Alec Lobrano's voice is so important:  His writing is a meticulous, generous, and joyful affirmation of life."   —Daniel Rose, chef, New York City (Le Coucou) and Paris (Chez la Vieille)   "All I really wanted to do was go to different places to eat, and then write it all down," says a young Alexander Lobrano in My Place at the Table. Thank goodness he followed his appetites, which eventually led him to Paris, renown as a food critic and now, the author of a memoir that's by turns poi —
Harvest, 9781328588838, 256pp.
Publication Date: June 1, 2021
About the Author
ALEC LOBRANO's name is virtually synonymous with Paris food. He writes regularly on food and travel for the New York Times, the Wall Street Journal,Bon Appétit,Saveur,Food & Wine, Condé Nast Traveler, and many other publications. He writes a regular column on Paris restaurants for France Today, and he is also the French correspondent for Germany's largest food magazine, Der Feinschmecker. He has appeared on CBS Morning News,TODAY,Chef's Table, and Iron Chef. He lives in Paris.