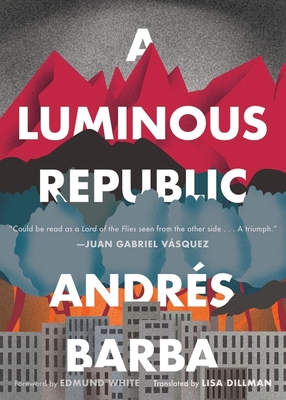 A Luminous Republic
Paperback

* Individual store prices may vary.
Other Editions of This Title:
MP3 CD (4/14/2020)
Description
A "captivating" novel from a Spanish literary star about the arrival of feral children to a tropical city in Argentina, and the quest to stop them from pulling the place into chaos (Boston Globe).

San Cristóbal was an unremarkable city—small, newly prosperous, contained by rain forest and river. But then the children arrived.

No one knew where they came from: thirty-two kids, seemingly born of the jungle, speaking an unknown language. At first they scavenged, stealing food and money and absconding to the trees. But their transgressions escalated to violence, and then the city's own children began defecting to join them. Facing complete collapse, municipal forces embark on a hunt to find the kids before the city falls into irreparable chaos.

Narrated by the social worker who led the hunt, A Luminous Republic is a suspenseful, anguished fable that "could be read as Lord of the Flies seen from the other side, but that would rob Barba of the profound originality of his world" (Juan Gabriel Vásquez).

"Wholly compelling." —Colm Tóibín
Praise For A Luminous Republic…
Winner of the Premio Herralde  A Wired Must-Read Spring Title  A Millions Most Anticipated Title of 2020  A Lit Hub Most Anticipated Title of 2020  A Lit Hub Best Book of April  A Tor.com Best Book of April    "One pleasure of the novel derives from the way its eerie events are addressed in such a matter-of-fact tone...At the same time, allusions to fairy tales and folklore are an essential part of the picture, making the book something much more otherworldly than an issues-centric social critique. Translator Lisa Dillman captures both the docudrama tones and anarchic threats of the story with perfect facility...The final moments of revelation make for a highly cinematic set piece, but they're seriously rivaled by the pleasures throughout the book of being steeped in the way its narrator's mind works...A Luminous Republic, in addition to being a captivating piece of storytelling, is a primer on the manner in which we perceive and create our own realities. Barba is especially beguiling as he ponders the way that playfulness, performance, and social conformity create our sense of who and what we are."  —Boston Globe    "Barba has displayed an enviable gift for conveying, through an inventively abstract style, the strange worlds of childhood and early adolescence."  —New York Times    "A Luminous Republic has all the stark power of a folk-tale or a fable. It also raises concerns that are pressing and contemporary—about the function and source of language, about pu"blic paranoia and hysteria, about the idea of community and how information spreads. At the book's center is a moving personal story about memory and loss. The narrative is engaging, at times playful, wholly compelling."  —Colm Tóibín, New York Times-bestselling author of Nora Webster and Brooklyn    "A Luminous Republic is a terrifying masterpiece. To lay bare with such stunning precision the nature of self-obsession – the viciousness with which any one of us might respond to that which we don't understand – marks Andrés Barba as a writer of extraordinary talent. He has created a small, simple story and within it buried immense complexity and truth."  —Omar El Akkad, bestselling author of American War    "[An] inverted-colors fairytale." —Wired    "A wonderfully creepy and authentically different example of Modern Weird, and admirers of John Langan, Paul Trembly, Laird Barron, and, yes, J.G. Ballard will find much to excite their affections here...[A] lulling, judicious, cerebral yet emotive first-person voice...We will be watching events long resolved, through the scrim of time. But as we shall soon learn, this does not diminish the horror, but gives it a clinical heft...The narrator takes time to sketch a portrait of San Cristóbal in bright details, making the place solid to our senses. Its river, the surrounding jungles, the indigenous tribal members, the architecture, the citizens—all are limned economically and with real substance. This allows the weirdness, when it comes, to stand out in vivid contrast...Barba's prose relies heavily on rich and poignant aphorisms from its sensitive and self-doubting narrator. I could quote endlessly...And Barba's precision in describing the weather of the psyche—both the narrator's and those of the populace and the wild children—takes the reader on a rollercoaster of feeling...It's this kind of forceful symbolic language embedded in action that imbues what might otherwise be a simplistic tale of bad-seed kids wi —
HarperVia, 9781328589347, 208pp.
Publication Date: April 14, 2020
About the Author
ANDRÉS BARBA is the award-winning author of numerous books, including Such Small Hands and The Right Intention. He was one of Granta's Best Young Spanish novelists and received the Premio Herralde for Luminous Republic, which will be translated into twenty languages.

LISA DILLMAN translates from Spanish and Catalan and teaches in the Department of Spanish and Portuguese at Emory University. Some of her recent translations include Signs Preceding the End of the World, by Yuri Herrera, which won the 2016 Best Translated Book Award; Such Small Hands and Rain Over Madrid, by Andrés Barba; Monastery, co-translated with Daniel Hahn, by Eduardo Halfon; and Salting the Wound, by Víctor del Árbol.