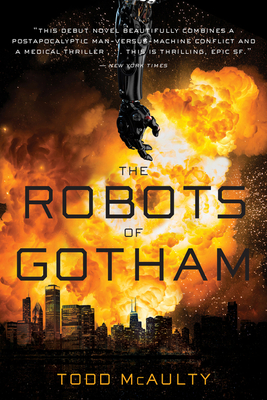 The Robots of Gotham (Paperback)
John Joseph Adams/Mariner Books, 9781328589835, 688pp.
Publication Date: June 4, 2019
Other Editions of This Title:
Hardcover (6/19/2018)
* Individual store prices may vary.
Description
A thrilling adventure in a world one step away from total subjugation by machines
After long years of war, the United States has sued for peace, yielding to a brutal coalition of nations ruled by fascist machines. One quarter of the country is under foreign occupation. Manhattan has been annexed by a weird robot monarchy, and in Tennessee, a permanent peace is being delicately negotiated between the battered remnants of the U.S. government and an envoy of implacable machines.
      Canadian businessman Barry Simcoe arrives in occupied Chicago days before his hotel is attacked by a rogue war machine. In the aftermath, he meets a dedicated Russian medic with the occupying army, and 19 Black Winter, a badly damaged robot. Together they stumble on a machine conspiracy to unleash a horrific plague—and learn that the fabled American resistance is not as extinct as everyone believes. Simcoe races against time to prevent the extermination of all life on the continent . . . and uncover a secret that America's machine conquerors are desperate to keep hidden.
About the Author
TODD McAULTY grew up in Nova Scotia and earned a Ph.D. using supercomputers to solve problems involving massive amounts of data. He was a manager at the start-up that created Internet Explorer, and currently works at a machine learning company in Chicago. The Robots of Gotham is his first novel.