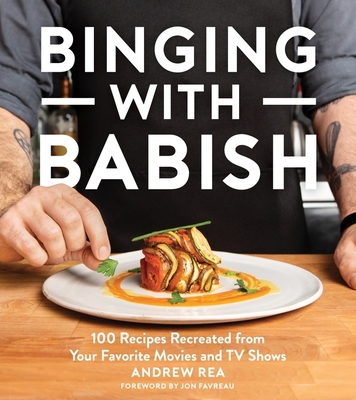 Binging with Babish
100 Recipes Recreated from Your Favorite Movies and TV Shows
Hardcover

* Individual store prices may vary.
Description
NEW YORK TIMES BESTSELLER!
The book that 5 million fans of Binging with Babish on YouTube have been waiting for!

The internet cooking show Binging with Babish has taken YouTube by storm with views as high as 12 million per episode. For each video, Andrew Rea, a self-proclaimed movie and TV buff, teaches a recipe based on a favorite TV show or film, such as the babka from the classic Seinfeld episode, the beef bourguignon from Julie & Julia, or the timpano from Big Night. This cookbook includes these and other fan-favorite recipes. Some are so delicious that you'll want to make them for dinner right away, like Bubba's shrimp from Forrest Gump, while others can be saved for impressing a loved one—like the chocolate lava cake from Jon Favreau's Chef, which the actor/director (who also wrote the foreword) asked to make during a guest appearance on Rea's show. Complete with behind-the-scenes stories and never-seen-before photos, as well as answers to frequently asked fan questions, Binging with Babish is a must-have companion to the wildly popular YouTube show.
Praise For Binging with Babish: 100 Recipes Recreated from Your Favorite Movies and TV Shows…
"Much like with cooking, we go into the field of storytelling because we want to connect with others on an emotional level. . . . Emotion, memory, and sensation are all intertwined on that rare occasion you hit it right. Andrew not only points his audience to the moments in film where all of those things come together, he also shows them how to create these moments in real life."
—from the foreword by Jon Favreau
 
"Andrew writes a fun filled book tying cinema to proper cookery. A man after my own heart, not taking himself very seriously, but his craft very seriously. Prison gravy! Get outta here."
—Isaac Toups, chef/owner Toups' Meatery and Toups South
 
"Andrew Rea has captivated millions of viewers by recreating some of the most iconic dishes in TV and film. He's a true original. I mean, I've read a lot of cookbooks in my day, but this is the first time I've ever seen a recipe for Homer Simpson's Space-Age Out-of-This-World Moon Waffles."
—Sean Evans, host of Hot Ones
 
"Andrew Rea's Binging with Babish is not merely a first-rate cookbook replete with gorgeous photos and mouthwatering recipes, it also details Rea's revealing and moving personal journey from special effects wizard to YouTube stardom. How rare to find a cookbook that can make you laugh and cry and hungry in a single recipe."
—Ed Levine, founder of Serious Eats
 
"We sometimes buy cookbooks for their gorgeous photography, or their amazing sounding recipes, or because we love the stories told within, but the very rarest of culinary publications are the ones that feature all three, which is exactly what we have here. Throw in all the television and movie references, and Binging with Babish really does have it all."
—Chef John from Food Wishes Video Recipes
 
Houghton Mifflin Harcourt, 9781328589897, 336pp.
Publication Date: October 22, 2019
About the Author
Andrew Rea is one part chef, one part filmmaker, and a generous dash of irreverent YouTube personality.  Self-taught both behind and in front of the camera, his cooking show, Binging with Babish, is enjoyed by millions of burgeoning chefs around the globe.  His passion for teaching and experimenting in the kitchen is rivaled only by his love of film and television, both of which he endeavors to share from his New York City kitchen.