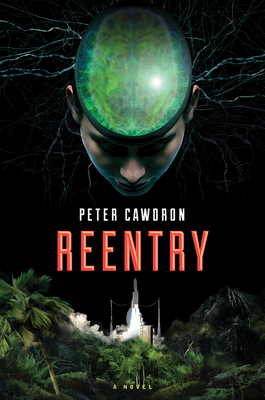 Reentry
Hardcover

* Individual store prices may vary.
Description
After almost dying on Mars, astronaut Liz Anderson returns to Earth, but not to a hero's welcome. America is in turmoil. The war is over, but the insurgency has just begun. So while life on Mars may have been deadly, at least up there she knew who the enemy was. Along with her, Liz has brought the remnants of the artificial intelligence that waged war on two planets. Buried somewhere deep within the cold electronic circuits lies the last vestiges of her dead partner Jianyu. Liz is torn, unsure whether he's somehow still alive in electronic form or just a ploy by an adversary that will go to any length to win. Heartbroken and treated with suspicion, she finds herself caught up in the guerrilla war being waged on Earth, wondering if the AI threat is truly gone, or if it has only just begun.
Praise For Reentry…
"It's good to consider the A.I. possibilities ahead. Peter Cawdron's Reentry is a marvelous read but also an intriguing scenario for what might go on within the superintelligences." — Vernor Vinge, Hugo Award–winning author of A Fire Upon the Deep and A Deepness in the Sky  
 
"In Reentry, Peter Cawdron combines the best traits of high-end speculative fiction—vivid characters, big ideas, action, empathy . . . oh, and more big ideas." — David Brin, Hugo and Nebula Award–winning author of the Uplift saga  
 
"Gripping, cerebral . . . with scientific detail that will please fans of hard science fiction, Cawdron raises interesting questions about the nature of consciousness. The story sets itself apart from tales that revel in dystopia by imagining what comes after, as humans and A.I.s learn to collaborate." — Publishers Weekly
 
 
Mariner Books, 9781328589910, 304pp.
Publication Date: June 11, 2019
About the Author
PETER CAWDRON is an Australian science fiction writer and author of numerous novels. He lives in Queensland, Australia.