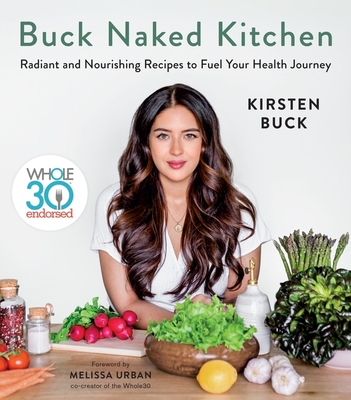 Buck Naked Kitchen (Hardcover)
Whole30 Endorsed: Radiant and Nourishing Recipes to Fuel Your Health Journey
Houghton Mifflin Harcourt, 9781328589927, 272pp.
Publication Date: April 7, 2020
* Individual store prices may vary.
Description
Fully endorsed by Whole30, with a foreword by Whole30 co-founder Melissa Hartwig Urban

As millions of people know, one of the toughest things about completing the Whole30 is figuring out what to eat the other 335 days of the year. Kirsten Buck, creator of Buck Naked Kitchen, struggled with her weight and chronic eczema for years before she transformed her life through food. She adopted a mostly paleo way of eating—gluten-free, grain-free, dairy-free, healthy fats, no refined sugars—and experienced dramatic weight loss. Soon after, she went on to win the first-ever "Next Whole30 Star" competition and is now a certified holistic nutritionist, sharing delicious and beautiful recipes on her blog and Instagram with thousands of fans. From her Pesto Chicken Salad Sandwich for lunch, to Moroccan Lamb Stew for dinner, to the stunning Summer Berry Galette to satisfy your sweet tooth, there is something for every taste—in addition to recipe basics for making your own mayo, yogurt, salad dressings, tahini, and more—which prove that healthy eating doesn't have to break the bank.  
About the Author
KIRSTEN BUCK struggled with her weight and eczema for years before transforming her life with a paleo diet. She was the first-ever winner of the "Next Whole30 Star" competition and is now a certified holistic nutritionist. She lives with her dog in Winnipeg, Canada.
MELISSA HARTWIG URBAN is a Certified Sports Nutritionist who specializes in helping people change their relationship with food and create life-long, healthy habits. She is the co-creator and CEO of the Whole30 program, and a five-time New York Times best-selling author, including the #1 bestseller The Whole30. She lives in Salt Lake City, Utah.
Praise For Buck Naked Kitchen: Whole30 Endorsed: Radiant and Nourishing Recipes to Fuel Your Health Journey…
"What I see in this book is a woman showing up as her truest, most authentic self, using food to speak to us, to connect with us, and to show us and herself love. Kirsten has brought her journey into the light, and the joy, vibrancy, and newfound confidence with which she both cooks and moves through this world glows through these pages."
—from the Foreword by Melissa Urban, Whole30 co-founder and CEO
 
"The recipes in Buck Naked Kitchen are as beautiful as I would imagine from Kirsten. They are innovative, healthy, and stunning, and encourage me to eat foods that are fresh and in season. Her Winter chapter warms my soul with comforting, wholesome dishes, while her Summer chapter has me ready to cool off in the summer heat. I admire everything about this book!"
—Alex Snodgrass, cookbook author and creator of The Defined Dish
 
"Kirsten Buck's inspiring journey, from her struggle with food to a love affair with it, is one that resonates with me and probably most women. Buck Naked Kitchen is her delicious tale of strength and beauty told through the recipes she lovingly created. The food is gorgeous yet inviting, just like Kirsten herself."
—Zoë François, co-author of the Artisan Bread in Five Minutes a Day series
 
"Kirsten is a magician when it comes to making nutritious meals super flavorful, and her cookbook is no exception. With her endless creativity and gorgeous photography, she never ceases to impress your eyes and taste buds. The recipes in this fantastic cookbook are easy to make and sure to please even the pickiest eater."
—ChihYu Smith, creator of I Heart Umami and author of Asian Paleo
 
"Looking for simple, budget-friendly, and nourishing recipes? Kirsten Buck's gorgeous debut cookbook is filled with healthy, delectable dishes that will fuel you through your Whole30 and beyond."
—Michelle Tam, New York Times best-selling cookbook author and creator of Nom Nom Paleo
 
"Kirsten's approach to food and healthy living is balanced, nutritious, and full of flavor. With an emphasis on easy and accessible recipes that fit every budget and skill level, Buck Naked Kitchen is a must-have for all home cooks."
—Ronny Joseph Lvovski, creator of Primal Gourmet
 
"Buck Naked Kitchen is a beautiful expression of the respect Kirsten Buck has for nourishing food. From her heartfelt story detailing her inspiring journey with food and mental health, to the gorgeous imagery, and accessible yet wildly impressive recipes, this book will be a cherished addition to any home. Thank you, Kirsten, for sharing what a balanced and healthy relationship with nourishing ourselves looks like and for providing the resources to create that for ourselves."
—Danika Brysha, lifestyle design and self-care expert; co-founder/CEO at Model Meals