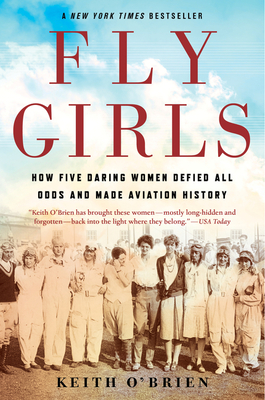 Fly Girls
How Five Daring Women Defied All Odds and Made Aviation History
Paperback

* Individual store prices may vary.
Other Editions of This Title:
Digital Audiobook (8/6/2018)
Digital Audiobook (3/25/2019)
Paperback, Large Print (8/1/2019)
Hardcover (8/7/2018)
Compact Disc (8/7/2018)
MP3 CD (8/7/2018)
Compact Disc (8/7/2018)
Library Binding, Large Print (10/17/2018)
Description
A New York Times Bestseller * An Amazon Best Book of the Year * A New York Times Book Review Editors' Choice * A Time Best Book for Summer
 
Between the world wars, no sport was more popular, or more dangerous, than airplane racing. While male pilots were lauded as heroes, the few women who dared to fly were more often ridiculed—until a cadre of women pilots banded together to break through the entrenched prejudice.

Fly Girls weaves together the stories of five remarkable women: Florence Klingensmith, a high school dropout from Fargo, North Dakota; Ruth Elder, an Alabama divorcée; Amelia Earhart, the most famous, but not necessarily the most skilled; Ruth Nichols, who chafed at her blue blood family's expectations; and Louise Thaden, the young mother of two who got her start selling coal in Wichita. Together, they fought for the chance to fly and race airplanes—and in 1936, one of them would triumph, beating the men in the toughest air race of them all.
Praise For Fly Girls: How Five Daring Women Defied All Odds and Made Aviation History…
A NEW YORK TIMES BEST SELLER A Time Magazine Best Book for Summer A Costco "Pennie's Pick" Named a "Must Read" by Bustle, BookPage, Garden & Gun, Parade One of iBooks' "Summer's Most Anticipated Books" An Amazon "Best Book of the Month" "Exhilarating...vibrant...O'Brien's prose reverberates with fiery crashes, then stings with the tragedy of lives lost in the cockpit and sometimes, equally heartbreaking, on the ground."—New York Times Book Review "Keith O'Brien has brought these women—mostly long-hidden and forgotten—back into the light where they belong. And he's done it with grace, sensitivity and a cinematic eye for detail that makes "Fly Girls" both exhilarating and heartbreaking." —USA Today "Mr. O'Brien, a former reporter for the Boston Globe working in the tradition of 'Hidden Figures' and 'The Girls of Atomic City,' has recovered a fascinating chapter not just in feminism and aviation but in 20th-century American history." —Wall Street Journal "A riveting account that puts us in the cockpit with Amelia Earhart and other brave women who took to the skies in the unreliable flying machines of the '20s and '30s." —People Magazine "Let's call it the Hidden Figures rule: If there's a part of the past you thought was exclusively male, you're probably wrong. Case in point are these stories of Amelia Earhart and other female pilots who fought to fly."—Time "This book ends like a perfect landing, taking its place in readers' hearts just like the women at its core took their place in history."—The Coil   "Keith O'Brien's spectacularly detailed Fly Girls [recreates] a world that can still inspire us today."—BookPage   "[An] engrossing mix of group biography and technology history."—Nature    "[A] page-turner that will make you appreciate just how soaring the spirit of women has always been."—MindBodyGreen "Fly Girls is an inspiring and insightful story of five courageous women who risked their lives and made a place for women in the male-dominated field of aviation. Keith O'Brien has shone a light on the forgotten struggle of women for equality as well as the little-known aspect of aviation history. Fly Girls is as much about the courageous female pilots as it is about the history of aviation. This meticulously researched and brilliantly written book brings those brave aviators to life. Keith O'Brien has filled the holes in scholarship about women's struggle and aviation." —Washington Book Review "O'Brien details in crisp and engaging writing how his subjects came to love aviation, along with their struggles and victories with flying, the rampant sexism they experienced, and the hard choices they faced regarding work and family. Highly recommended for readers with an interest in aviation history, women's history, cultural history, and 20th-century history." — Library Journal, STARRED review "Journalist O'Brien tells the exciting story of aviators who, though they did not break the aviation industry's glass ceiling, put a large c —
Mariner Books, 9781328592798, 384pp.
Publication Date: March 5, 2019
About the Author
Keith O'Brien is journalist who has written for the New York Times and Politico and he's a longtime contributor to National Public Radio. His work has appeared on shows such as All Things Considered, Morning Edition, and This American Life. He is a former staff writer for the Boston Globe and the author of Outside Shot: Big Dreams, Hard Times, and One County's Quest for Basketball Greatness. He lives in New Hampshire.
 
1. On page xiii, the author states, "In the late 1920s, newspapers and magazines routinely published articles questioning whether a woman should be allowed to fly anywhere, much less in these races. That such questions could be posed—and taken seriously—might strike us today as outlandish." Does this strike you as outlandish? Do people still question or challenge females due to their gender today?
2. The author defines the term "fly girls" on page xiii. Was this a complimentary or condescending term?
3. The book is, "A story that plays out over one tumultuous decade when gender roles were shifting, cultural norms were evolving, and the Great Depression had people questioning almost everything in America." How do you think the time period, and the stress of the Great Depression, affected people's reactions to women leaving their traditional posts?
4. There is a huge cast of characters in this book. What male character is most memorable to you and why? What female character?
5. At the end of the introduction, the five main women of the book are described. After reading the book, do you agree with how they are introduced? "Ruth Elder; a charming wife from Alabama who paid the price for going first; Amelia Earhart; a lost soul living with her mother on the outskirts of Boston and desperate for a way out; Ruth Nichols, a daughter of Wall Street wealth in New York, hungry to make a name of her own; Louise McPhetridge Thaden, a small-town dreamer from rural Arkansas who wanted it all—a job, a family, fame—but in the end would have to make a difficult choice; and Florence Klingensmith, a young pilot from the northern plains who great gamble in the sky would alter history on the ground."
6. Most readers will be most familiar with Amelia Earhart. What new information did you learn about Amelia that changes the narrative you already had of her?
7. There are examples on page 99 of how the women support each other in the "Powder Puff Derby" – they wait for Earhart's propeller, Earhart carries extra luggage, they waggle wings to say hello when they pass each other, etc. What does this show about their relationships with each other, and about their shared ideas about what female aviation can look like? How does it differ from men?
8. Page 125-126 describes Amelia's decision to marry GPP. What do you think about this decision and what does her letter show about her personality?
9. It seems like there are multiple times when women feel like they have proven they belong in aviation (ex: Earhart successfully crossing the Atlantic) only to have to start all over again. Why does it take so long for the women to prove their merit without question?
10. If all five of the main female characters had been as financially secure or backed as Earhart, how do you think that would have changed the characters' outcomes? Would that have encouraged Thaden to fly? Would that have allowed Nichols to finally have her victory?
11. The book is written in 3 parts. What actions or time periods create these divisions?
12. On page 243, Henderson tells Thaden, "I'm afraid you've won the Bendix." What does this say about Henderson's character and what he is afraid of?
13. "Earhart, always the most outspoken of the women on the subject of her gender's air-worthiness, predicted a day in the near future when men and women would stand as equals, judged not by their gender, but by their abilities. 'If a woman wishes to enter important competitions,' Earhart told reporters, 'the question will be, "Is she a good enough flier?" instead of primarily a matter of whether she wears skirts or trousers.' That's all the women had ever wanted, and now they had proof they could compete if only they had the chance" (p 245). How did Earhart see the future so differently than so many men and women? What do you think of people who feel they have the responsibility to create such important change?
14. "Thaden's win in the race paved the way for other women…As Earhart said once, the woman had to keep fighting, keep knocking on the door, if they ever wanted to be accepted in this male-dominated world. 'As more knock,' Earhart explained, 'more will enter'" (p 246). How do you see this statement continuing to be accurate throughout history and even today?
15. On page 247, Thaden begs Earhart not to do the flight around the world. Why doesn't she agree with Earhart's decision?
16. In Earhart's letter to Putnam on 247, she explains that women must try things men have tried, and that their failures should become a challenge to others. What do you think of this sentiment, and almost call to arms for the entire female gender?
17. On page 254, the author shares that the story of Earhart's unsuccessful worldwide flight was so impossible and tragic that it dwarfs the "bravery, the sacrifices, and the achievements of the women who flew with Earhart in that exciting decade between 1927 and 1937, a time later remembered as the golden age of flying. They outlived Earhart, these women, but each was forgotten in her own way." This echoes his statement at the end of the introduction: "In the decades to follow, only one of these five women would be remembered." Why do you think history latched onto Amelia Earhart more than anyone else? Why do you think this has not changed even with all of the information we have today such as this book?