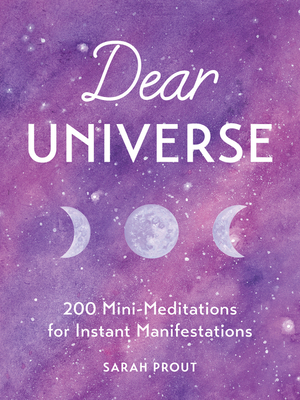 Dear Universe (Hardcover)
200 Mini-Meditations for Instant Manifestations
Houghton Mifflin Harcourt, 9781328604309, 288pp.
Publication Date: April 2, 2019
* Individual store prices may vary.
Description
Guide Your Emotions and Manifest Your Dreams with Law of Attraction Expert, Sarah Prout

Ten years ago, Sarah Prout walked away from an abusive marriage with two suitcases, two kids, and $30,000 in debt. Today she is happily married, running a million-dollar business, and helping people around the world achieve the life of their dreams. She credits her success to manifesting and the law of attraction, beliefs that thinking positive or negative thoughts attracts positive or negative experiences into your life. Prout's message is simple—when you choose to guide your emotions, the Universe will show up and support you to find success, love, and more. Dear Universe first contains 100 mini-meditations to help readers rise above feelings like angry, lonely, or powerless. Then they're invited to aim for a love-based word from a second set of 100 meditations such as abundant, devoted, or passionate. It's an invitation to call upon the energy of the Universe and manifest one's own reality: a combination of practical guidance, soulful exercises, and nuggets of wisdom.
About the Author
SARAH PROUT went from living on welfare to creating a million-dollar business. She is an award-winning entrepreneur, author, philanthropist, and founder of The Manifesting Academy. Having taught the art of metaphysics and manifesting for over a decade, Sarah now inspires millions of people around the world to tune into their infinite potential and manifest a life they love. She shares her wisdom via her Facebook fan page, Journey to Manifesting podcast, email newsletter, and website and blog. Sarah's mission is to inspire her audiences to manifest health, wealth, and love. She believes that anyone can create the life of their wildest dreams and control their destiny, and she shows readers how to begin that journey with simple and easy steps and mini-meditations. Her work has been featured on Sunrise on 7 (TV), LA Talk Radio,  Cosmopolitan magazine, Woman's Day, The Daily Mail, and more. Sarah was born in New Zealand, raised in Australia, and now lives in Las Vegas, Nevada with her husband and four children.
Praise For Dear Universe: 200 Mini-Meditations for Instant Manifestations…
"Dear Universe is a wonderful resource filled with techniques and wisdom to bring you greater happiness and emotional well-being. Sarah Prout's unique approach is refreshing and inspiring."
—Marci Shimoff, #1 New York Times best-selling author of Happy for No Reason and Chicken Soup for the Woman's Soul
 
"Sarah Prout's words and wisdom in Dear Universe give us permission to feel the beautiful spectrum of all emotions in their fullness, and to manifest wellness from a holistic perspective. This book will awaken the energy of inspiration within your heart."
—Bree Argetsinger, founder of TheBettyRocker.com
 
"Dear Universe offers powerful and effective steps so that you can be happier, more connected, and feel empowered in the present moment."
—Julie Montagu, TV presenter, wellness icon, and best-selling author of Recharge
 
"As a hypnotherapist, I'm always on the lookout for the perfect affirmations my clients can use to reprogram their subconscious minds, and now I've found them all in one place. With Dear Universe, Sarah Prout has soulfully scribed the perfect dictionary for self-improvement, and its contents are an absolute game-changer."
—Grace Smith, celebrity hypnotherapist and author of Close Your Eyes, Get Free
 
"This choose-your-own-adventure guide will have you running off to elope with the universe."
—Emma Mildon, best-selling author of The Soul Searcher's Handbook and Evolution of Goddess
 
"This is one of those books that the world has been waiting for. Sarah has taken her wonderful, innate magic and put it onto the page in an easy-to-use, loving, and inspiring way. Dear Universe deserves to become a classic and a constant companion for readers everywhere. I love it!"
—Yasmin Boland, best-selling author, astrologer, and founder of Moonology.com
 
"Sarah Prout has such a powerful relationship with 'the universe'—one that began during a dark chapter of her life. I've watched her nurture this mystical friendship and seen the magical gifts appear in her life. She's an inspiration as a friend and a wonderfully wise teacher to her growing legion of fans. This book is such a beautiful gift to the world."
—Amber Petty, writer and host of The Wise Guides podcast

"Dear Universe is an insightful reminder of the power of emotional responsibility. Sarah Prout reminds readers hot to create courage, connection, greatness, and compassion in their lives."
—Lewis Howes, New York Times beset-selling author of The School of Greatness and The Mask of Masculinity