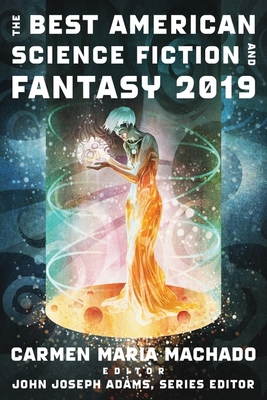 The Best American Science Fiction and Fantasy 2019 (The Best American Series ®) (Paperback)
Mariner Books, 9781328604378, 432pp.
Publication Date: October 1, 2019
Other Editions of This Title:
Paperback (10/2/2018)
Paperback (10/3/2017)
* Individual store prices may vary.
Description
The best science fiction and fantasy stories from 2018, guest-edited by National Book Award finalist Carmen Maria Machado. 

Today's readers of science fiction and fantasy have an appetite for stories that address a wide variety of voices, perspectives, and styles. There is an openness to experiment and pushing boundaries, combined with the classic desire to read about spaceships and dragons, future technology and ancient magic, and the places where they intersect. Contemporary science fiction and fantasy looks to accomplish the same goal as ever—to illuminate what it means to be human. With a diverse selection of stories chosen by series editor John Joseph Adams and World Fantasy Award finalist Carmen Maria Machado, The Best American Science Fiction and Fantasy 2019 explores the ever-expanding and changing world of SFF today.
About the Author
JOHN JOSEPH ADAMS is the series editor of Best American Science Fiction & Fantasy, as well as many other anthologies, such as Wastelands, The Living Dead, and The Apocalypse Triptych. He is also the editor and publisher of the magazines Nightmare and the Hugo Award-winning Lightspeed, and is a producer for WIRED's The Geek's Guide to the Galaxy podcast. He lives in California. 
CARMEN MARIA MACHADO is the author of Her Body and Other Parties. Her work has appeared in Granta, the New Yorker, Guernica, Tin House, and elsewhere. She has received the Bard Fiction Prize and has been a finalist for the Kirkus Prize, the Shirley Jackson Award, and the Nebula Award. She lives in Philadelphia with her wife.
Praise For The Best American Science Fiction and Fantasy 2019 (The Best American Series ®)…
"Every one of these 20 tales shines; there's not a lackluster one in the bunch. In her introduction, Machado declares her intention to ignore any artificial lines drawn between those stories considered "literary" and those labelled as "genre," and she says that her chief criterion in selecting these works was whether they provided her with pleasure. That doesn't mean these stories offer happy endings or simple answers. If there's one theme that unites them, it's the characters' desire to escape: from that haunted house...the restrictions of expected fictional tropes...racism and classism...misogyny and the associated bonds of social convention...and of course, foolish and dangerous preconceptions about the world that everyone holds in some measure (that's just about every story). A strong collection that will inspire, disturb, and, yes, give pleasure."
– Kirkus, STARRED review

"Experimental...literary, and...boundary-pushing...there's a decidedly global, multicultural feel to these pieces, which exemplify diversity and representation. A masterful showcase of what's possible." 
– Publishers Weekly, STARRED review

"The stories selected by guest editor Machado for this acclaimed annual anthology reflect her commitment to interrogating the boundaries between literary and genre fiction, asking "what sort of pleasures does this story bring me" instead of "what category is this?" Among the many and varied pleasures of the collection are stories that share Machado's love of formal experimentation...this brilliant and beautiful collection is a must-read for those looking to enjoy the fullest range of narrative pleasure." 
– Booklist, STARRED review