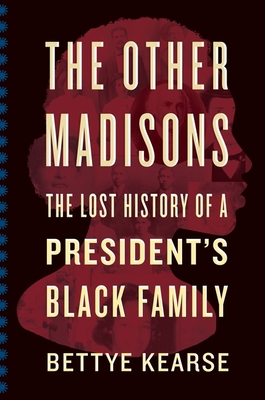 The Other Madisons (Hardcover)
The Lost History of a President's Black Family
Houghton Mifflin Harcourt, 9781328604392, 272pp.
Publication Date: March 24, 2020
* Individual store prices may vary.
Description
In The Other Madisons, Bettye Kearse—a descendant of a slave named Coreen and, according to oral tradition, President James Madison—finally shares her family story, exploring legacy, race, and the powerful consequences of telling the whole truth.  
For thousands of years, West African griots (men) and griottes (women) have recited the stories of their people. Without this tradition Bettye Kearse would not have known that she is a descendant of President James Madison and his slave Coreen. In 1990, when her mother delivered a box of memorabilia—painstakingly collected—Bettye became the eighth-generation griotte for her family. Their credo—"Always remember—you're a Madison. You come from African slaves and a president"—was intended as a source of pride, but for her, it echoed with abuses of slavery and rape. 

Bettye embarked on a journey of discovery—of her ancestors, the nation, and herself. She learned that wherever African slaves walked, recorded history silenced their voices and buried their footsteps: beside a slave-holding fortress in Ghana; beneath a gaudy concession stand in Lagos, Portugal; in the depths of the Atlantic Ocean; below a federal building in New York City; and under a brick walkway at James Madison's Virginia plantation. And when Bettye tried to confirm the information her ancestors passed down, she encountered obstacles at every turn. 

Part personal quest, part testimony, part historical correction, The Other Madisons is the story of an extraordinary American family by a griotte determined to tell the whole story.
About the Author
BETTYE KEARSE is a retired pediatric physician and geneticist. Her commentary "Our Family Tree Searches for Branches" appeared in the Boston Herald. "Destination Jim Crow" was published in River Teeth, listed as notable in The Best American Essays 2014, and nominated for the 2015 Pushcart Prize. "Mammy Warriors" is included in the anthology Black Lives Have Always Mattered. Her research for The Other Madisons was recently covered in the Washington Post. She lives in New Mexico.