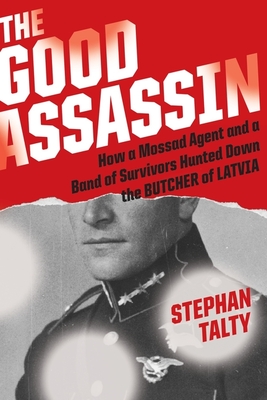 The Good Assassin
How a Mossad Agent and a Band of Survivors Hunted Down the Butcher of Latvia
Hardcover

* Individual store prices may vary.
Other Editions of This Title:
Digital Audiobook (4/20/2020)
Paperback (4/20/2021)
MP3 CD (4/21/2020)
Compact Disc (4/21/2020)
Description
Inspiration for the hit new podcast "Hunting the Butcher"

The untold story of an Israeli spy's epic journey to bring the notorious Butcher of Latvia to justice—a case that altered the fates of all ex-Nazis.

Before World War II, Herbert Cukurs was a famous figure in his small Latvian city, the "Charles Lindbergh of his country." But by 1945, he was the Butcher of Latvia, a man who murdered some thirty thousand Latvian Jews. Somehow, he dodged the Nuremberg trials, fleeing to South America after war's end.
 
By 1965, as a statute of limitations on all Nazi war crimes threatened to expire, Germany sought to welcome previous concentration camp commanders, pogrom leaders, and executioners, as citizens. The global pursuit of Nazi criminals escalated to beat the looming deadline, and Mossad, the Israeli national intelligence agency, joined the cause. Yaakov Meidad, the brilliant Mossad agent who had kidnapped Adolf Eichmann three years earlier, led the mission to assassinate Cukurs in a desperate bid to block the amnesty. In a thrilling undercover operation unrivaled by even the most ambitious spy novels, Meidad traveled to Brazil in an elaborate disguise, befriended Cukurs and earned his trust, while negotiations over the Nazi pardon neared a boiling point.

The Good Assassin uncovers this little-known chapter of Holocaust history and the pulse-pounding undercover operation that brought Cukurs to justice.
Praise For The Good Assassin: How a Mossad Agent and a Band of Survivors Hunted Down the Butcher of Latvia…
"What a wonderful book. Stephan Talty's fast-paced account of how Herbert Cukurs, the Latvian aviator turned Nazi war criminal, was eventually brought to justice by Mossad operatives is as gripping as any novel. Hard as it is to read the details of Cukurs' horrific crimes, the outcome is both moving and uplifting, with the Latvian's demise helping to bring other perpetrators of genocide to justice. Talty is at the top of his game."—Saul David, author of Operation Thunderbolt and The Force   "Part Holocaust history, part detective case, part spy operation, The Good Assassin is an enthralling book. Stephan Talty paints vivid, often chilling, portraits of its vengeful hero, Mossad agent Jacob Medad, and the war criminal Herbert Cukurs he pursued to the bitter end. It's a stunning, you-are-there kind of read."—Neal Bascomb, New York Times bestselling author of Hunting Eichmann and Faster   "Stephan Talty's The Good Assassin is a gripping chronicle of one of the most brilliant operations launched against an escaped Nazi war criminal, and a fitting memorial to the victims of the Holocaust in Latvia and to the brave Israelis who traveled halfway around the world to punish one of the key perpetrators of those crimes. At a time when Latvian ultranationalists are trying to rehabilitate Cukurs as a national hero, Talty explains why such a step would be a grave miscarriage of justice."—Dr. Efraim Zuroff, chief Nazi hunter, Simon Wiesenthal Center   "Stephan Talty masterfully recounts how the Holocaust engulfed the Jews of Latvia and how the architect of that genocide was hunted to his death by Israeli spies. It's a page-turning account of a little-known episode of the Shoah and how justice was brought to one of its key perpetrators." —Peter Bergen, author of Manhunt: The Ten-Year Search for bin Laden and Trump and His Generals: The Cost of Chaos "Stephan Talty has crafted a fast-paced account of an overlooked part of the Holocaust—and its broader impact on the postwar hunt for its perpetrators." —Bill Geroux, author of The Ghost Ships of Archangel and The Mathews Men   "Talty efficiently mines archival records for vivid details and tracks the complexities of Medad's undercover mission with flair. The result is a captivating and gruesome real-life spy thriller."—Publishers Weekly "Compelling . . . Talty remains true to his technique, delivering thoroughly researched, engrossing nonfiction in a thrillerlike narrative style . . . As anti-Semitism surges once again, this page-turning history reminds us of the sanguinary consequences of unchecked hatred."—Kirkus Reviews "Thrilling . . . A fast-paced, recommended work that enthralls, edifies, and reveals the disturbing extent to which Latvians and others participated in genocide."—Library Journal "The author brings his usual attention to detail, excellent research, terrific storytelling, passion, and dedication to this suspenseful recounting of a shadowy facet of the Holocaust, which continues to haunt the world."—Booklist  
Mariner Books, 9781328613080, 320pp.
Publication Date: April 21, 2020
About the Author
STEPHAN TALTY is the award-winning author of Agent Garbo,Empire of Blue Water, and other best-selling works of narrative nonfiction. His books have been made into two films, the Oscar-winning Captain Phillips and Only the Brave. He is also the author of two psychological thrillers, including the New York Times bestseller Black Irish, set in his hometown of Buffalo. He has written for the New York Times Magazine,GQ, and many other publications. Talty now lives outside New York City with his family.
or
Not Currently Available for Direct Purchase