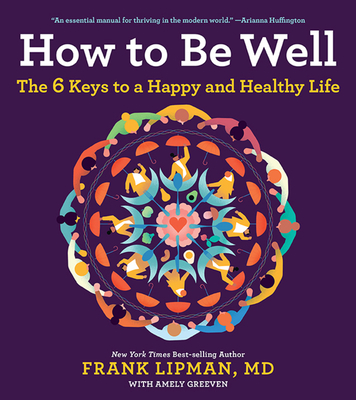 How to Be Well
The 6 Keys to a Happy and Healthy Life
Paperback

* Individual store prices may vary.
Other Editions of This Title:
Hardcover (4/3/2018)
Description
In How to Be Well, best-selling author and leading health expert Dr. Frank Lipman shares his formula for lifelong vitality—the Good Medicine Mandala. Illustrated by a circular system of six rings, the Good Medicine Mandala contains more than 100 simple steps to what really works to improve and strengthen your resilience, functioning, and overall health. In this invaluable book, you will learn how to:

EAT: master the very building blocks of life—food

SLEEP: reprioritize and restore one of your most fundamental needs

MOVE: ensure the body moves in all the ways that nature intended it to

PROTECT: mitigate and prevent the invisible assaults of everyday toxins

UNWIND: consciously switch off to allow for complete mental and physiological reprieve

CONNECT: awaken and enhance a sense of belonging and meaning

How to Be Well is a unique handbook with everyday habits and practices you can deploy to live your best, healthiest, and happiest life.
Praise For How to Be Well: The 6 Keys to a Happy and Healthy Life…
"Packed with nutrition, sleep, and mental-health tips, Dr. Frank Lipman's How to Be Well is basically a feel-good bible."
—Cosmopolitan

"How to Be Well is the last book you will need to buy if you follow its simple, clear powerful advice on how to create health. Dr. Frank Lipman has condensed 30 years of experience in healing patients using the powerful new model of Functional Medicine into a fun, enlightening, practical guide for being well."
—Mark Hyman, MD, Director, Cleveland Clinic Center for Functional Medicine, and #1 NYT bestselling author of Food: What the Heck Should I Eat?
 
"How to be Well is a tour de force of TRUTH when it comes to taking control of your own health and staying well.  Dr. Lipman is my kind of doctor—and both of us know—from years of experience—that health is not something you find in a doctor's office. It's a product of what you think and do every day. Let this book be your guide."
—Christiane Northrup, MD, NYT bestselling author of Goddesses Never Age
 
"This book is everything you need to redirect yourself towards health and happiness."
—David Perlmutter, MD, FACN, author of #1 New York Times Bestseller, Grain Brain, and The Grain Brain Whole Life Plan
 
"As a practicing physician trained in Western and Eastern medicine, Dr. Lipman has deep experience in the challenges of maintaining wellness today." In How to Be Well, he provides a holistic recipe for health focusing on 6 key components – ranging from diet to stress relief and social connection. Use this book as an antidote to the toxic modern environment."
—David Ludwig, MD, PhD, Professor, Harvard Medical School and author of the #1 NYTs best seller, Always Hungry? Conquer Cravings, Retrain Your Fat Cells, and Lose Weight Permanently
 
"Frank is my go to Wellness guy and he has solved every problem I've thrown his way, using his wisdom and his humor and his heart."
—Michelle Williams, actress
 
"I love Frank Lipman and I love this book. How to Be Well should be everyone's go to manual for living their best and healthiest life."
—Sienna Miller, actress 
 
"How to Be Well is exactly what it says: an essential manual for thriving in the modern world. Frank Lipman has been my trusted well-being doctor, and now everybody can have access to his insight on the keys to living a healthy, vibrant life. It should be on every nightstand."
—Arianna Huffington
 
"Dr. Lipman has done it again (and again). He always inspires me to be a better version of myself by making real lifestyle changes that stick. He educates and motivates by telling us how to get all the benefits of a wellness lifestyle. I'll keep this one close by - everyone should!"
—Bobbi Brown
 
"Can you imagine ONE pill that would take away sugar cravings, clear up skin, bring calmness and clarity, promote vitality, provide energy all day long and sleep all night long, make you happy, help prevent diabetes, heart disease and obesity, and taste great?  Frank's book, How to be Well, is as close as we'll ever get to that pill.  And it tastes better."
—Tea Leone, actress
 
"Dr. Lipman is one of the true pioneers in Integrative Medicine, preaching and practicing it long before it became "cool." In his new book, How to be Well, Dr. Lipman condenses his 30 years of experience into simple, illustrated, how to steps to achieve the holy grail: Wellness. You could not ask for a better guide on your journey to Health! Read and follow this book!"
—Steven R Gundry, MD, NYT bestselling author of The Plant Paradox, and The Plant Paradox Cookbook, medical Director, The Centers for Restorative Medicine, Palm Springs and Santa Barbara, CA

"As a functional medicine doctor, I get to see the science of wellness at work, restoring very sick people to good health.  In this ambitious, exciting book, Frank Lipman gets ahead of the curve, and shows everyone how to live without chronic pain, fatigue, overweight and other forms of chronic illness - how to never get them in the first place and live weller than well."
—Amy Myers, MD, author of the NYT bestseller The Autoimmune Solution and The Thyroid Connection
 
"The pursuit of wellness can be overwhelming and confusing in a sea of conflicting health information. You might begin to feel you need to be a doctor yourself to sort through what's true and what's hype about the basics like food, sleep, and exercise.  It is the reliable answers to these core questions - how to eat, sleep, move, protect, unwind, and connect, that my friend and colleague Dr. Lipman brings to us in living color and in a delightfully refreshing style that I know will finally let you say, with a sigh of relief, "I've got this, I know How to Be Well." The guidance he presents is at once deceptively simple and yet profoundly elegant and universally true. These are the very answers that will allow your body to unlock its own innate healing capacity to prevent and reverse chronic disease so that you not only have many years in your life, but much life in your years."
—Aviva Romm, MD, author of The Adrenal Thyroid Revolution
Houghton Mifflin Harcourt, 9781328614186, 256pp.
Publication Date: January 1, 2019
About the Author
Frank Lipman, MD, a pioneer in both integrative and functional medicine, is the founder and director of Eleven Eleven Wellness Center in New York City, a New York Times best-selling author, and the creator of Be Well, a lifestyle brand which helps people achieve genuine and sustainable life changes. A leading international speaker on health and wellness, he has been featured in many top publications, including the New York Times, New York Magazine, Vogue and O, the Oprah Magazine, and has appeared on the TODAY show, Extra, and The Dr. Oz Show. Learn more at howtobewell.com.