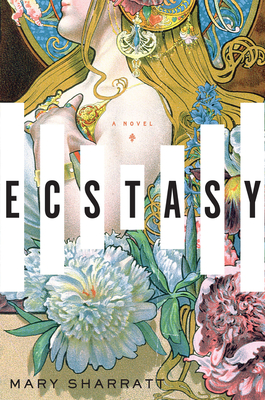 Ecstasy
A Novel
Paperback

* Individual store prices may vary.
Other Editions of This Title:
Hardcover (4/10/2018)
MP3 CD (4/10/2018)
Compact Disc (4/10/2018)
MP3 CD (4/1/2018)
Compact Disc (4/1/2018)
Description
Coming of age in the midst of a creative and cultural whirlwind in Vienna, young, beautiful Alma Schindler yearns to make her mark as a composer. A new era of possibility for women is dawning, and she is determined to make the most of it. But Alma loses her heart to the great composer Gustav Mahler, nearly twenty years her senior. He demands that she give up her music as a condition of their marriage. Torn by her love and in awe of his genius, how will she remain true to herself and her artistic passion?
            Part cautionary tale, part triumph of the feminist spirit, Ecstasy reveals the true Alma Mahler: composer, author, daughter, sister, mother, wife, lover, and muse. Mary Sharratt has finally given center stage to one of the most controversial and complex women of her time.
Praise For Ecstasy: A Novel…
"This winning historical novel offers an enjoyable portrait of an ambitious woman whose struggles are as relevant today as they were a century ago." — Publishers Weekly

"[Sharratt] has in-depth knowledge of classical music and turn-of-the-20th-century Vienna . . . Recommended for readers who like the peaks and valleys of nonstop drama." — Library Journal
 
"Thought-provoking [and] . . . bracing."—Kirkus Reviews

"A novel with surefire appeal for fans of romantic women's fiction." — Booklist

"In Ecstasy, Mary Sharratt plunges the reader into the tumultuous and glamorous fin de siècle era, bringing to life its brilliant and beguiling leading lady. Finally, Alma Mahler takes center stage, surging to life as so much more than simply the female companion to the brilliant and famous men who loved her. Sharratt's portrait is poignant and nuanced, her novel brimming with rich historic detail and lush, evocative language."
 — Allison Pataki,New York Times best-selling author of The Accidental Empress

"Evocative and passionate, Ecstasy illuminates through its tempestuous and talented heroine a conundrum that resonates across the centuries: how a woman can fulfill her destiny by being both a lover and an artist."
 — Jenna Blum,New York Times best-selling author of Those Who Save Us and The Stormchasers

"A tender, intimate exploration of a complicated woman, Mary Sharratt's Ecstasy renders in exquisitely researched detail and fiercely imagined scenes the life of Alma Mahler—daughter, wife, mother, lover, and composer—and the early 20th Century Vienna and New York in which she came of age. I loved this inspiring story of an early feminist standing up for her art."
 — Meg Waite Clayton,New York Times best-selling author of The Race for Paris

"Alma Mahler's unexpected, often heartbreaking journey from muse to independence comes to vivid, dramatic life. Sharratt skillfully evokes turn-of-the-century Vienna and the musical genius of the era, returning Alma to her rightful place in history as both the inspiration to the men in her life and a gifted artist in her own right."
 — C. W. Gortner, best-selling author of Mademoiselle Chanel 

"Mary Sharratt has more than done justice to one of the most interesting, shocking, and passionate women of the 20th century. Overflowing with life and lust, Ecstasy explores this flawed but fascinating woman."
 — M. J. Rose,New York Times best-selling author of The Library of Light and Shadow

"A deeply affecting portrait of the woman rumored to be the most notorious femme fatale of turn-of-the-century Vienna. Mary Sharratt's Ecstasy is as heartbreaking and seductive as Alma Mahler herself."
 — Kris Waldherr, author of Doomed Queens and Bad Princess
 
Mariner Books, 9781328614209, 416pp.
Publication Date: April 9, 2019
About the Author
MARY SHARRATT, the author of seven critically acclaimed novels, is on a mission to write strong women back into history. Her novels include Daughters of the Witching Hill, the Nautilus Award–winning Illuminations: A Novel of Hildegard von Bingen,The Dark Lady's Mask: A Novel of Shakespeare's Muse, and Ecstasy, about the life, loves, and music of Alma Mahler. She is an American who lives in Lancashire, England.
 
1. Did you know anything about Alma Mahler before you read this novel? If so, what opinion did you have of her before you read Ecstasy? Did this book change your view? How did Mary Sharratt's portrayal of Alma differ from that of other books you've read or from films you've seen?
2. Young Alma Schindler comes of age in the glittering hotbed of turn-of-the-twentieth century Vienna—birthplace of radical new art. Her first love is none other than Gustav Klimt. Alma yearns to make her mark as a composer. What hurdles and opposition does she face as an ambitious woman in this era?
3 . Early 1900s Vienna is cosmopolitan and sophisticated, but it's also a place of deep-seated, culturally ingrained antisemitism and misogyny. What shadows do these two forms of bigotry and hatred cast on the characters in the novel?
4 . Under the tutelage of her mentor and lover, Alexander von Zemlinsky, Alma has made great progress with her music and has drafted the beginnings of an opera. Then she meets the great composer Gustav Mahler at a dinner party. She and Gustav fall deeply in love, but he demands that she give up her music as a condition of their marriage. Torn by her love and in awe of his genius, she reluctantly consents. Why do you think she agreed to this despite the heartbreak it caused her? Why did she choose Mahler over Zemlinsky, who would have supported her development as a composer?
5 . Gustav Mahler's friends are horrified when they discover he intends to marry Alma, nineteen years his junior. They view her as a frivolous socialite, unworthy of him. Likewise, Zemlinsky tries to persuade Alma that this match is ill-advised. If you were Alma or Gustav's friend, what advice would you have given? Do you think they were mismatched?
6 . How do Alma and Gustav change and grow during the course of their life together? How does Alma cope, now that she is forbidden to compose? What repercussions does this have on their marriage? Do you see any similarities between Alma's plight and that of other accomplished women who set aside their careers and ambitions for marriage?
7. While Alma has sacrificed her music for marriage, her friend, Ilse Conrat, perseveres with her creative career and goes on to become a renowned sculptor. Why do you think Ilse succeeded in fully realizing her artistic ambitions, despite the double prejudice that she faced, as both a woman and a Jew? When Alma follows Gustav to New York, she meets other high-achieving women, including Natalie Curtis, ethnomusicologist, composer, and activist, and Mary Seney Sheldon, the first president of the New York Philharmonic. How does encountering these women in New York alter the course of Alma's life?
8 . What do you think of Alma's affair with Walter Gropius? Why do you think he sent a love letter to Alma in an envelope addressed to Gustav? How does Gustav's discovery of the affair change their marriage? Do you feel more sympathy with Gustav or Alma at this point in the story?
9 . Having read this novel, what do you make of Alma's character? Do you see her as a "bad woman," as some biographers and Mahler fans have done? What's your opinion on Alma? Can you identify with her as a character? Or are you repelled by her? What do you think of Laurel Thatcher Ulrich's observation that well-behaved women seldom make history? Do you think we'd still be talking about Alma today if she had behaved herself?
10. Tom Lehrer's famous "Alma Song" (you can listen to the original 1965 recording here.) begs the question: Alma, tell us. All modern women are jealous. Which of your magical wands Got you Gustav and Walter and Franz? As Lehrer points out, Alma married—or had affairs with—some of the greatest creative geniuses of her time. Why do you think these men were drawn to her? What was her secret? What do you think of the title of this novel, Ecstasy? What ecstasies does Alma experience and impart on those around her?
11. Have you read Mary's other books? How does Alma Mahler compare to some of Mary's other historical heroines such as Hildegard of Bingen in Illuminations or Aemilia Bassano Lanier in The Dark Lady's Mask?