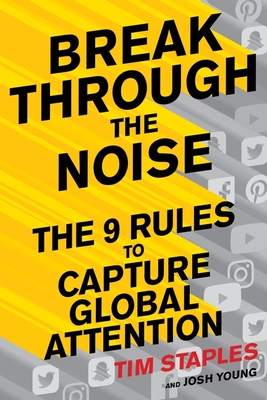 Break Through the Noise (Hardcover)
The Nine Rules to Capture Global Attention
Houghton Mifflin Harcourt, 9781328618566, 240pp.
Publication Date: July 9, 2019
* Individual store prices may vary.
Description
The odds of getting a video onto YouTube's front page are 1-in-2,000,0000, but Tim Staples, founder and CEO of Shareability, knows how to make the algorithms of Youtube, Google, Facebook and Instagram work for you – and he has the results to prove it, with a thriving business that has gotten their videos onto YouTube's front page an amazing 25 times. Here he shows savvy marketers, entrepreneurs, and online celebrity wannabes how they, too, can develop clever videos that amass millions of views.

Staples outlines a nine-step approach that anyone can use to launch their product or service without having to invest a fortune.
 
Case studies featured in the book include how Shareability launched ROC Headphones, a multi-million dollar global brand, with a viral video of Cristiano Ronaldo in disguise without spending a nickel on traditional advertising; how they used babies to create the most successful social video ever about the Olympic Games; how they propelled a small pet food company from obscurity to an IPO on the power of two viral videos; and how they helped Cricket Wireless become the most shared brand in the wireless space beating telco powerhouses like Verizon, AT&T and Sprint.
About the Author
TIM STAPLES is an entrepreneur at the forefront of content and digital marketing. He is the co-founder and CEO of Shareability, a company that uses content, data and technology to drive explosive growth for major brands like AT&T, Hyatt, and the Olympics and major celebrities like Cristiano Ronaldo, John Cena and Leonardo DiCaprio. Shareability is known for creating some of the biggest viral successes of the past five years, reshaping how brands communicate and engage with their customers. In 2016, Staples was named one of "11 Innovators Who Are Disrupting Hollywood" by The Wrap.
JOSH YOUNG is a best-selling author whose work spans entertainment, science, law, natural history, business, politics and sports. Previously, he was a contributing editor at George magazine, The New York Times, and Esquire, and the host of "Screening Room" on the Discovery Times Channel.
Praise For Break Through the Noise: The Nine Rules to Capture Global Attention…
"The internet is full of really loud content, but it's not the loudest that breaks through, it's the smartest. Tim Staples has cracked the code on how to create worldwide attention." —Gil Goldschein, CEO Bunim Murray Productions (Keeping up with the Kardashians, Project Runway, The Real World)
 
"There's a lot of hype in marketing, but Tim and Shareability drive real results. This book delivers on how to cut through the clutter and take your brand to the next level." —John Costello, Hall of Fame senior executive marketer at P&G, Yahoo, Home Depot and Dunkin Donuts. 

"Marketing and brand building in a social world requires an entirely new way of engaging consumers. Tim Staples and Shareability have quite literally written the book on how to ditch the past and effectively embrace the present and future." —Sandy Grushow, Former Chairman, FOX Television
 
"​​At a time when content availability seems infinite and audience cynicism is at an all-time high, Tim and his Shareability team have quietly (if it's at all possible to get 5 billion views quietly) yet consistently managed to garner massive audiences for brands. And now, he's sharing his playbook with the rest of the world."  —Mike Su, Snapchat - Director of Yellow Incubator
 
"BREAK THROUGH THE NOISE is proof that there is little luck or chance involved in capturing attention on  the Internet.   In the world we live in today, this book is truly gospel." —Steve-O, Entertainer and Activist
 
"Coming up as an athlete, I always wanted to learn from the best.  As an entrepreneur and investor, I take that same mindset.  Tim Staples is the best I have ever seen at creating attention on the internet.  He will completely change the way you think about marketing." —Michael Redd, NBA All-Star, Olympic Gold Medalist, Investor

"The alarm bells are ringing on urgent social and environmental issues, but many people still aren't listening.  We need to BREAK THROUGH THE NOISE to get people to hear the new narratives and pay attention to what's really important.  This book provides the playbook for how to do that." —Justin Winters, Executive Director Leonardo DiCaprio Foundation