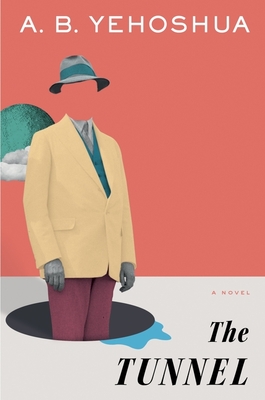 The Tunnel
Hardcover

* Individual store prices may vary.
Other Editions of This Title:
Paperback (8/3/2021)
CD-Audio (8/4/2020)
MP3 CD (8/4/2020)
Description
A NEW YORK TIMES EDITORS' CHOICE
A FINALIST FOR THE NATIONAL JEWISH BOOK AWARD

From the award-winning, internationally acclaimed Israeli author, a suspenseful and poignant story of a family coping with the sudden mental decline of their beloved husband and father—an engineer who they discover is involved in an ominous secret military project

Until recently, Zvi Luria was a healthy man in his seventies, an engineer living in Tel Aviv with his wife, Dina, visiting with their two children whenever possible. Now he is showing signs of early dementia, and his work on the tunnels of the Trans-Israel Highway is no longer possible. To keep his mind sharp, Zvi decides to take a job as the unpaid assistant to Asael Maimoni, a young engineer involved in a secret military project: a road to be built inside the massive Ramon Crater in the northern Negev Desert.

The challenge of the road, however, is compounded by strange circumstances. Living secretly on the proposed route, amid ancient Nabatean ruins, is a Palestinian family under the protection of an enigmatic archaeological preservationist. Zvi rises to the occasion, proposing a tunnel that would not dislodge the family. But when his wife falls sick, circumstances begin to spiral . . .

The Tunnel—wry, wistful, and a tour de force of vital social commentary—is Yehoshua at his finest.
Praise For The Tunnel…
A New York Times Editors' Choice
A Finalist for the National Jewish Book Award, in the Book Club category

"The Tunnel — translated smoothly from the Hebrew by Stuart Schoffman — is about how one couple copes with the initial news that from now on, everything is going to be different . . . Zvi comes to see, in large measure because of his struggle with dementia, that to exist among people, all people, is to open oneself to the menace but also the glory of human entanglement . . . I found great beauty, not answers, in Zvi's essential human decency. Rather than retreat inward and hide, he chooses — yes — to live."
—Peter Orner, New York Times Book Review

"A.B. Yehoshua's fiction seldom collapse into the commonplace. They both honor the contract of realism and underwrite that contract with symbolic layers of meaning. His stories plausibly represent ordinary lives and at the same time astutely allegorize. Yehoshua's latest novel, his 12th, confirms that no living Israeli writer accomplishes that dual feat with as casual a mastery. The Tunnel, flawlessly translated from the Hebrew by Stuart Schoffman, tells a story about memory and mercy."
—Haaretz

"The Israeli writer A.B. Yehoshua is one of the great writers of the 20th century who has, since his early books The Lover and Mr. Mani, been slowly and steadily creating characters of great depth and humor and vision. A man of sly wit and enormous empathy he is exactly what we need in these troubled times...This new novel is a fabulous portrayal of a long marriage. While it has the serious ballast that is present in all of Yehoshua's books, it is also a romp that at times reminded me of Britisher Michael Frayn in its appealing zaniness...How [our narrator] maneuvers his way through both old and new tasks reminded me at times of Nabokov's Pnin (one of my favorite characters in all of literature); here one feels the same ineffable tenderness that is the mark of a truly wonderful writer. Exuberant is the right word, not only for the story's pile up of characters and events, but also for its prose. It has such precision and joy that I would be remiss if I didn't praise the translator, Stuart Schoffman...[This is] a novel so intimate and vivid that past and present and future merge in ways that generate surprise and delight."
—The Arts Fuse

"[The Tunnel] is one of Yehoshua's most spryly amusing efforts...A quirky, deeply affecting work by a master storyteller."
—Kirkus Reviews, STARRED

"A warmhearted and subtly provocative novel...The symbolism is potent, and consistent with the politically outspoken Yehoshua's recent shift away from his prior advocacy for a two-state solution. Yet Yehoshua never allows politics to dominate...The story's heart lies in poignant domestic moments between Luria and his wife."
—Booklist

"The main achievement of the book is to draw us into the process of mental deterioration through aging and the gnawing anxieties about decline triggered by that process, a subject rarely tackled by novelists. This may sound dire, but Yehoshua's distinctive gift as a novelist is demonstrated yet again in his ability to turn it into an occasion for absurd comedy as well as for fear."
—Robert Alter, Jewish Review of Books

"The Tunnel, a novel by venerable Israeli author A.B. Yehoshua, is a gentle fable about aging, marital love and understanding between two peoples in conflict...In Yehoshua's capable hands, what could have been a depressing account of decline instead becomes one that chooses optimism over despair...A tenderhearted story."
—Shelf Awareness

"Tender, slow paced, humorous — but at times also painful — [The Tunnel] is a tale about deep love, memory and identity."
—Times of Israel

"The Tunnel [is] one of [Yehoshua's] finest achievements…Clear, lean, sharp, carefully sculpted, fully controlled by the sure hand of an expert artist."
—Ha'aretz

"The Tunnel is A.B. Yehoshua at his best."
—Yisrael Hayom

"Compelling . . . Artfully translated by Stuart Schoffman . . . Yehoshua is attentive to the minutiae of everyday life and the small incidents that, gathered together, make up the tragedy of dementia . . . [The Tunnel is] a fine valedictory note worthy of one of Israel's finest writers."
—Fathom
Houghton Mifflin Harcourt, 9781328622631, 336pp.
Publication Date: August 4, 2020
About the Author
A. B. YEHOSHUA is the author of numerous novels, including Mr. Mani, Five Seasons, The Liberated Bride, and A Woman in Jerusalem. His work has been translated into twenty-eight languages, and he has received many awards worldwide, including the Los Angeles Times Book Prize and the National Jewish Book Award. He lives in Tel Aviv, Israel.

STUART SCHOFFMAN, a journalist and translator, is a fellow at the Shalom Hartman Institute in Jerusalem and editor of Havruta: A Journal of Jewish Conversation.