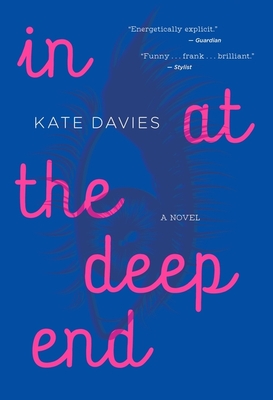 In at the Deep End (Hardcover)
Houghton Mifflin Harcourt, 9781328629678, 336pp.
Publication Date: June 4, 2019
* Individual store prices may vary.
Description
A fresh, funny, audacious debut novel about a Bridget Jones–like twenty-something who discovers that she may have simply been looking for love — and, ahem, pleasure — in all the wrong places (aka: from men)

Julia hasn't had sex in three years. Her roommate has a boyfriend—and their sex noises are audible through the walls, maybe even throughout the neighborhood. Not to mention, she's treading water in a dead-end job, her know-it-all therapist gives her advice she doesn't ask for, and the men she is surrounded by are, to be polite, subpar. Enough is enough.

So when Julia gets invited to a warehouse party in a part of town where "trendy people who have lots of sex might go on a Friday night"—she readily accepts. Whom she meets there, however, is surprising: a conceptual artist, also a woman.

Julia's sexual awakening begins; her new lesbian life, as she coins it, is exhilarating. She finds her tribe at queer swing dancing classes, and guided by her new lover Sam, she soon discovers London's gay bars and BDSM clubs, and . . . the complexities of polyamory. Soon it becomes clear that Sam needs to call the shots, and Julia's newfound liberation comes to bear a suspicious resemblance to entrapment . . . 

In at the Deep End is an unforgettably frank, funny, and racy odyssey through the pitfalls and seductions we encounter on the treacherous—and more often, absurd—path to love and self. 
About the Author
KATE DAVIES was born and brought up in north-west London. She studied English at Oxford University before becoming a writer and editor of children's books. She also writes comedy scripts, and had a short-lived career as a burlesque dancer that ended when she was booed off stage at a Conservative club, dressed as a bingo ball. Kate lives in east London with her wife. In at the Deep End is her debut novel.
Praise For In at the Deep End…
One of iBooks' "2019 Most Anticipated Books" 
A Publishers Marketplace Buzz Book

"[A] raucous and raunchy comedy of (bad) manners."
—O, the Oprah Magazine, "30 of the Best LGBTQ Books That'll Change the Literary Landscape in 2019"

"Not since Lady Gaga's Bad Romance has a piece of art so perfectly captured the exhilarating rush and sweet self-sabotage of a toxic relationship and the cruel truth that sometimes love and obsession are hard to tell apart. Rah rah ah-ah-ah!"
—Camille Perri, author of The Assistants and When Katie Met Cassidy

"A Sapphic sexual odyssey...In this energetically explicit new take on the coming-of-age lesbian novel, Julia is a 26-year-old civil servant who wants a more exciting sex life...You can feel the influences here – Fleabag and Girls – but weirdly enough the strongest voice is Bridget Jones."
—Guardian (UK)

"[An] exceedingly charming debut...Davies' writing is so breezy and effortless—and her characters so delightful—that to spend time in her world is a pleasure. Sweet but never saccharine; a literary rom-com about the importance of knowing yourself."
—Kirkus Reviews

"This book nails sex. Pardon the phrasing but where a lot of rom-coms fade out at the point of consummation, Kate Davies' is a frank, very funny and, at times, filthy exploration of sex, love and self-understanding...A frank and brilliant modern-day take on what it's like to be single or otherwise…"
—Stylist (UK) 

"After a series of unsatisfying encounters with men, Julia realises that, actually, she's very probably a lesbian. What follows is a deep dive into her new identity via an LGBTQ swing dance club and a burgeoning relationship with an artist called Sam. But men don't have the copyright on toxicity, as Julia soon discovers in this funny, filthy debut. I alternated between snorting with mirth and clutching my pearls. (Not a euphemism.)"
—Red Magazine (UK), "This month's best books"

"Being properly saucy while having a huge heart is something the best of us aspire to year-round but Davies' debut has managed it and made it look effortless...Fleabag-level dirty jokes, Eleanor Oliphant-levels of empathy and a heroine who feels like your best mate spilling the gossip after two glasses drunk a little too quickly. Fresh, funny and filthy."
—Grazia (UK) 

"Kate Davies' debut is funny, frank and more than a little bit filthy, with one of the most cringe-worthy, rage-inducing sex scenes you'll ever read."
—Emerald Street (UK)