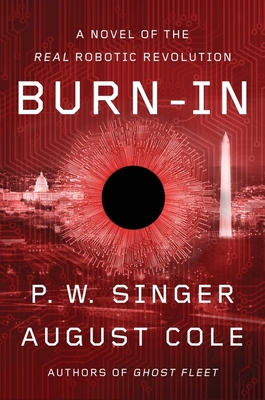 Burn-In
A Novel of the Real Robotic Revolution
Hardcover

* Individual store prices may vary.
Other Editions of This Title:
Digital Audiobook (5/25/2020)
Paperback (5/25/2021)
Description
An FBI agent hunts a new kind of terrorist through a Washington, DC, of the future in this groundbreaking book - at once a gripping technothriller and a fact-based tour of tomorrow

America is on the brink of a revolution, one both technological and political. The science fiction of AI and robotics has finally come true, but millions are angry and fearful that the future has left them behind.

After narrowly stopping a bombing at Washington's Union Station, FBI Special Agent Lara Keegan receives a new assignment: to field-test an advanced police robot. As a series of shocking catastrophes unfolds, the two find themselves investigating a conspiracy whose mastermind is using cutting-edge tech to rip the nation apart. To stop this new breed of terrorist, their only hope is to forge a new type of partnership.

Burn-In is especially chilling because it is something more than a pulse-pounding read: every tech, trend, and scene is drawn from real world research on the ways that our politics, our economy, and even our family lives will soon be transformed. Blending a techno-thriller's excitement with nonfiction's insight, Singer and Cole illuminate the darkest corners of the world soon to come.
Praise For Burn-In: A Novel of the Real Robotic Revolution…
"Burn-In is a fantastic, compelling, and authoritative look into the future—a future that is equal parts amazing and terrifying. With Burn-In, Peter Singer and August Cole establish themselves both as masters of the techno-thriller and as scientifically grounded futurists. Woven into their riveting, page-turning tale of a brilliant FBI agent's future hunt for a diabolically clever, tech-savvy criminal are important lessons about the extremely difficult issues that lie ahead surrounding the use of AI, robotics, augmented reality, and ubiquitous surveillance. It is a terrific read!"   —General David Petraeus (USA, Ret.), former commander of the Surge in Iraq, US Central Command, and coalition forces in Afghanistan and former director of the CIA  "Whether it's a Jack Reacher novel or John Le Carré spy drama, my litmus test of how good a book is, is the time to read. I started Burn-In Saturday of Memorial Day Weekend and finished it Monday . . . If you, like me, enjoy fast-paced, well-researched, tech-adventure stories, you are going to devour Burn-In."—Forbes "Burn-In will do more for defense experts' understanding of this brave new world with literature than a thousand nonfiction assessments would have."—War on The Rocks "For think-tankers and military and civilian officials, Burn-In offers a buffet of challenging questions and troubling future quandaries; for those who seek a good story, it has it all: robot sidekicks, bearded military veterans gone rogue, and a technological showdown of biblical proportions set in the nation's capital."—Military.com "The book, like the other noteworthy novel the two collaborated on, Ghost Fleet, meets its purpose skillfully. It is both lively, entertaining, and well-written as well as thought-provoking . . . [It] should be essential reading for anyone who looks out at the landscape today and sees clouds looming over the horizon."—CIMSEC "[As] timely and compelling as it is entertaining, Burn-In raises important issues and will provoke the necessary conversations that must happen about humanity and the future we want as we embrace technology at an ever-accelerating pace."—The Cipher Brief "It's a story of human-machine teaming, but like a buddy cop movie . . . It's a glimpse into the future."—Defense One "It is Awesome. Highly recommend it."—Defense One "That fascinating place where things have a real chance of becoming real . . . This book is very much like a nerd's dream. It's fantastic. I love the concept."—State Secrets "It's a very interesting book . . . It's a future shock novel like Greg Bear's Slant, where things are happening faster and faster. But it's also a military thriller. I compare it to Tom Clancy."—Podside Picnic "A visionary new form of storytelling—a rollercoaster ride of science fiction blended with science fact." —Damon Lindelof, writer/creator of Lost,Star Trek: Into Darkness, and Watchmen  &nb —
Mariner Books, 9781328637239, 432pp.
Publication Date: May 26, 2020
About the Author
P. W. SINGER is an expert on twenty-first-century warfare. His award-winning nonfiction books include the New York Times bestseller Wired for War.
AUGUST COLE is a writer and analyst specializing in national security issues and a former defense industry reporter for the Wall Street Journal.
or
Not Currently Available for Direct Purchase