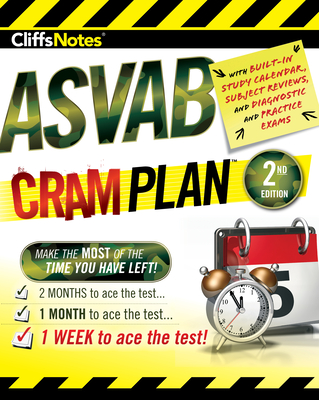 CliffsNotes ASVAB Cram Plan 2nd Edition (Paperback)
Cliffs Notes, 9781328637925, 448pp.
Publication Date: January 14, 2020
* Individual store prices may vary.
Description
The perfect way to study for the ASVAB whether you have two months, one month, or even one week left to prepare!
The ASVAB (Armed Services Vocational Aptitude Battery) consists of ten subtests, including Electronics Information, Automotive and Shop Information, Mechanical Comprehension, and Assembling Objects, that help determine what job in the U.S. military a successful enlistee is qualified for. More than one million people per year participate in the ASVAB qualifying program.
Features of this plan-to-ace-the-test product include:
Timed, boxed calendars for preparing to take the test—two-month study calendar, one-month study calendar, and one-week study calendar
Diagnostic test that helps test-takers pinpoint strengths and weaknesses so they can focus their review on topics in which they need the most help
Subject reviews that succinctly cover need-to-know topics on the test
Model practice test with answers and explanations
About the Author
Since 1976, American BookWorks Corporation has been producing and publishing a wide variety of educational books for many major publishing houses. The company specializes in Test Preparation books, as well as K-12 Review Books and Study Guides. In its role as a book producer, it functions as a co-publisher, providing publishers with strong editorial, marketing, and technological expertise based on more than 30 years of experience.
Carolyn C. Wheater is a math instructor at the Nightingale-Bamford School in New York City and writes extensively on standardized test mathematics. She resides in Hawthorne, New Jersey.
Jane R. Burstein, M.A., has been an ACT and SAT tutor for numerous years and is an Adjunct Instructor and Student Teaching Supervisor in the College of Education at Hofstra University, where her work includes preparing secondary-school ELA teacher candidates to create effective edTPA portfolios. She has gone through training with Pearson, the edTPA administrator, to grade Secondary ELA portfolios. She resides in Roslyn, New York.