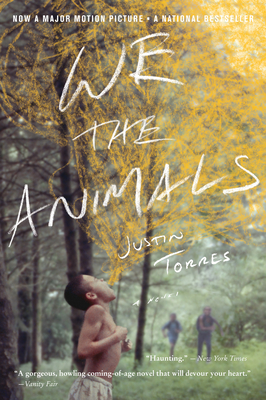 We the Animals (Tie-In) (Paperback)
A novel
Mariner Books, 9781328639073, 160pp.
Publication Date: August 7, 2018
* Individual store prices may vary.
Description
NOW A MAJOR MOTION PICTURE BY JEREMIAH ZAGAR
 
"A novel so honest, poetic, and tough that it makes you reexamine what it means to love and to hurt." — O, The Oprah Magazine
 
"The communal howl of three young brothers sustains this sprint of a novel . . . A kind of incantation." — The New Yorker
 
This "fiery ode to boyhood" (Scott Simon, NPR) tracks three brothers as they tear their way through childhood, growing up in the shadow of Paps and Ma and learning a kind of love that is serious, dangerous, unshakeable, glorious. A stunning exploration of how we are formed by our earliest bonds, We the Animals bears witness to Justin Torres's serious talent and heralds him as a "brilliant, ferocious new voice" (Michael Cunningham).
 
"A miracle in concentrated pages, you are going to read it again and again." — Dorothy Allison
 
"Rumbles with lyric dynamite . . . Torres is a savage new talent." — Benjamin Percy, Esquire
About the Author
JUSTIN TORRES's first novel We the Animals, a national bestseller, has been translated into fifteen languages and is now a feature film.  He has published short fiction in The New Yorker, Harper's, Granta, Tin House, The Washington Post, Glimmer Train, Flaunt,and other publications, as well as non-fiction pieces in publications like The Guardian and The Advocate.  A graduate of the Iowa Writers' Workshop, he was a Wallace Stegner Fellow at Stanford University, a fellow at the Radcliffe Institute for Advanced Study at Harvard, and a Cullman Center Fellow at The New York Public Library.  The National Book Foundation named him one of 2012's 5 Under 35.  He has been the recipient of a grant from the National Endownment for the Arts, a Rolón Fellowship in Literature from United States Artists, and the VCU Cabell First Novelist Award. Recently, he served as Picador Guest Professor for Literature at the University of Leipzig. He lives in Los Angeles, where he is Assistant Professor of English at UCLA.
Praise For We the Animals (Tie-In): A novel…
"We the Animals is a dark jewel of a book. It's heartbreaking. It's beautiful. It resembles no other book I've read. We should all be grateful for Justin Torres, a brilliant, ferocious new voice."—Michael Cunningham
"Some books quicken your pulse. Some slow it. Some burn you inside and send you tearing off to find the author to see who made this thing that can so burn you and quicken you and slow you all at the same time. A miracle in concentrated pages, you are going to read it again and again, and know exactly what I mean."—Dorothy Allison
"In language brilliant, poised and pure, We the Animals tells about family love as it is felt when it is frustrated or betrayed or made to stand in the place of too many other needed things, about how precious it becomes in these extremes, about the terrible sense of loss when it fails under duress, and the joy and dread of realizing that there really is no end to it."—Marilynne Robinson
"We the Animals snatches the reader by the scruff of the heart, tight as teeth, and shakes back and forth—between the human and the animal, the housed and the feral, love and violence, mercy and wrath—and leaves him in the wilderness, ravished by its beauty. It is an indelible and essential work of art."—Paul Harding, Pulitzer Prize–winning author of Tinkers
"We the Animals marks the debut of an astonishing new voice in American Literature. In an intense coming-of-age story that brings to mind the early work of Jeffrey Eugenides and Sandra Cisneros, Torres's concentrated prose goes down hot like strong liquor. His beautifully flawed characters worked their way into my heart on the very first page and have been there ever since."—Tayari Jones, author of Silver Sparrow
"We the Animals is a gorgeous, deeply humane book. Every page sings, and every scene startles. I think we'll all be reading Justin Torres for years to come."—Daniel Alarcon, author of Lost City Radio and War by Candlelight
"A strobe light of a story . . . I wanted more of Torres's haunting word-torn world . . ."—New York Times Book Review
"Justin Torres' debut novel is a welterweight champ of a book. It's short but it's also taut, elegant, lean — and it delivers a knockout."—NPR's Weekend Edition
"A slender but affecting debut novel by Justin Torres . . . [a] sensitive, carefully wrought autobiographical first novel . . . The scenes have the jumbled feel of homemade movies spliced together a little haphazardly, echoing the way memory works: moments of fear or excitement sting with bright clarity years later, while the long passages in between dissolve into nothingness. From the patchwork emerges a narrative of emotional maturing and sexual awakening that is in many ways familiar . . . but is freshened by the ethnicity of the characters and their background, and the blunt economy of Mr. Torres's writing, lit up by sudden flashes of pained insight."—New York Times
"The communal howl of three young brothers sustains this sprint of a novel, which clocks in at a hundred and twenty-five pages. The boys, who imagine themselves the Musketeers, the Stooges, and the Holy Trinity all at once, are the wisecracking, lamenting chorus who bear witness to their parents' wild-ride marriage. Ma got pregnant at fourteen—she tells her oldest son she could feel him growing inside her, 'heart ticking like a bomb'—and now sleeps for days at a time and weeps whenever she tells her children she loves them; Paps, occasionally AWOL, surfaces to deliver meticulous, leisurely spankings. The collage of vignettes is elevated by Torres's twitchy prose, in which the pummel of hard consonants and slant rhymes becomes a kind of incantation: 'They hunched and they skulked. They jittered. They scratched . . . They'll flunk. They'll roll one car after another into a ditch.'"—New Yorker
"The best book you'll read this fall . . . We the Animals, a slim novel about three brothers, half white, half Puerto Rican, scrambling their way through a dysfunctional childhood, is the kind of book that makes a career . . . Torres's sentences are gymnastic, leaping and twirling, but never fancy for the sake of fancy, always justified by the ferocity and heartbreak and hunger and slap-happy euphoria of these three boys. It's a coming-of-age novel set in upstate New York that rumbles with lyric dynamite. It's a knock to the head that will leave your mouth agape. Torres is a savage new talent."—Esquire
"First-time novelist Justin Torres unleashes We the Animals (Houghton Mifflin Harcourt), a gorgeous, howling coming-of-age novel that will devour your heart."—Vanity Fair
"A novel so honest, poetic, and tough that it makes you reexamine what it means to love and to hurt. Written in the voice of the youngest of three boys, this partly autobiographical tale evokes the cacophony of a messy childhood—flying trash-bag kites, ransacking vegetable gardens, and smashing tomatoes until pulp runs down the kitchen walls. But despite the din the brothers create, the novel belongs to their mother, who alternates between gruff and matter-of-fact—'loving big boys is different from loving little boys—you've got to meet tough with tough.' In stark prose, Torres shows us how one family grapples with a dangerous and chaotic love for each other, as well as what it means to become a man."—O, the Oprah Magazine
"The imagistic power of Justin Torres' debut, We the Animals (Houghton Mifflin Harcourt), exists in inverse proportion to its slim 128 pages. Just try shaking off this novel about three upstate New York brothers whose knockabout childhoods with their Puerto Rican "Paps" and white "Ma" are the narrative equivalent of feral kitties being swung overhead in a burlap bag."—Elle magazine
"A kind of heart-stopping surge of emotion and language in this musical tornado of a novel."—Pam Houston in More magazine
"Justin Torres' debut novel, We the Animals, does a lot more than just get read . . . it shouts, beatboxes and flirts; it lulls only to shock awake; it haunts and creeps and surprises. If Torres' book were an object, it would be a BB gun spray-painted jungle green. If it were a sound, it would be something like Kanye West circa "808s and Heartbreaks" reinterpreting Maurice Ravel's "Bolero." Torres, a 31-year-old graduate from the Iowa Writers' Workshop and a current Wallace Stegner Fellow, writes in a voice that combines urgency, brutality and huggable cuteness that creates a pungent new voice both endearingly frightening and difficult to categorize."—Forbes.com
"[We the Animals] packs an outsized wallop; it's the skinny kid who surprises you with his intense, frenzied strength and sheer nerve. You pick up the book expecting it to occupy a couple hours of your time and find that its images and tactile prose linger with you days after . . . what stays with me are the terrible beauty and life force in Torres' primal tale."—Newsday
"That such a young author writes so well in his debut novel seems miraculous. Few books can match the trifecta pulled off in We the Animals: simplicity married to artistry and candor. For this reason, along with others noted here, this book could not be more highly recommended."—New York Journal of Books
"Short sentences. Short chapters. Short book. But wow! What a powerful piece of fiction. Justin Torres' We the Animals is a tough little novel about three brothers growing up as the neglected, beloved sons of a Puerto Rican father and a white mother who works the graveyard shift in a brewery and sometimes doesn't know what day it is. It's daring and funny and a little scary, and it nails the competitive bond among siblings better than any book in recent memory."—The Oregonian
"Telling the story of three mixed-race brothers growing up in New York state, Justin Torres' debut novel, We the Animals, is a quick, raw, punchy read . . . memorable and vivid"—Dallas Morning News
"Here's a first novel that reads like one, not because it's amateurish or unsure of itself—it's neither—but because it's urgent. Urgency in fiction is easily faked—kill off the protagonist's parents in the first sentence, or do away with dependent clauses, or use the second person—but Justin Torres' We the Animals is actually urgent. Urgent not to tell us anything or to make a particular point, but, like a living thing, to be what it mysteriously needs to be, to fulfill the promises it makes to itself."—San Francisco Chronicle
"Filled with rich detail, tableau-like scenes, and true-to-life little boy adventures, We the Animals is a must-read novel. Torres' evocative language grips the reader, each scene bringing the boys to life, reminding us of our own childhoods and our struggles to grow into strong men and women."—San Francisco Book Review
"It takes only a single paragraph of Justin Torres' We the Animals to announce a powerful new voice in literary fiction . . . This short, sharp shock of a debut novel, based on the author's experiences growing up poor in upstate New York, is like a viscous liquor that both burns and braces."—Arizona Republic
"It's rare to come across a young writer with a voice whose uniqueness, power and resonance are evident from the very first page, or even the very first paragraph. It does happen every once in a while, though. And it's happened again, just now, with the publication of We the Animals, a slender, tightly wound debut novel by a remarkable young talent named Justin Torres."—Washington Post
"Justin Torres's slim volume We the Animals comprises a series of seminal moments from a young boy's life, which are revealed in brilliant, searing flashes; its relatively few pages contain the arc of an entire childhood . . . As a debut, We the Animals proves that Torres is not only a novelist of deep empathy, but one with the ability to compress this feeling into prose until only the truest and most essential kernels remain."—Time Out New York
"A slim book can hold volumes. We the Animals, the first novel from Justin Torres, is such a book. Not an ounce of fat on its slight frame, but the story is sinewy. Stong . . . We the Animals crafts beauty out of despair. From lives so fragmented they threaten to break off into oblivion at any moment, Torres builds a story that is burnished, complete. That takes talent, diligence and more than a little grace."—Houston Chronicle
"We the Animals is a book so meant to break your heart that it should lose its power just on the grounds of being obvious. That it pierces—with an arrow dipped in ache—signals that Justin Torres is a writer to embrace from the start. This is his first novel."—Newark Star Ledger
"Torres has spilled onto the scene, big beating heart in hand. The book is short because it must've been absolutely exhausting to write. But that doesn't matter because you'll read it three times. But most of all, We the Animals will enrapture the literary world, as it should, because of its lyricism. It feels like reading James Agee by lightning strike."—Arkansas Times
"We the Animals conveys the raw honesty of a child trying to figure everything out: hunger, love, loneliness, injustice, sex, the weather, desire, poverty, vulnerability, brutality, abandonment, loyalty, brokenness, yearning, fear, and, maybe, hope. Each chapter is a tiny, carefully crafted vignette, a story both elegant and raw, vibrant and incomplete. Rarely has a writer developed the child's-eye view with such intimate vulnerability and emphatic restraint."—Bookslut.com
"Justin Torres' first novel, We the Animals, carries all the balm and hazard of strong waves at high tide. Told through the eyes of the youngest of three brothers, the novel evokes the experience of youth and the struggles of a poor family from Brooklyn living in upstate New York. Through his enveloping and fast-paced prose, Torres bestows his story with a rare generosity and honesty, portraying the family's jagged love—with all its cruelty, beauty, tenderness, and loyalty—and chronicling the events leading to the family's calamitous fragmentation."—ZYZZYVA: The Last Word: West Coast Writers and Artists
"Three brothers and a dueling husband and wife are bound by poverty and love in this debut novel from Stegner Fellow Torres . . . The short tales that make up this novel are intriguing and beautifully written"—Publishers Weekly
"An exquisitely crafted debut novel—subtle, shimmering and emotionally devastating . . . the narrative voice is a marvel of control—one that reflects the perceptions and limitations of a 7-year-old in language that suggests someone older is channeling his younger perspective. In short chapters that stand alone yet ultimately achieve momentum, the narrator comes to terms with his brothers, his family and his sexuality, separating the "I" from the "we" and suffering the consequences. Ultimately, the novel has a redemptive resonance—for the narrator, for the rest of the fictional family and for the reader as well. Upon finishing, readers might be tempted to start again, not wanting to let it go."—STARRED Kirkus
"Fiercely gorgeous . . . In a style that reaches the level of poetry, We the Animals is a hymn for what is lost; for what we leave behind and what never leaves us. Belying brevity, Torres has crafted a beast of a book, stretching its paws and flexing its tail, a creature that is simultaneously elegant and ferocious."—Publishers Lunch
"Justin Torres's first-rate prose will leave you gut-socked and breathless, with a lump in your throat . . . the writing is exquisite, making the painful trip so worthwhile . . . A touching, frightening story of three boys who grow up amid neglect, poverty, violence and occasional moments of pure, radiant love."—Shelf Awareness Pro