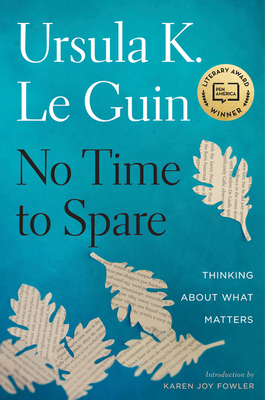 No Time to Spare (Hardcover)
Thinking About What Matters
Houghton Mifflin Harcourt, 9781328661593, 240pp.
Publication Date: December 5, 2017
Other Editions of This Title:
Paperback (1/15/2019)
* Individual store prices may vary.
Description
Ursula K. Le Guin on the absurdity of denying your age: "If I'm ninety and believe I'm forty-five, I'm headed for a very bad time trying to get out of the bathtub."

On cultural perceptions of fantasy: "The direction of escape is toward freedom. So what is 'escapism' an accusation of?"

On breakfast: "Eating an egg from the shell takes not only practice, but resolution, even courage, possibly willingness to commit crime."

Ursula K. Le Guin took readers to imaginary worlds for decades. In her last great frontier of life, old age, she explored a new literary territory: the blog, a forum where she shined. The collected best of Ursula's blog, No Time to Spare presents perfectly crystallized dispatches on what mattered to her late in life, her concerns with the world, and her wonder at it: "How rich we are in knowledge, and in all that lies around us yet to learn. Billionaires, all of us."
About the Author
URSULA K. LE GUIN was born in Berkeley, California, in 1929, and passed away in Portland, Oregon, in 2018. She published over sixty books of fiction, nonfiction, poetry, drama, children's literature, and translation. She was the recipient of a National Book Award, six Hugo and five Nebula awards, and was inducted into the American Academy of Arts and Letters.
 
KAREN JOY FOWLER is the author of six novels and four short story collections, including We Are All Completely Beside Ourselves and Black Glass. She is the winner of the 2014 PEN/Faulkner Award, a finalist for the Man Booker Prize, and has won numerous Nebula and World Fantasy Awards.
Praise For No Time to Spare: Thinking About What Matters…
Praise for NO TIME TO SPARE
Winner of the Hugo Award for Best Related Book
Winner of the PEN/Diamonstein-Spielvogel Award for the Art of the Essay
A TimeOut Book to Cozy Up to This December
A Real Simple Best Book to Read in December
A Bustle Best Book to Read in December
One of Southern Living's Unputdownable Reads to Curl Up with in December
A Harper's Bazaar Best New Book to Read in December
A Most Anticipated Title of the Fall from Vulture
A PopSugar Must-Read Book for December
A Book Riot Must-Read Book for December 
A Wired Must-Read Summer Title

"The trivially personal is a chief pleasure of this collection...The pages sparkle with lines that make a reader glance up, searching for an available ear with which to share them...'Words are my skein of yarn, my lump of wet clay, my block of uncarved wood,' [Le Guin] explains, and then quietly astounds us with the carving."—Melissa Febos, The New York Times Book Review

"This delightful book [is] inquisitive and stroppily opinionated in equal measure…In even these miscellanies, composed in [Le Guin's] off hours, the sentences are perfectly balanced and the language chosen with care. After all, she writes, 'Words are my matter—my stuff.' And it's through their infinite arrangements…that Ms. Le Guin's extraordinary imaginary worlds have been built and shared."—Wall Street Journal

"Witty, often deeply observed...Le Guin has a well-ordered mind...If she's arrived at a 'crabby old age,' as she puts it, it's inspired her to be engagingly mindful of everything around her." —USA Today

"There are shades of Adrienne Rich here…At the end of 'No Time to Spare,' having enjoyed all the Annals of Pard and the Steinbeck anecdotes, the stories about the Oregon desert and the musings on belief, all I could think was: I want Le Guin to keep going, on and on. I want to read more."—Michelle Dean, The Los Angeles Times 

 "'No Time to Spare,' deriving from Le Guin's online essays, covers just about anything that crosses her mind, from 'lit biz' to cats to the Oregon landscape…Might there be truth to the commonplace that science fiction writers are prophets?...A year ago I argued that Le Guin deserved a Nobel Prize in literature. In fact — what a fantasy! — she ought to be running the country."—The Washington Post

"The pages pop with life, even as Le Guin, ever sassy, reckons with the toils of aging. She finds herself busier than ever, cramming in as much as she can. The best bits are the interludes for Pard, her new black-and-white cat. Young when she's old, spry when she's stiff, he exists in twinkling counterpoise—especially when he's time-traveling through her whirring external hard drive to, Le Guin suspects, cosmic parts unknown." —Wired

"In 'No Time to Spare: Thinking About What Matters,' Le Guin shows that elders have plenty to teach…[She] finds inspiration in the everyday and makes it sparkle with her prose…In step with her legacy, [she] challenges us to reconsider what we automatically accept…"No Time to Spare" will leave readers hoping that Le Guin is given a bit more time to share her observations — on aging, art, our world — and to remind us of things we mustn't forget."—Newsday

"[No Time to Spare is] erudite, witty and…wise…even in pieces about her cat, or about answering fan mail, [Le Guin] makes the reader continually conscious of the ways that her age is a part of her life. That subtle coherence gives the book a special feeling, to borrow her words…a 'steady, luminous ethical focus'…Deep down there: that is where Le Guin has taken readers for decade after decade, and where, these essays show, she is capable of taking them still."—The Chicago Tribune

"Le Guin's new book, No Time To Spare…feels like the surprising and satisfying culmination to a career in other literary forms…Even in the familiar relationship of an old woman and her cat, Le Guin finds an ambit for challenging moral insight and matter for an inquisitiveness that probes the deep time of evolution...Blogs may not be novels, but a blog by Le Guin is no ordinary blog, either. It is a comfort to know, as reality seems to grow more claustrophobic and inescapable, that she remains at her desk, busily subverting our world."—The New Republic

"The more you re-read this collection of blog posts by science fiction Grandmaster Le Guin, the more you're convinced of Oliver Wendell Holmes's quip that for the true thinker, nothing is trivial… [No Time to Spare] is delivered in the core-drilling, clear, thoughtful language of somebody who's been crafting English for more than half a century – but the entries on the craft of writing itself are, perhaps predictably, the best things in the book."—Christian Science Monitor

"[Le Guin's] clever observations and sharp, nimble prose provide a window into the interior life of the award-winning novelist." —Harper's Bazaar​

"[No Time to Spare] touches on...everything from feminism to swear words in fiction. Each entry is filled with warmth, insight, and humor."—Real Simple

"[An] altogether fantastic collection No Time to Spare: Thinking About What Matters…[is] a magnificent read in its tessellated totality."—Brain Pickings

"Le Guin's mindful empathy for every kind of living and non-living thing makes her a role model for the rest of us who ever tried to walk a mile in another kind of shoe…With her profound skepticism of the merits of capitalism, her à la carte Eastern spirituality, and her willingness to be disliked, she could certainly be a strong contender for Mayor of Portland."—PopMatters

"Le Guin is a natural story­teller, and these snippets from her life are inarguably delightful. She is certainly a lioness in winter here, as focused as she has ever been on the things that matter most to her. Old age is not for the young, she posits—and it is a slogan not intended as complaint, but rallying cry. Spend a little time with octoge­narian Ursula K. Le Guin, and the prospect of growing old becomes a bit less daunting."—BookPage

"Le Guin is 88 and shows no sign of slowing down in this essay collection, dispensing serious wisdom about our world, politics, literature, aging, and more."—Book Riot

"Reading the latest book from Portland writer Ursula K. Le Guin…is a bit like having a one-way conversation with a funny, cranky, keen-eyed old friend…Even when you want to quibble with her, Le Guin keeps you thoroughly engaged…It can be fun. It can be startling. It can get your back up… As you might expect from an author whose career has been devoted to imagining alternative worlds in close detail, she has a knack for stepping back from life on Earth and seeing it for the strange thing it is."
—The Oregonian

"[There's] a welcome lightheartedness to this serious and morally weighty collection. It is a book that truly does matter."—The Houston Chronicle

"Rife with insight [and] humor."—The Columbus Dispatch 

"A delightfully random bouquet of musings on aging, writing, the moral character of the United States, Homer, her cat Pard, and everything in between…Following LeGuin's penetrating mind as she thinks about the problems of our world and puzzles of language makes No Time to Spare a more than worthwhile read for fans and new readers alike."—The Riveter

"Le Guin is a thoughtful and careful writer, and so her opinions are thoughtfully and carefully organized. She knows what she thinks, and she writes so well that you'll want to return to these candid essays…like returning to an older, wiser friend."
—Omnivoracious

"No Time to Spare presents the best of Le Guin's blog: sharp-eyed, big-hearted, idiosyncratic and highly enjoyable…Both Le Guin's eye for detail and her dry wit are on full display here…Readers will find much to think about in this wise and eloquent collection."—Shelf Awareness

"To Le Guin…what truly matters are the words she thinks about, rigorous in her examination. Her expression of these thoughts reads more like mini-essays than blog posts and invite close reading, which always reaps rich rewards, the true gift of this lovely book."—Booklist

"Spirited, wry reflections on aging, literature, and America's moral life...An entertaining collection...Thoughtful musings from a deft and sharply insightful writer." —Kirkus

"Short, punchy, and canny meditations on aging, literature, and cats…[Le Guin] offers her many fans a chance to share her clear-eyed experience of the everyday." —Publishers Weekly

Praise for Ursula K. Le Guin

"There is no better spirit in all of American letters than that of Ursula Le Guin." —Choire Sicha, Slate

"As a deviser of worlds, as a literary stylist, as a social critic and as a storyteller, Le Guin has no peer. From the time of her first published work in the mid-1960s, she began to push against the confines of science fiction, bringing to bear an anthropologist's acute eye for large social textures and mythic structures, a fierce egalitarianism and a remarkable gift of language, without ever renouncing the sense of wonder and the spirit of play inherent in her genre of origin." —Michael Chabon

"One of the most original imaginations ever to grace American letters...Through decades and scores of books, the genre Le Guin made her own has itself grown up — writers from David Mitchell to Salman Rushdie have walked through the door Le Guin opened...To sit and talk with Le Guin is to engage a powerful mind that has responded to ideological entrapments or career bumps by carpentering a new space for itself. She is brisk and funny, but unsparing when asked to comment on something which, in her mind, does not measure up...She shows that stories that stand the test of time can come from something as simple as fellowship: like a family, like an extraordinary body of work, like a house built from a kit, standing proudly on a hill, more than a hundred years later." —John Freeman, Boston Globe
 
"Le Guin, of course, has long been one of our most powerful writers of conscience." —David L. Ulin, Los Angeles Times

"It's hard to think of another living author who has written so well for so long in so many styles as Ursula K. Le Guin." —Scott Timber, Salon

"She never loses touch with her reverence for the immense what is." —Margaret Atwood
 
"Ursula K. Le Guin's prose breathes light and intelligence. She can lift fiction to the level of poetry and compress it to the density of allegory." —Jonathan Lethem
 
"There is no writer with an imagination as forceful and delicate as Le Guin's." —Grace Paley

"Le Guin is a writer of enormous intelligence and wit, a master storyteller with the humor and force of a Twain. She creates stories for everyone from New Yorker literati to the hardest audience, children. She remakes every genre she uses." —Sarah Smith, Boston Globe

"[Le Guin] is frequently referred to as 'the best of' for all manner of things—like best fantasy writer, best science fiction writer, best female writer—all of which is silly, as she both defies and accepts all categorization. Her influence on generations of readers and writers, from George R.R. Martin to Jennifer Egan to David Mitchell, is as evident as it is impossible to overstate. Admired for her quiet daring, her structures, and her inventions, most of all she is revered for her sentences." —Choire Sicha, Interview Magazine