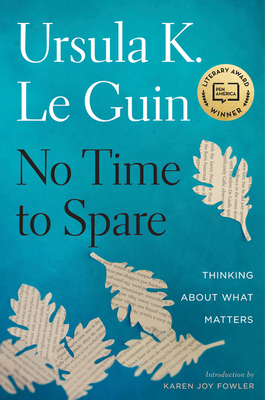 No Time To Spare
Thinking About What Matters
Hardcover

* Individual store prices may vary.
Other Editions of This Title:
Digital Audiobook (1/14/2018)
Paperback (1/15/2019)
Description
Ursula K. Le Guin on the absurdity of denying your age: "If I'm ninety and believe I'm forty-five, I'm headed for a very bad time trying to get out of the bathtub."

On cultural perceptions of fantasy: "The direction of escape is toward freedom. So what is 'escapism' an accusation of?"

On breakfast: "Eating an egg from the shell takes not only practice, but resolution, even courage, possibly willingness to commit crime."

Ursula K. Le Guin took readers to imaginary worlds for decades. In her last great frontier of life, old age, she explored a new literary territory: the blog, a forum where she shined. The collected best of Ursula's blog, No Time to Spare presents perfectly crystallized dispatches on what mattered to her late in life, her concerns with the world, and her wonder at it: "How rich we are in knowledge, and in all that lies around us yet to learn. Billionaires, all of us."
Praise For No Time To Spare: Thinking About What Matters…
Praise for NO TIME TO SPARE Winner of the Hugo Award for Best Related Book Winner of the PEN/Diamonstein-Spielvogel Award for the Art of the Essay A TimeOut Book to Cozy Up to This December A Real Simple Best Book to Read in December A Bustle Best Book to Read in December One of Southern Living's Unputdownable Reads to Curl Up with in December A Harper's Bazaar Best New Book to Read in December A Most Anticipated Title of the Fall from Vulture A PopSugar Must-Read Book for December A Book Riot Must-Read Book for December  A Wired Must-Read Summer Title "The trivially personal is a chief pleasure of this collection...The pages sparkle with lines that make a reader glance up, searching for an available ear with which to share them...'Words are my skein of yarn, my lump of wet clay, my block of uncarved wood,' [Le Guin] explains, and then quietly astounds us with the carving."—Melissa Febos, The New York Times Book Review "This delightful book [is] inquisitive and stroppily opinionated in equal measure…In even these miscellanies, composed in [Le Guin's] off hours, the sentences are perfectly balanced and the language chosen with care. After all, she writes, 'Words are my matter—my stuff.' And it's through their infinite arrangements…that Ms. Le Guin's extraordinary imaginary worlds have been built and shared."—Wall Street Journal "Witty, often deeply observed...Le Guin has a well-ordered mind...If she's arrived at a 'crabby old age,' as she puts it, it's inspired her to be engagingly mindful of everything around her." —USA Today "There are shades of Adrienne Rich here…At the end of 'No Time to Spare,' having enjoyed all the Annals of Pard and the Steinbeck anecdotes, the stories about the Oregon desert and the musings on belief, all I could think was: I want Le Guin to keep going, on and on. I want to read more."—Michelle Dean, The Los Angeles Times   "'No Time to Spare,' deriving from Le Guin's online essays, covers just about anything that crosses her mind, from 'lit biz' to cats to the Oregon landscape…Might there be truth to the commonplace that science fiction writers are prophets?...A year ago I argued that Le Guin deserved a Nobel Prize in literature. In fact — what a fantasy! — she ought to be running the country."—The Washington Post "The pages pop with life, even as Le Guin, ever sassy, reckons with the toils of aging. She finds herself busier than ever, cramming in as much as she can. The best bits are the interludes for Pard, her new black-and-white cat. Young when she's old, spry when she's stiff, he exists in twinkling counterpoise—especially when he's time-traveling through her whirring external hard drive to, Le Guin suspects, cosmic parts unknown." —Wired "In 'No Time to Spare: Thinking About What Matters,' Le Guin shows that elders have plenty to teach…[She] finds inspiration in the everyday and makes it sparkle with her prose…In step with her legacy, [she] challenges us to reconsider what we automatically accept…"No Time to Spare" will leave readers hoping that Le Guin is given a bit more time to share her observations — on aging, art, our world — and to remind us of things we m —
Harper, 9781328661593, 240pp.
Publication Date: December 5, 2017
About the Author
URSULA K. LE GUIN was born in Berkeley, California, in 1929, and passed away in Portland, Oregon, in 2018. She published over sixty books of fiction, nonfiction, poetry, drama, children's literature, and translation. She was the recipient of a National Book Award, six Hugo and five Nebula awards, and was inducted into the American Academy of Arts and Letters.