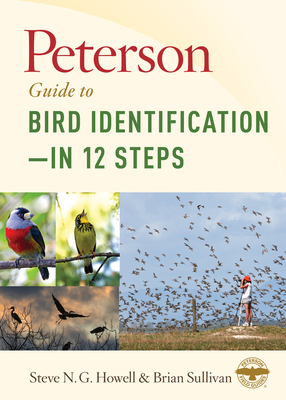 Peterson Guide to Bird Identification—in 12 Steps (Hardcover)
Houghton Mifflin Harcourt, 9781328662064, 160pp.
Publication Date: April 3, 2018
* Individual store prices may vary.
Description
Identifying birds can be overwhelming. Where and how do you start? The good news is that most people already know more than they realize about birds, which can greatly simplify the identification process.
     Written in a helpful, conversational style and illustrated with numerous photos, this "12-step program" starts with the basics and builds logically into a manageable framework that enables anyone to get into, or get more out of, the world of watching, identifying, and enjoying birds.
 
"Identifying birds is a science and an art. These leading masters of the craft share a wealth of inside knowledge in this gem of a book. If you're a birder at any level of experience, I guarantee this book will improve your skills in the field." —Kenn Kaufman, author of the Kaufman Field Guide to Advanced Birding
 
"The birding equivalent of having Albert Einstein and Stephen Hawking teach you how to count, add, subtract, multiply, and comprehend quantum mechanics. Bird watchers at every skill level will garner insights from this book." — Pete Dunne, author of Birds of Prey


STEVE N. G. HOWELL is an international bird tour leader with WINGS, a popular speaker and trip leader at birding festivals, and author of numerous books and articles. He lives in California.

BRIAN SULLIVAN works on eBird and digital publications at the Cornell Lab of Ornithology. He lives in California.
About the Author
STEVE N. G. HOWELL is an international bird tour leader with WINGS and a popular speaker and trip leader at birding festivals. He has been watching birds for as long as he can remember.  Steve has authored numerous books and articles, mainly about birds, and the common thread to his life is that birding should be fun.
 
BRIAN SULLIVAN has conducted fieldwork on birds throughout North America for the past twenty-five years. Birding travels, photography, and field projects have taken him to Central and South America, Australia, Antarctica, the Arctic, and across North America. He has written and consulted on various books, including popular and scientific literature on North American birds. He is a coauthor of several books, and co-creator of the groundbreaking Raptor ID app for mobile devices. He is currently project leader for eBird and photographic editor for the Birds of North America Online at the Cornell Laboratory of Ornithology.
 
Praise For Peterson Guide to Bird Identification—in 12 Steps…
"The birding equivalent of having Albert Einstein and Stephen Hawking teach you how to count, add, subtract, multiply, do long division, comprehend quantum mechanics, plus balance your checkbook. Bird watchers at every skill level will garner insights from this book."
— Pete Dunne, author of Birds of Prey

"Identifying birds is a science and an art, involving far more than merely memorizing field marks. Steve Howell and Brian Sullivan are leading masters of this craft, and they share a wealth of inside knowledge in this gem of a book. If you're a birder at any level of experience, from beginner to expert, read this book from cover to cover and I guarantee it will improve your skills in the field." — Kenn Kaufman, author of the Kaufman Field Guide to Advanced Birding

" . . . if you are going to have a book-based conversation with bird experts about identification, Howell and Sullivan are going to be at the top of the list. . . .
[The Peterson Guide to Bird Identification—In 12 Steps] is a highly opinionated book reflecting the approach and thoughts of the authors. Which is exactly what makes it a book that all birders should read, consult, and maybe even, like me, read again."
— Donna Schulman, 10,000 Birds.com

"This book is friendly, non-intimidating, and even humorous. New birders can acquire some basics from this handy little book, and experienced birders can pick up some vital pointers, especially useful when helping the uninitiated. . . . Basically, there is something in this short book for every birder, and the 152 pages present many opportunities for all birders to pick out and explore what that 'something' may be." —Paul J. Baicich and Wayne Petersen, Birding Community E-bulletin