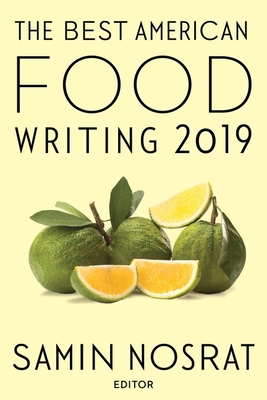 The Best American Food Writing 2019 (The Best American Series ®)
Paperback

* Individual store prices may vary.
Description
A NATIONAL BESTSELLER

New York Times best-selling author and James Beard Award winner Samin Nosrat collects the year's finest writing about food and drink.

"Good food writing evokes the senses," writes Samin Nosrat, best-selling author of Salt, Fat, Acid, Heat and star of the Netflix adaptation of the book. "It makes us consider divergent viewpoints. It makes us hungry and motivates us to go out into the world in search of new experiences. It charms and angers us, breaks our hearts, and gives us hope. And perhaps most importantly, it creates empathy within us." Whether it's the dizzying array of Kit Kats in Japan, a reclamation of the queer history of tapas, or a spotlight on a day in the life of a restaurant inspector, the work in The Best American Food Writing 2019 will inspire you to pick up a knife and start chopping, but also to think critically about what you're eating and how it came to your plate, while still leaving you clamoring for seconds.
 
Mariner Books, 9781328662255, 288pp.
Publication Date: October 1, 2019
About the Author
SAMIN NOSRAT is a writer, teacher, and chef. Called "a go-to resource for matching the correct techniques with the best ingredients" by the New York Times, and "the next Julia Child" by NPR's All Things Considered, she's been cooking professionally since 2000, when she first stumbled into the kitchen at Chez Panisse restaurant. Her first book, Salt, Fat, Acid, Heat, is a New York Times bestseller, James Beard Award winner, and the recipient of multiple ICAP Cookbook Awards, and has been turned into a Netflix original series. She is one of five food columnists for the New York Times Magazine. She lives, cooks, surfs, and gardens in Berkeley, California.

SILVIA KILLINGSWORTH is the digital editor of Bloomberg Businessweek and a former editor of The Awl and The Hairpin. Prior to that she was the managing editor of The New Yorker, and wrote regularly for their magazine and website. She lives in Westchester County, New York.