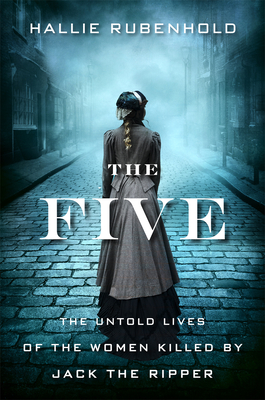 The Five
The Untold Lives of the Women Killed by Jack the Ripper
Hardcover

* Individual store prices may vary.
Other Editions of This Title:
Digital Audiobook (10/7/2019)
Paperback (3/3/2020)
Compact Disc (10/8/2019)
MP3 CD (10/8/2019)
Description
Winner of the Baillie Gifford Prize for Non-Fiction

Five devastating human stories and a dark and moving portrait of Victorian London—the untold lives of the women killed by Jack the Ripper.

Polly, Annie, Elizabeth, Catherine and Mary-Jane are famous for the same thing, though they never met. They came from Fleet Street, Knightsbridge, Wolverhampton, Sweden, and Wales. They wrote ballads, ran coffee houses, lived on country estates, they breathed ink-dust from printing presses and escaped people-traffickers.

What they had in common was the year of their murders: 1888. The person responsible was never identified, but the character created by the press to fill that gap has become far more famous than any of these five women.

For more than a century, newspapers have been keen to tell us that "the Ripper" preyed on prostitutes. Not only is this untrue, as historian Hallie Rubenhold has discovered, it has prevented the real stories of these fascinating women from being told. Now, in this devastating narrative of five lives, Rubenhold finally sets the record straight, revealing a world not just of Dickens and Queen Victoria, but of poverty, homelessness and rampant misogyny. They died because they were in the wrong place at the wrong time—but their greatest misfortune was to be born a woman.
Praise For The Five: The Untold Lives of the Women Killed by Jack the Ripper…
A New York Times Book Review 'Summer Reading Best True Crime'

A Washington Post '20 Books to Read This Summer'

An Oprah.com '20 Best True Crime Books That'll Make You Want to Sleep With the Lights On'

"Rubenhold has produced a significant study of how poor and working-class women subsisted in an unforgiving age."—The New York Times Book Review 

"Hallie Rubenhold's hard-edged, heartbreaking biographies of the five women killed by Jack the Ripper over two months in 1888 offer a blistering counter-narrative to the 'male, authoritarian, and middle class' legend of a demonic superman preying on prostitutes… Her riveting work, both compassionate group portrait and stinging social history, finally gives them their due."—The Washington Post

"The five London women murdered by Jack the Ripper, in 1888, were long assumed to be prostitutes. This history shows otherwise, presenting deeply researched portraits of the victims as they lived: they were all poor, some to the point of homelessness; they were all apparently killed while asleep; and, with one exception, they were known by family and acquaintances not to be prostitutes. Each had a distinct story that has never been fully or truthfully told. Why Victorians preferred to embrace the myth is one question that guides the book; why we continue to do so is another."—The New Yorker  

"All too often, murder victims' stories are relegated to the footnotes of history, overshadowed by not only their violent ends, but the looming specter of their killers. In The Five, historian Hallie Rubenhold sets out to correct this imbalance, placing the focus on [the victims] rather than the still-unidentified serial killer who ended their lives in 1888."—Smithsonian

"An effort to remedy the Ripper imbalance."—Time

"A must for Ripperologists."—Publishers Weekly, starred review

"Essential to students of Ripperiana."—Kirkus Reviews

"Focusing on [the victims] backstories rather than the forensic details of their deaths, Rubenhold puts them back into their larger social context."—Jezebel

"Jack the Ripper continues to be a mystery, but these women are now less so."—Bust

"Rubenhold does a commendable job in bringing these women on stage and through their stories illuminating the appalling reality behind the veneer of Victorian complacency. For these women, and millions like them, life in Victorian England was not an episode of Masterpiece Theater."—New York Journal of Books

"The Five is a long-overdue investigation that shines the spotlight on [the victims], giving context to who they were and what circumstances molded their lives."—Hypable

"At last, the Ripper's victims get a voice...An eloquent, stirring challenge to reject the prevailing Ripper myth."
—The Mail on Sunday
 
"[A]n angry and important work of historical detection…The Five is not simply about the women who were murdered in Whitechapel in the autumn of 1888: it is for them. This is a powerful and a shaming book, but most shameful of all is that it took 130 years to write."
—The Guardian

"A remarkable feat of detective work."
—The Spectator, Books of the Year

"Deeply researched and powerfully told, The Five unearths the truth behind the Victorian Age's most sensational crime: the 1888 murder spree of Jack the Ripper. Hallie Rubenhold reaches beyond 130 years' worth of lurid headlines and misleading reports to humanize the victims and explore their lives—and tragic, untimely deaths. The Five is a coruscating gem of a book, as necessary as it is compelling."
—Karen Abbott, New York Times bestselling author of Liar, Temptress, Soldier, Spy
 
"Meticulously researched and beautifully executed, The Five is a powerful and timely retelling of a story you think you already know. Rubenhold strips away decades of myths and misconceptions so that the women who were ruthlessly murdered by Jack the Ripper are no longer one-dimensional characters in a Penny Dreadful, but real human beings with very real struggles, hopes, and fears. With this important book, Rubenhold proves she is a master of narrative nonfiction: a historian with a novelist's soul."
—Lindsey Fitzharris, author of The Butchering Art

"Devastatingly good. The Five will leave you in tears, of pity and of rage."
—Lucy Worsley, BBC presenter, Chief Curator at Historic Royal Palaces, and author

"What a brilliant and necessary book."
—Jo Baker, best-selling author Longbourn

"A Ripper narrative that gives voice to the women he silenced; I've been waiting for this book for years. Beautifully written and with the grip of a thriller, it will open your eyes and break your heart."
—Erin Kelly, best-selling author of He Said/She Said
Houghton Mifflin Harcourt, 9781328663818, 352pp.
Publication Date: April 9, 2019
About the Author
HALLIE RUBENHOLD is a social historian whose expertise lies in rediscovering the stories of previously unknown women and episodes in history. The Five is the first full-length biography of the victims of Jack the Ripper to be published since 1888. By drawing upon a wealth of previously unseen archival material and adding a much-needed historical context to the victims' lives, The Five promises to change the narrative of these murders forever.
 
or
Not Currently Available for Direct Purchase