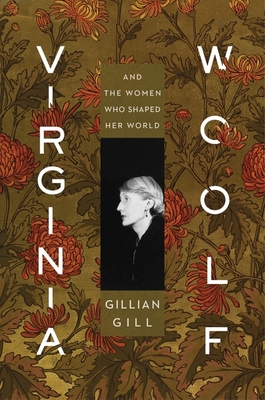 Virginia Woolf
And the Women Who Shaped Her World
Hardcover

* Individual store prices may vary.
Other Editions of This Title:
Digital Audiobook (12/2/2019)
MP3 CD (12/3/2019)
Description
An insightful, witty look at Virginia Woolf through the lens of the extraordinary women closest to her.

How did Adeline Virginia Stephen become the great writer Virginia Woolf? Acclaimed biographer Gillian Gill tells the stories of the women whose legacies—of strength, style, and creativity—shaped Woolf's path to the radical writing that inspires so many today.

   Gill casts back to Woolf's French-Anglo-Indian maternal great-grandmother Thérèse de L'Etang, an outsider to English culture whose beauty passed powerfully down the female line; and to Woolf's aunt Anne Thackeray Ritchie, who gave Woolf her first vision of a successful female writer.  Yet it was the women in her own family circle who had the most complex and lasting effect on Woolf.  Her mother, Julia, and sisters Stella, Laura, and Vanessa were all, like Woolf herself, but in markedly different ways, warped by the male-dominated household they lived in.  Finally, Gill shifts the lens onto the famous Bloomsbury group.  This, Gill convinces, is where Woolf called upon the legacy of the women who shaped her to transform a group of men--united in their love for one another and their disregard for women--into a society in which Woolf ultimately found her freedom and her voice.  
 
Praise For Virginia Woolf: And the Women Who Shaped Her World…
  "Companionable and piquant, Gillian Gill's bold reading of the lives of Virginia Woolf's female exemplars yields a kaleidoscopic view of her subject, whirling across the centuries and enabling Woolf to be seen from new and unexpected angles.  The most refreshing take on Bloomsbury in many years."—Megan Marshall, Pulitzer Prize-winning author of Margaret Fuller: A New American Life.     "Gillian Gill has written a bold, incisive book—vividly conceived, impeccably researched, always questioning and ever original. By shedding light upon the gutsy, powerful women who shaped Virginia Woolf's life and work, Gill makes a compelling argument about legacy, inheritance, and our female forebears' enduring influence." —Katharine Smyth, author of All the Lives We Ever Lived: Seeking Solace in Virginia Woolf  "A delicious—and disturbing—account of a time when men made all the rules, and a few unusual and talented women in Virginia Woolf's orbit found ways to subvert them.  Gillian Gill weaves this story of Virginia Woolf's world in her own irresistible style—irreverent, unconstrained, and deeply informed. Gill has a voice all her own, uniquely suited to recreating the no-holds-barred climate of Bloomsbury."—Susan Quinn, author of Eleanor and Hick:  The Love Affair That Shaped a First Lady   "An engaging, fully persuasive account of the women who stirred Virginia Woolf's imagination. Gillian Gill's broad-minded reading of Woolf's relations with her womenfolk recontextualizes the legends of Bloomsbury."—Carolyn Burke, author of Foursome:  Alfred Stieglitz, Georgia O'Keefe, Paul Strand, Rebecca Salsbury "Gill's writing is lively, pinpointing the amusing, sometimes salacious, and ultimately damaging aspects of Woolf's multiple worlds...Woolf fans will be entertained."—Publishers Weekly "This volume will be welcomed by readers and students curious about the cultural aspects of Woolf's development as a writer."--Library Journal —
Mariner Books, 9781328683953, 432pp.
Publication Date: December 3, 2019
About the Author
GILLIAN GILL holds a Ph.D. in modern French literature from Cambridge University, and has taught at Northeastern, Wellesley, Yale, and Harvard. She is the New York Times best-selling author of We Too, Nightingales, Agatha Christie, and Mary Baker Eddy. She lives in suburban Boston.