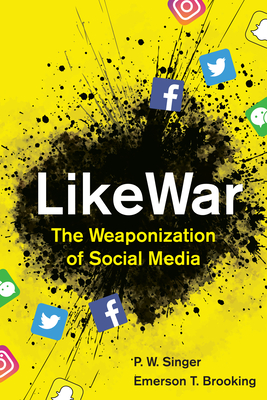 LikeWar
The Weaponization of Social Media
Hardcover

* Individual store prices may vary.
Other Editions of This Title:
Digital Audiobook (10/1/2018)
Paperback (10/8/2019)
Description
Named a Best Book of the Year
By Amazon and Foreign Affairs Magazine

Through the weaponization of social media, the internet is changing war and politics, just as war and politics are changing the internet. Terrorists livestream their attacks, "Twitter wars" produce real‑world casualties, and viral misinformation alters not just the result of battles, but the very fate of nations. War, tech, and politics have blurred into a new kind of battle space that plays out on our smartphones.

P. W. Singer and Emerson Brooking tackle the mind‑bending questions that arise when war goes online and the online world goes to war. 

Delving into the web's darkest corners, LikeWar outlines a radical new paradigm for understanding and defending against the unprecedented threats of our networked world. 
Praise For LikeWar: The Weaponization of Social Media…
An Amazon Best Book of the Month
An Amazon Best Book of the Year (2018)
Featured on NPR, CBSn, MSNBC, PBS, and ABC News Radio, as well as in The New York Times, Washington Post, Time, Popular Science, Rolling Stone, Forbes, Atlantic, Wired, Slate, Politico, Gizmodo, Foreign Affairs, Defense One, Vox, The Daily Beast, Adweek, and more

"A compelling read . . . [LikeWar] is not a warning about tomorrow's war—it's a map for those who don't understand how the battlefield has already changed."
—Washington Post

"Seriously. If you use social media in any capacity, you should read this."
—The Verge

"Extremely timely and fascinating."
—The New York Times, New & Noteworthy

"Terrific and alarming . . . Wow."
—SE Cupp, CNN

"Reading LikeWar will help you to avoid being part of this Internet of Idiots . . . While students of history, strategic studies, political science, and international relations will all find LikeWar on their required reading list, anyone else who wishes to understand the world we live in must add LikeWar to the top of the pile on their nightstand."
—Forbes

"Whether it's his fiction and nonfiction, his work as a TRADOC 'mad scientist,' the interviews he's done with defense media, the pages of Popular Science, or some other venue, P.W. Singer is the Army's must-read thinker."
—Army Magazine​

"...an in-depth account...Through a series of engaging profiles the authors, P. W. Singer and E. T. Brooking, explore the new reality and consequences facing each of us as we attempt to interact with the larger world via social media. Well organized with a vernacular easy to follow, Like War seeks to show us the hazards we are already encountering on a daily basis...this is an excellent book for anyone regularly utilizing social media, in particular the modern warfighters seeking a better understanding of information warfare and the terrain in which it is fought."
—Journal of the Joint Air Power Competence Center

"Backed by over 100 pages of notes, LikeWar is sober, deeply researched, and still compulsively readable. Comparisons to On War and The Art of War are apt."
—Amazon, Best Book of the Month (Oct)

"'Russia is not the full story," Singer tells Codebook. 'Russia is just a chapter in a larger book.' Singer, a researcher at the New America think tank, means that both figuratively and literally. His and Brooking's book, 'LikeWar: The Weaponization of Social Media,' comes out today. It may be the first study to link Mexican cartels, ISIS and reality TV villain Spencer Pratt."
—Axios

"A fantastic read."
—The LoopCast

"The picture Singer and Booking paint of how social media is being weaponized is compelling, and one that ought to give pause to any practitioner in the field of national security. I am reluctant to be so effusive in my praise, but this is truly a must-read book."
—Lawfare

"...a blueprint on how to think, operate and survive in this operational environment."
—Army Magazine

"It's clear that the information in LikeWar is vital to our national security; however, that's not the real reason why I enjoyed the book so much. I liked the book just because it was highly readable and entertaining.... It's a fun read, sure, but best of all is that every time I put down LikeWar, I felt that I had learned something new and important....This book and the information it contains is that vital. I highly recommend it for anyone with an interest in national security, international relations, journalism, or history."
—NewsRep

"...Essential reading if today's Leaders (both in and out of uniform) are to understand, defend against, and ultimately wield the non-kinetic, yet violently manipulative effects of Social Media."
—US Army Training and Doctrine Command

"....being ignorant of, and worse yet denying, these real threats to our cohesion as a country and to the global community of citizens, is no longer a choice and every individual, every organization, every country has to decide what role they will play in this battlefield and bears responsibility for the ultimate outcome. Reading LikeWar may be, for many, the right first step."
—CipherBrief

"This book deserves a place on the bookshelf of every corporate strategist and government leader."
—OODA-Loop

"LikeWar is an eye-opening literary experience. Most of us access social media in some form on a near-daily basis, but do we really understand the phenomenon?"
—Modern War Institute at West Point

"Although the book is titled Like War, it isn't so much about warfare as about how social media is affecting society broadly: how we consume information, why social media is so addictive, how it has been capitalized on by social movements, celebrities, politicians, terrorists, and states. It's worth reading for the history of the Internet alone, which bounces along as vignettes about individuals that personalize the story (they clearly apply the elements of effective social media they identify: narrative, emotion, authenticity, community, and inundation)...A valuable primer on where social media came from and how its currently being used. It also has some useful suggestions for taming its effects."
—War on the Rocks

"...Fantastic. LikeWar includes interviews with everyone from Michael Flynn to Spencer Pratt. It doesn't get better than that for a national security/reality tv-watching nerd like me."
—Just Security

"This timely work provides a fascinating and often frightening portrait of the many ways social media is being weaponized and used to manipulate . . . This book is extremely well documented. Librarians will be especially heartened by the authors' assertion that 'information literacy is no longer merely an education issue but a national security imperative.' VERDICT An important first purchase for all collections."
—Library Journal, STARRED review

"Important resource...more than 100 pages of source notes attest to the thoroughness of their research, and Singer and Brooking have gone to very dark cyber places to bring these facts to light, analyzing ideas and organizations that may give readers nightmares and that can catalyze actual violence. LikeWar should be required reading for everyone living in a democracy and all who aspire to."
—Booklist, STARRED review

"Few grasp the real threat Americans face on their favorite social networks in the course of their daily experiences. Through amusing vignettes and plenty of pop-culture references, the authors take us on a wild ride featuring everything from reality TV stars to Russian missiles. My take?  Like and share."
—Crispin Burke, Task & Purpose
"LikeWar 
is a magical combination of history, technology, and early warning wrapped in a compelling narrative of how today's information space can threaten the truth, our polity, and our security.  It's a page turner, too, chock full of deep insights and fascinating detail.  Sun Tzu tells us to know ourselves, our enemy and our battle space and 
LikeWar 
delivers on all three."
—General Michael Hayden, former Director of the CIA and NSA, author of The Assault on Intelligence
"Online technology has outrun our social intuitions about its power. In vivid prose, Singer and Brooking offer insight into the ways that social media can be used to manipulate beliefs and attitudes for self-serving purposes."
—Vint Cerf, co-inventor of the internet, recipient of the Presidential Medal of Freedom
 
"Much as Clausewitz did for conventional war,
LikeWar
lays out the new 21st century principles of war. Mixing fascinating stories and the front edge of research, it explains the twilight battlegrounds of politics and war on social media—a frightening future where truth is the first casualty, and our fundamental values are deeply at danger.  I loved it."
—Admiral James Stavridis, US Navy (Ret.), former Supreme Allied Commander, NATO
"My films have specialized in realistic horror.
LikeWar
is scary as hell, as it shows how people can be manipulated online to make our worst fears come true."
—
Jason Blum, producer of The Purge and Get Out
"Through a series of vivid vignettes,
LikeWar
shows how the internet has become a new battlefield in the 21st century, in ways that blur the line between war and peace and make each of us a potential target of postmodern conflict."
—Francis Fukuyama, author of The End of History, Director of the Center on Democracy, Development and the Rule of Law at Stanford University
"The internet has fundamentally reshaped the way humans interact; by extension, it has reshaped the way humans wage war. This book is timely, but the takeaways are timeless."
—Ian Bremmer, Founder of the Eurasia Group, and New York Times best-selling author of Us. vs. Them
"In
LikeWar
, Peter Singer and Emerson Brooking incisively document how the use of social media and information operations are fundamentally changing the dynamics of global conflict and competition, while threatening the foundations of democracy. While the 2016 elections showed the power of social media and its manipulation by our adversaries,  Singer and Brooking provide a wakeup call to the wider challenges facing us, requiring that all Americans adapt and respond."
—
Senator Mark Warner (VA), Ranking Member-Senate Select Committee on Intelligence
"
LikeWar
is the best, most comprehensive book to appear on a phenomenon that has turned into the greatest threat to electoral democracy since the 18th Century."
—
Toomas Hendrik Ilves, former President of Estonia, co-chair, World Economic Forum Global Futures Council
"Singer and Brooking have produced a compulsively readable and insightful account of what social media is doing to our democracy and to our relations with each other. If it were fiction, their description of the battleground the Internet has become would be scary. As reality, it is terrifying."
—Professor Sir David Omand, former UK Security and Intelligence Coordinator and Director of Government Communications Headquarters
Eamon Dolan/Houghton Mifflin Harcourt, 9781328695741, 416pp.
Publication Date: October 2, 2018
About the Author
P. W. SINGER is an expert on twenty-first-century warfare. His award-winning nonfiction books include the New York Times bestseller Wired for War.
EMERSON T. BROOKING is a Resident Fellow at the Digital Forensic Research Lab of the Atlantic Council. His work has been published in
Foreign Affairs,
the
Atlantic,
and
Rolling Stone.
or
Not Currently Available for Direct Purchase