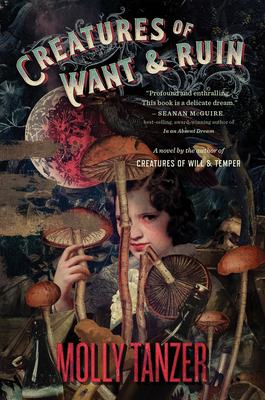 Creatures Of Want And Ruin (The Diabolist's Library #2)
Paperback

* Individual store prices may vary.
Other Editions of This Title:
Digital Audiobook (11/12/2018)
Description
"Profound and enthralling. This book is a delicate dream, mixing its own internal mythology with a brutal tale of prejudice and human frailty. I can't recommend it enough. Tanzer is absolutely one to watch."
—Seanan McGuire, bestselling, award-winning author of In an Absent Dream

Amityville baywoman Ellie West fishes by day and bootlegs moonshine by night. It's dangerous work under Prohibition—independent operators like her are despised by federal agents and mobsters alike—but Ellie's brother was accepted to college and Ellie's desperate to see him go. So desperate that when wealthy strangers ask her to procure libations for an extravagant party Ellie sells them everything she has, including some booze she acquired under unusual circumstances.
 
What Ellie doesn't know is that this booze is special. Distilled from foul mushrooms by a cult of diabolists, those who drink it see terrible things—like the destruction of Long Island in fire and flood. The cult is masquerading as a church promising salvation through temperance and a return to "the good old days," so it's hard for Ellie to take a stand against them, especially when her father joins, but Ellie loves Long Island, and she loves her family, and she'll do whatever it takes to ensure neither is torn apart.
 
Praise For Creatures Of Want And Ruin (The Diabolist's Library #2)…
A Barnes & Noble Best Science Fiction Fantasy Book of November 2018 "This is a measured, atmospheric novel, with compelling characters and a deeply disturbing undercurrent of horror . . . a fascinating novel, and an accomplished one." —Tor.com "Molly Tanzer does it all; from her debut novel, named best book of 2015 by i09, to the 'thoughtful erotica' she edits at her magazine, Congress, she's proven to be one of the most distinct voices in contemporary SFF." —B&N Blog "Once again, Tanzer expertly weaves an authentic historical setting into a tense, engrossing supernatural frame with lush descriptions and a steadily building pace. The alternating points of view of the two female protagonists, unwilling to live within society's confines, really stand out. Despite the supernatural, historical setting, readers will see themes and issues that reverberate eerily with our present. For fans of Lara Elena Donnelly's Amberlough  or V. E. Schwab's A Darker Shade of Magic." —Booklist "Charming, confident follow-up to Creatures of Will and Temper . . . the portrayal of groups of normal people falling into mob violence and hatred of the other groups is genuinely unnerving, and Tanzer resists simplistic moral takes...the overall effect is delightful." —Publishers Weekly, starred review "Once again Molly Tanzer demonstrates a bootlegger's knack for transforming glorious pulpy material into human spirit. Creatures of Want and Ruin is a riveting two-fisted weird pulp adventure with demons, smuggling, sex, archery, cults, and crime that doesn't shrink from carving its predecessors open to poke around in their guts. Great fun!" —Max Gladstone, Hugo Award-nominated author of The Craft Sequence  "The writing in Molly Tanzer's Creatures of Want and Ruin is so smooth you don't notice it past the first word. The story telling takes over and you just want more of Ellie West and the denizens of her world, the dead-on 1920s Long Island historical setting, the Great South Bay, the apocalyptic religious cult, the strangeness, until the end and there's no more story to go. A wonderfully engaging read!" —Jeffrey Ford, award-winning author of A Natural History of Hell and Ahab's Return "Creatures of Will and Temper was my favorite fantasy of 2017, and sequel Creatures of Want and Ruin is even better—a perfect Prohibition-Era cocktail of bootleggers, demons, and high society that will leave you shaken and stirred." —Tim Pratt, award-winning author of The Wrong Stars and Heirs of Grace  "Molly Tanzer's Creatures of Want and Ruin is a novel brimming with desire. Desires of the flesh. Desires of the soul. Desire for destruction. Though the demons threatening Prohibition-era Long Island are alien and capricious, the more horrifying evils here are the perils of xenophobia and bigotry. Timely, riveting, and weird in all the right ways, this book is full on diabolical!" —Bryan Camp, author of The City of Lost Fortunes  "With Creatures of Want and Ruin, Molly Tanzer has created a deliciously dark and satisfying follow-up to Creatures of Will and Temper. This Prohibition-era romp is rich with archery and moonshine; the bonds between siblings; the love between female
— No Source
William Morrow Paperbacks, 9781328710253, 352pp.
Publication Date: November 13, 2018
About the Author
MOLLY TANZER is the Sydney J. Bounds and Wonderland Book Award–nominated author of Vermilion (an NPR and io9 Best Book of 2015), A Pretty Mouth, the historical crime novel The Pleasure Merchant, and other works. She lives in Longmont, Colorado.