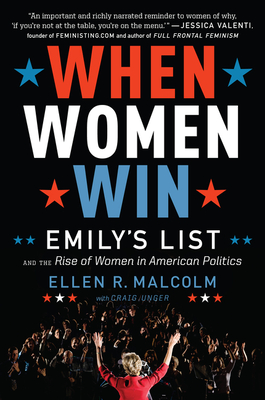 When Women Win (Paperback)
EMILY's List and the Rise of Women in American Politics
Mariner Books, 9781328710277, 384pp.
Publication Date: March 7, 2017
Other Editions of This Title:
Hardcover (3/8/2016)
MP3 CD (3/7/2017)
Compact Disc (3/7/2017)
Pre-Recorded Audio Player (3/8/2016)
MP3 CD (3/8/2016)
Compact Disc (3/8/2016)
Compact Disc (3/8/2016)
* Individual store prices may vary.
Description
"A must-read, sure to engage. . . An important and richly narrated reminder to women of why, 'If you not at the table, you're on the menu.'"
—Jessica Valenti, founder of Feministing.com and author of Full Frontal Feminism

"Women had to fight first for the vote, and then for the right to be voted for. No one, but no one, has been more crucial to this ongoing struggle than Ellen Malcolm, and no one has more revealing stories to tell, her own plus those of women candidates in all our diversity. When Women Win will give you faith that this country might one day become a democracy." —Gloria Steinem
In 1985, aware of the near-total absence of women in Congress, Ellen Malcolm launched EMILY's List, a powerhouse political organization that seeks to ignite change by getting women elected to office. The rest is riveting history: since then, EMILY's List has helped elect 23 women Senators, 12 governors, and 116 Democratic women to the House.
When Women Win
delivers stories of some of the toughest political contests of the past three decades, including the historic victory of Barbara Mikulski as the first Democratic woman elected to the Senate in her own right and Elizabeth Warren's dramatic Senate win.
When Women Win is both
a page-turning political drama and an important look at the effects of women's engagement in politics.  
"Both a rip-roaring political tale and an inspirational blueprint—with every trade secret revealed—of how and why Democratic women have been on the rise in electoral politics for three decades." —Nancy Pelosi, House Democratic leader
 
"Superwoman Ellen R. Malcolm, with Craig Unger, heroically continues to beat the drum for female equality in When Women Win." —Vanity Fair
About the Author
ELLEN R. MALCOLM is the founder and chair of EMILY's List, one of the most successful political organizations in the country. She lives in Washington, D.C. 
CRAIG UNGER, contributing editor to Vanity Fair, is the New York Times best-selling author of House of Bush, House of Saud, and Boss Rove. He lives in New York City.
Praise For When Women Win: EMILY's List and the Rise of Women in American Politics…
"Superwoman Ellen R. Malcolm, with Craig Unger, heroically continues to beat the drum for female equality in When Women Win." —Vanity Fair
 
"Malcolm, the founder of EMILY's List, delivers a lively, fast-paced history of the influential political action committee that helps elect pro-choice, Democratic women. Drawing on interviews with Hillary Clinton, Nancy Pelosi, Elizabeth Warren, and others, she highlights the organization's impact on elections over the past thirty years, most notably by giving selected candidates donations early in their campaigns (EMILY is an acronym for "early money is like yeast"). The book covers EMILY's List's evolution, since its 1985 founding, from a fund-raising organization to a "multi-pronged, full-service political operation" with three million members that has helped elect 110 Democratic women to the House and 19 to the Senate, including Warren. Malcolm also emphasizes the dramatic effect of Anita Hill's testimony on the female electorate and the importance of women voters to the Democratic Party. The book shows that EMILY's List's biggest contribution may be to make women in Congress seem so familiar that voters are now far more likely to judge women on their records and character than on their gender." —Publishers Weekly
 
"Prose as polished as a campaign speech . . . A narrative of sweeping change for women, coming in the midst of a presidential campaign when one woman in particular could make history." —Booklist
 
"An inspiring portrait of a gutsy activist who produced a transformation in the political landscape." —Kirkus Reviews
 
"Women had to fight first for the vote, and then for the right to be voted for. No one but no one has been more crucial to this ongoing struggle than Ellen Malcolm, and no one has more revealing stories to tell, her own plus those of women candidates in all our diversity. When Women Win will give you faith that this country might one day become a democracy." —Gloria Steinem
 
"Ellen Malcolm's fascinating behind-the-scenes journey of women in politics is a must-read, sure to engage. It's an important and richly narrated reminder to women of why, 'If you not at the table, you're on the menu.'" —Jessica Valenti, founder of Feministing.com and author of Full Frontal Feminism: A Young Woman's Guide to Why Feminism Matters
 
"It's no wonder that three quarters of the women in Congress are Democrats. When Women Win is both a rip-roaring political tale and an inspirational blueprint—with every trade secret revealed—of how and why Democratic women have been on the rise in electoral politics for three decades." —Nancy Pelosi, House Democratic leader
 
"This is the inspiring, fascinating story of the most potent women's political movement in the modern era—now three million members strong, built one woman at a time—that effectively broke up the "old boys club" in American politics and paved the way for the kind of grassroots fundraising that made our government more democratic." —Howard Dean, former governor of Vermont and chair of the Democratic National Committee