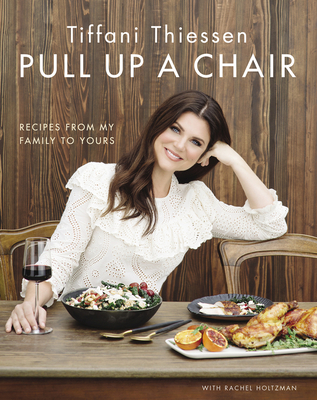 Pull Up A Chair
Recipes from My Family to Yours
Hardcover

* Individual store prices may vary.
Description
Tiffani Thiessen is beloved for her roles in Saved by the Bell and Beverly Hills 90210, but for the past few years she's been known as the host of the Cooking Channel series Dinner at Tiffani's. Each episode showcased her classic-with-a-twist recipes and knack for hosting a good time. For three seasons, Tiffani's fans were able to fall in love with her all over again. Now, in Pull Up a Chair, readers can bring home Tiffani's delicious food and warm hospitality. The 125 recipes in this debut cookbook are the kind that bring people together. Whether it's Stuffed French Toast or her husband, Brady's Favorite Short Rib Enchiladas for family-friendly meals, Curried Deviled Eggs or Boozy Date Milkshakes for special-occasion treats, or Mom's Cream Cheese Pie—because you can't forget dessert! With recipes and tips for pleasing the pickiest of eaters, feeding a crowd or pulling off a party in your PJs, plus gorgeous photography, Pull Up a Chair will be the book that fans and avid home cooks alike will want to include in their collection.
Praise For Pull Up A Chair: Recipes from My Family to Yours…
"Thiessen, host of the Cooking Channel's Dinner at Tiffani's and television actress (Saved by the Bell) presents 125 unfussy recipes designed for casual entertaining in this motivating debut... Thiessen's simple recipes and presentation truly inspire meals to reconnect and celebrate with friends and family." —Publishers Weekly "Tiffani's first cookbook is stunning, just like her. I'm pulling up a chair, reading this book cover to cover, and getting in the kitchen to cook up some of these mouthwatering recipes." —Valerie Bertinelli   "Not only is Tiffani an incredible cook with a true passion for all that is epicurean, she is an incredible parent and wife; and she does it all with an authentic joy and kindness. When you're lucky enough to eat at her table, you're in for some delicious food, great memories, and a lot of laughs. I ♥ you Tiffani!" —Matt Bomer, actor, director, friend   "Pull up a chair! That's exactly what you'll do when you meet Tiffani. Whether it's her warm eyes, welcoming smile, or the fact that you grew up watching her, you immediately feel welcomed. That's just how she is! In and out of the kitchen, on and off screen, I've had the pleasure of meeting Tiffani and getting to know her as a working mommy, and it's a beautiful thing to watch. Seeing her as a wife, mom, chef, chicken keeper, garden grower, and dancing machine . . . she can literally do it all with ease. So when she tells me to "pull up a chair," I listen! I'll get some good advice, great food, and time with a girlfriend who I feel like I've known since childhood." —Vanessa Lachey, actress and host   "Tiffani clearly loves her family and food with such a beautiful passion. Pull Up a Chair is a book written for those who feel the same about both. After reading this book, you will want to pull up a chair and have a meal with those you love again and again."  —Marc Forgione, chef   "Tiffani has really nailed this lifestyle in her book. The recipes are simple enough not to be scary, but more than delicious enough to bring everyone running to the table. Tiffani is an every-family food wonder! Embrace her." —Chef Ludo —
Harvest, 9781328710307, 336pp.
Publication Date: October 2, 2018
About the Author
TIFFANI THIESSEN has starred in Saved by the Bell, Beverly Hills 90210, and White Collar. She was the long-time host of Dinner at Tiffani's on Cooking Channel and is now starring in the Netflix original series Alexa & Katie. She lives with her husband and two children in Los Angeles.