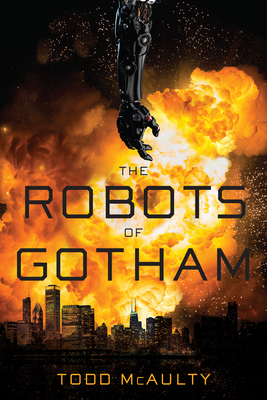 The Robots of Gotham (Hardcover)
John Joseph Adams/Houghton Mifflin Harcourt, 9781328711014, 688pp.
Publication Date: June 19, 2018
Other Editions of This Title:
Paperback (6/4/2019)
* Individual store prices may vary.
Description
A thrilling adventure in a world one step away from total subjugation by machines

After long years of war, the United States has sued for peace, yielding to a brutal coalition of nations ruled by fascist machines. One quarter of the country is under foreign occupation. Manhattan has been annexed by a weird robot monarchy, and in Tennessee, a permanent peace is being delicately negotiated between the battered remnants of the U.S. government and an envoy of implacable machines.
      Canadian businessman Barry Simcoe arrives in occupied Chicago days before his hotel is attacked by a rogue war machine. In the aftermath, he meets a dedicated Russian medic with the occupying army, and 19 Black Winter, a badly damaged robot. Together they stumble on a machine conspiracy to unleash a horrific plague—and learn that the fabled American resistance is not as extinct as everyone believes. Simcoe races against time to prevent the extermination of all life on the continent . . . and uncover a secret that America's machine conquerors are desperate to keep hidden.
About the Author
TODD McAULTY grew up in Nova Scotia and earned a Ph.D. using supercomputers to solve problems involving massive amounts of data. He was a manager at the start-up that created Internet Explorer, and currently works at a machine learning company in Chicago. The Robots of Gotham is his first novel.
Praise For The Robots of Gotham…
"Debut author McAulty, an expert in machine language learning, extrapolates a scary AI-overrun 2083 that's only a few steps removed from today's reality. This massive and impressive novel is set in an America that outlawed the development of artificial intelligence and quickly lost a short and bitter war against robot-led fascist countries… McAulty maintains breathless momentum throughout. Readers will hope for more tales of this sinister future and eagerly pick up on hints that Barry and his companions may continue their exploits".
—
Publishers Weekly, starred review
"
The Robots of Gotham
is a thrilling ride through a nuanced, post-singularity world populated by a frightening and fascinating array of smart machines. Read this and you'll come to the same conclusion I did: The world belongs to robots, we're just living in it." 
—
Daniel H. Wilson, bestselling author of Robopocalypse and The Clockwork Dynasty
"This debut novel beautifully combines a post-apocalyptic man-versus-machine conflict and a medical thriller. The world is immersive and detailed, the characters have depth, the writing is assured, the plotting intelligent, and the pacing about perfect. McAulty's take on how AI might evolve gives the premise a unique twist. The story is action-packed, starting with a boom (literally) and driving you along from one crisis to the next. The action rarely lets up, yet it never becomes tiresome. […] This is thrilling, epic SF."
—
Booklist, starred review
"An epic novel of man vs. machine, full of action, political intrigue, and unexpected twists. Todd McAulty has given us a fresh, compelling take on life during a robot apocalypse." 
—
Jeff Abbott, New York Times bestselling author of Blame
"The whole story is a thrilling action flick in book form, with cool robots and conspiracies and things blowing up. Read it while walking in slow-motion away from an explosion."
—
Joe Crowe, RevolutionSF
"McAulty combines believable fears of artificial intelligence running amok with a dark future America in this thrilling debut."
—
John DeNardo, KIRKUS
"Todd McAulty has done the incredible. Delivered a rich and credible near-future world, where Thought Machines control, well, almost everything (and are themselves astonishingly diverse and cool), and used all this to create the most human SF story I've read in a very long time. I love everything about
The Robots of Gotham
. I want more, McAulty. MORE!" 
—
Julie E. Czerneda, author of The Clan Chronicles
"A heavy tale of a terrifying future, with incredibly detailed world building and covert missions that will have you holding your breath in anticipation."
—Geeks of Doom
"The Robots of Gotham is a fast-paced, engaging read [and] a thrilling ride, one that sends a hopeful message about the future of humanity."
—The Verge
"SF fans rejoice! Todd McAulty's debut novel is a massive, fast-paced, action-packed epic … with robots! […] Even more than the fascinating and fully realized world it presents, what makes The Robots of Gotham such a great ride is its sheer narrative drive."
—The Toronto Star
"When the robot apocalypse comes, I hope it's this much fun. Like
The Martian
and
Ready Player One
,
The Robots of Gotham
is set in a high-tech near-future where something has gone terribly wrong, and it's navigated by a hero who's quirky, resourceful, and as likable as they come. Read it for the rock'em-sock'em-robot action—read it for the deft world-building with its detailed taxonomy of intelligent machines—read it for the sobering parallels to modern-day issues and threats. Or just read it because it's a helluva good ride." 
—
Sharon Shinn, author of the Elemental Blessings series
"Readers who enjoyed the complex robot-human relationships within Robopocalypse and the investigations in World War Z about how institutions function (or don't) in the face of species-changing event will happily sink their teeth into The Robots of Gotham."
—The Amazon Book Review
"
The Robots of Gotham
is a crackling good adventure, stuffed with cool action sequences. It also features serious and intriguing speculation about the potential of Artificial Intelligence, for good and bad. And it's an engaging read, with absorbing characters, and, of course, lots and lots of nifty robots." 
—
Rich Horton, editor of The Year's Best Science Fiction & Fantasy
"Todd McAulty has imagined a fascinating geopolitical future, filled it with some very cool technology, and thrown in healthy helpings of intrigue and action. The result is a page-turner that kept me riveted from the opening lines to the final chapter. Highly recommended!" 
—
David B. Coe, author of The Case Files of Justis Fearsson
"If Johnny 5 had a baby with the Terminator, the result would be
The Robots of Gotham
: a book that explores the consequences of world domination by our Robot Overlords. (And, lest we forget the badassiest of them, our Robot Overladies.) Drones, dinosaurs, and doggies—with a plague thrown in for good measure!—the barter is banter, and death is cheap. With man against machine, machine against machine, man against man, unlikely alliances must be forged across all species, rational or otherwise. For all its breakneck world-building, constant questing, and relentless wheeling and dealing,
The Robots of Gotham
is deceptively deep-hearted: a novel about, of all things, friendship." 
—
C.S.E. Cooney, author of World Fantasy Award-winning Bone Swans: Stories
"Soldiers, spies, diplomats—and that's just the machines. Wait until you meet the wise-cracking hero and his dog. Wildly inventive, outrageous fun!" 
—
Kay Kenyon, author of At the Table of Wolves and Serpent in the Heather
"Adventure, mystery, action, sinister intrigue, clever heroics, and robots—what more do you need? I couldn't put it down." 
—
Howard Andrew Jones, author of The Desert of Souls
"A fast-moving adventure story set in the haunting cityscape of a near-future Chicago hollowed out by war. The headlong plot somehow includes enough breathing space to execute a thought experiment about the mingling of true AI and human cultures, and also vividly portray friendships that cross the boundaries of nation and even species. Handle with care: this is the sort of book that makes people sf-addicts for life."—
James Enge
,
author of Blood of Ambrose and A Tournament of Shadows
"The Robots of Gotham
 is my kind of summer reading. A big, fat, robot-y book that is so human. This guy will throw himself in front of robots to save the lives of his enemies. The best solution is the courageous one. It's so delicious."—
Carlos Hernandez
,
author of Sal and Gabi Break the Universe