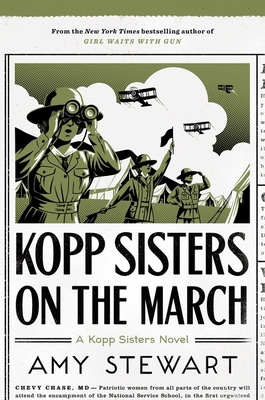 Kopp Sisters On The March (A Kopp Sisters Novel #5)
Hardcover

* Individual store prices may vary.
Other Editions of This Title:
Digital Audiobook (9/16/2019)
Paperback (5/5/2020)
Library Binding, Large Print (1/22/2020)
Description
Constance Kopp and her sisters take on the military establishment at a training camp for women as the U.S. readies for war.

It's the spring of 1917 and change is in the air. American women have done something remarkable: they've banded together to create military-style training camps for women who want to serve. These so-called National Service Schools prove irresistible to the Kopp sisters, who leave their farm in New Jersey to join up.
When an accident befalls the matron, Constance reluctantly agrees to oversee the camp—much to the alarm of the Kopps' tent-mate, the real-life Beulah Binford, who is seeking refuge from her own scandalous past under the cover of a false identity. Will she be denied a second chance? And after notoriety, can a woman's life ever be her own again?  
In Kopp Sisters on the March, the women of Camp Chevy Chase face down the skepticism of the War Department, the double standards of a scornful public, and the very real perils of war. Once again, Amy Stewart has brilliantly brought a little-known moment in history to light with her fearless and funny Kopp sisters novels.
Praise For Kopp Sisters On The March (A Kopp Sisters Novel #5)…
"Constance Kopp takes on the military establishment in Kopp Sisters on the March, the fifth in Amy Stewart's entertaining series about three fiercely feminist sisters who refuse to believe that men are meant to rule the world." — Washington Post   "Loosely inspired by an actual crime fighter...the brisk Kopp Sisters on the March, with Constance and her sisters — crabby Norma and dreamy Fleurette — enrolling in one of the National Service Schools that prepared women for what World War I would require of them, on the home front or overseas." — Star-Tribune   "Told in Stewart's nimble, witty prose, this fifth in the popular series is based largely on fact and offers a paean to patriotism and the role women have played in war, even a century ago. Devoted fans will be pleased with the tantalizing hint Stewart provides about what lies ahead for Constance." —Booklist, starred review "A thrilling mix of history and feminism, this new "Kopp" story contains the same captivating storytelling as the first one, with plenty of nuggets for series fans." —Library Journal, starred review "Set in the spring of 1917, Stewart's enjoyable fifth Kopp Sisters novel finds the three Kopp sisters ready to do their bit as the U.S. prepares to enter WWI...Convincing characters behave in ways true to their era. Stewart does a wonderful job of illuminating a fascinating period in American history." — Publishers Weekly   "A feisty, fact-based series...After losing her dream job as Bergen County deputy sheriff, Constance Kopp regroups at a Maryland Army camp for women on the eve of World War I...Plenty of loose ends are dangled for future volumes as Constance and Beulah both make peace with their pasts and plans to move forward." — Kirkus Reviews     —
Mariner Books, 9781328736529, 368pp.
Publication Date: September 17, 2019
About the Author
AMY STEWART is the New York Times best-selling author of the acclaimed Kopp Sisters series, which began with Girl Waits with Gun. Her seven nonfiction books include The Drunken Botanist and Wicked Plants. She lives in Portland, Oregon. 
1. Constance is still having trouble adjusting to her more domestic life. She even looks for her whistle to direct traffic on their way into camp on page 15. Norma notices and says, "Go ahead and order them out of the way. You like to be in charge." How did it feel seeing Constance's listlessness here compared to the previous books?
2. On page 28 Constance describes the scene at the school: "The place had the air of a summer party, in spite of the early March chill, and seemed far removed from the fighting in France or, for that matter, the very idea of war." The disconnection between the camp and the war is brought up many times throughout the book. Why does it seem so far removed? Does that change during the course of the story?
3. "There are times when I find the law to be more of a hindrance." (293) Usually Constance is teaching others, but what does Nurse Cartwright teach Constance?
4. What do you think about Norma's point: "If the only woman in Congress votes for war, every mother in this country will give up her son a little more easily"? How can a woman's public decision be helpful or hurtful differently than a man's?
5. "It's my camp. We're going to train for war." (323) This change in Constance's behavior is where we see the character most like the Constance we have seen in previous books. What sparked this change the most? Where does her confidence come from?
6. On page 337 Maude Miner says, "I've never been prouder of this country's daughters than I am right now." Why was it so important for her to see the women's training in person even if at first she thought it was a detriment to their cause? What did it show her personally and what does she hope it will show men?
7. A time when family are scattered and not a text or Facebook message away, how does that impact the choices the family members who are "left behind" make?
8. The epilogue is set six months later and only focuses on Beulah and Nurse Cartwright. What did you think about this ending?