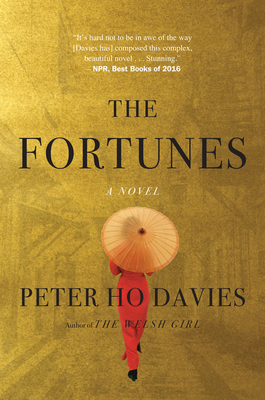 The Fortunes (Paperback)
Mariner Books, 9781328745484, 288pp.
Publication Date: September 12, 2017
Other Editions of This Title:
MP3 CD (9/12/2017)
Library Binding, Large Print (3/1/2017)
* Individual store prices may vary.
Description
Winner of the Anisfield-Wolf Book Award
for literature that confronts racism and examines diversity

Winner of the 2017 Chautauqua Prize

Finalist for the Dayton Literary Peace Prize

A New York Times Notable Book 

"Riveting and luminous...Like the best books, this one haunts the reader well after the end."—Jesmyn Ward

"[A] complex, beautiful novel . . . Stunning."—NPR, Best Books of 2016

"Intense and dreamlike . . . filled with quiet resonances across time."—The New Yorker
 
Sly, funny, intelligent, and artfully structured, The Fortunes recasts American history through the lives of Chinese Americans and reimagines the multigenerational novel through the fractures of immigrant family experience.

Inhabiting four lives—a railroad baron's valet who unwittingly ignites an explosion in Chinese labor; Hollywood's first Chinese movie star; a hate-crime victim whose death mobilizes the Asian American community; and a biracial writer visiting China for an adoption—this novel captures and capsizes over a century of our history, showing that even as family bonds are denied and broken, a community can survive—as much through love as blood.

"A prophetic work, with passages of surpassing beauty."—Joyce Carol Oates, Anisfield-Wolf Book Award citation
 
"A poignant, cascading four-part novel . . . Outstanding."—David Mitchell, Guardian

"The most honest, unflinching, cathartically biting novel I've read about the Chinese American experience."—Celeste Ng
About the Author
PETER HO DAVIES is on the faculty of the graduate program in creative writing at the University of Michigan. His debut collection, The Ugliest House in the World, won the John Llewellyn Rhys and PEN/Macmillan awards in Britain. His second collection, Equal Love, was hailed by the New York Times Book Review for its "stories as deep and clear as myth." It was a finalist for the Los Angeles Times Book Prize and a New York Times Notable Book. In 2003 Davies was named among the "Best of Young British Novelists" by Granta. The Welsh Girl was his first novel and his second, The Fortunes, was published in September 2016. The son of a Welsh father and Chinese mother, Davies was raised in England and spent his summers in Wales.
Praise For The Fortunes…
Winner of the Anisfield-Wolf Book Awards
Winner of the 2017 Chautauqua Prize
Finalist for the Dayton Literary Peace Prize
A New York Times Notable Book 
A New York Times Editors' Choice
Longlisted for The Story Prize
One of NPR's "Best Books of 2016"
A Publishers Weekly Best Book of 2016
One of BookRiot's "100 Must-Read Books of U.S. Historical Fiction"
Asian/Pacific American Award for Literature—Honor Selection
An Indie Next Pick (September 2016)

"Riveting and luminous...So vividly rendered the reader is awash in each character's American experience...Like the best books, this one haunts the reader well after the end."—Jesmyn Ward

"Davies, a master storyteller, blends fact with fiction in this saga of immigration, acclimation, and Chinese culture, which he tells through the experiences of Chinese-Americans at different points in history."—Entertainment Weekly, "12 must-read novels out this fall"

"Davies writes with a rare emotional resonance and a deft sense of structure; it's hard not to be in awe of the way he's composed this complex, beautiful novel. The Fortunes is a stunning look at what it means to be Chinese, what it means to be American, and what it means to be a person navigating the strands of identity, the things that made us who we are, whoever that is."—NPR

"[A] rewarding, unorthodox novel."—Wall Street Journal

"Intense and dreamlike . . . filled with quiet resonances across time . . . The Fortunes is powerful as a chronicle of perpetual frustration, as each new generation grows aware of the arbitrary line between margin and mainstream . . . What makes The Fortunes so hopeful, the type of novel that could have only been written now, is its willingness to take liberties with that past—to rearrange its details and indulge in speculation, in order to help us imagine a different way forward."—The New Yorker

"In naming the given scripts of culture, as well as pushing against them, Davies' characters struggle to belong — not only to race or to history or to stories, but also simply to themselves. And Davies, ever deft, points us into the messy complexity of identity with compassion and nuance, urging us each on toward spaces where we honor and move more freely within what he calls our 'uncertain and contradictory' selves." -- San Francisco Chronicle

"I was very thankful for Peter Ho Davies' panoramic novel The Fortunes, a moving, often funny, and deeply provocative novel about the lives of four very different Chinese Americans as they encounter the myriad opportunities and clear limits of American life. An essential tale gorgeously told."—Chang-rae Lee, Buzzfeed, "22 Famous Writers Told Us About The Book They're Most Thankful For"

"A prophetic work, with passages of surpassing beauty...The Fortunes is a boldly imagined work of fiction in which historic figures come to an astonishingly vivid, visceral life through the power of Peter Ho Davies's prose."—Joyce Carol Oates, Anisfield-Wolf Book Awards citation

"The Fortunes masterfully captures a century of history and the survival of an immigrant community caught between two cultures."—Buzzfeed, "21 Incredible New Books You Need To Read This Fall"

"Davies distills 150 years of Chinese-American history in his timely and eloquent new novel. In Gold, the first of its four sections, Ah Ling, 14, the son of a Hong Kong prostitute, seeks his fortune in California. He works as valet to Charles Crocker, who hires thousands of Chinese to expand his transcontinental railroad. Silver portrays the 30-year career of the LA-born actress Anna May Wong, who co-stars with Douglas Fairbanks at 19.  Davies also writes of Vincent Chin, beaten to death in Detroit in 1982 by two auto workers who mistake him for Japanese, and of a half-Chinese writer visiting China to adopt a baby daughter, thinking of how to prepare her to answer the question he's heard all his life: where are you from?"—BBC.com, "Ten Books You Should Read This September"

"The Fortunes crafts four tales that speak of the broader history of Chinese immigrants in the United States, from the hardworking valet who serves a white railroad mogul to Anna May Wong, the first Chinese-American movie star. Through these elegant, deeply embodied stories, Davies portrays the uneasy relationship between these people and their new country."—Elle, "The 11 Best Books for September 2016"

"[The Fortunes] is somehow both meticulously crafted—meticulously researched historical detail, exquisitely constructed sentences—and a white-hot outpouring of anger...[Its] four-part structure, and its conscious imitation of the multi-generational family epic, makes a profound thematic argument...I found Davies's novel thrilling and validating...[it] suggested something I had seldom seen elsewhere: Asian-American is a distinct identity, distinct from our ancestors' nations of origin, and distinct from our current countrymen. It's not a bungled merging of two identities, not a failure to be authentically American and a failure to be authentically Asian. Not 'caught between two worlds,' as we are often said to be, but its own world altogether."—Kim Fu, Hazlitt

"The Fortunes is the kind of book that raises far more questions than it resolves. Not only does it present a vast swathe of often-ignored history, in deftly fictionalized form, it's an empathetic book, not just to its protagonists but to its secondary and tertiary characters and even, often, to its villains. It questions motivations, feelings, intentions, rarely certain despite the author's fictional imperative. Sometimes I found myself wondering ― why is Vincent Chin's friend curious at all about the kind of father-stepson relationship Chin's killers had? Why should I care?  But The Fortunes isn't out to convince you that you should care about that, or anything in particular. Instead, it's doing what a great novel should do: revealing what there is to care about and to think about. Even better, it's revealing those questions about a slice of history that America needs to be dealing with.  The Bottom Line: In a thought-provoking, sharply written, four-part novelistic chronicle of Chinese-American life, The Fortunes proves uneven at times but the powerful prose and themes shine through."—Huffington Post

"Vividly detailed novellas whose rich language and engaging characters not only bring history alive but also address contemporary issues of race and belonging with heartache, fire and empathy . . . The Fortunes is an important novel that attempts to give voice to Chinese-American characters who have been silenced in the past. Ho Davies' perspective is a welcome addition in the ongoing discussion of race in American society."—Dallas Morning News

"In his previous novel, The Welsh Girl, Davies captures historical detail in exacting, immersive prose, with the confidence of an eyewitness. In The Fortunes his ability to evoke the mood of an era extends to stylistic choices…The true achievement of this novel is cumulative. By uniting an ambitious range of characters, eras and styles, Davies highlights their commonalities, and the subtle insidious persistence of history… [The Fortunes] should take its place as a seminal, defining text on the Chinese-American experience."—Kim Fu, Times Literary Supplement

"A powerful novel that unflinchingly examines both the degrading lives of immigrants in the 1800s and the identity crises of modern mixes-race families. Throughout it all, Davies remains sympathetic to his heroes—although they have been all but lost in the flow of history, a deft hand can still pull them into prominence…The brilliance of The Fortunes is not that it expertly dissects Chinese American-ness--or American-ness, for that matter. Davies has conjured a book that forces its readers to find the pressures they face in their own lives, to see how the struggle of self-identity and one's place in the world is alive in each and every one of us."—Shelf Awareness

"Absorbing."—New York Daily News, "7 books to read in September"

"The book is more than the sum of its parts, and Davies (the son of Welsh and Chinese parents) achieves an extraordinary novelistic intimacy against backdrops of historical vibrancy. Moreover, he considers what it means to be identified with, but not now belong to, an ancestral culture one can't escape or fully embrace — in an immigrant society that promises but doesn't deliver full racial inclusion." —Seattle Times

"The book's scope is impressive, but what's even more staggering is the utter intimacy and honesty of each character's introspection. More extraordinary still is the depth and the texture created by the juxtaposition of different eras, making for a story not just of any one person but of hundreds of years and tens of millions of people. Davies (The Welsh Girl) has created a brilliant, absorbing masterpiece." – Publishers Weekly, *starred* review

"Intertwining fact with fictional license and creative finesse, Davies charts the conflicted, complicated journey of being a minority American through multiple generations. Rich rewards await readers searching for superbly illuminating historical fiction; think Geraldine Brooks' Caleb'sCrossing (2011) or Hilary Mantel's Cromwell trilogy." – Booklist, *starred* review

"A four-part suite of astute, lyrical, and often poignant stories poses incisive questions about what changes—and what does not—when people from another culture become Americans. You could, if you wished, refer to this blend of historically inspired narratives as The Birth of a Chinese-American Nation, as Davies (The Welsh Girl, 2007, etc.) encompasses whole eras of history, transition, and even consciousness...Davies' nuanced contemplation of how America has affected the Chinese (and vice versa) forces the reader to confront what is both singular and similar about all cross-cultural transactions." – Kirkus Reviews 

"With the whole country talking about identity politics, racism, and cultural awareness, Peter Ho Davies' provocative new novel could not be more timely  . . .  The scope and research of The Fortunes is impressive, but what makes the novel memorable is the honesty of each narrative voice . . . A masterful, perceptive and very modern look at identity, migration and the intertwined histories of the United Stated and China." -- BookPage

"A poignant, cascading four-part novel about being Asian and western, about immigrants and natives, about belonging in a country and one's skin...It's outstanding." – David Mitchell, author of Slade House, The Bone Clocks, Cloud Atlas, and others 

"Panoramic in scope yet intimate in detail, The Fortunes might be the most honest, unflinching, cathartically biting novel I've read about the Chinese American experience. It asks the big questions about identity and history that every American needs to ask in the 21st century." – Celeste Ng, author of  Everything I Never Told You

"Only a writer as gifted as Peter Ho Davies could capture the full weight of a century's history with such an extraordinary lightness of touch. In his deft hands the dust falls away from a collection of hoary images—the building of the transcontinental railroad, the steaming laundry in Chinatown, the Dragon Lady flickering onscreen—revealing Chinese-American lives and desires in all their freshness, intensity, contradictoriness, and depth. Buoyant yet profound, unsentimental yet affecting, and above all beautifully written, The Fortunes reimagines in thrilling ways what the multi-generational immigrant novel can be." – Sarah Shun-lien Bynum, author of Madeleine Is Sleeping and Ms. Hempel Chronicles

"The Fortunes is wonderfully lucid and sharply imagined. From the very first page, the people in this novel rise from history and we root for them, empathizing with them, as they make their way in the early American West and beyond.  It was so easy to be lost in the story, to walk with them for a while, loving and longing and grieving with them. Readers will be richer for it." – Jesmyn Ward, author of Salvage the Bones, Men We Reaped, and Where the Line Bleeds

"TheFortunes is a genre bender, unique in conception and rich in resonance.  It combines fiction with history and myth and depicts a different kind of America, one produced by the mingling of races and cultures.  This book illuminates an obscure side of the immigrant experience." – Ha Jin, author of A Map of Betrayal, Waiting, and others

"Not to be missed…Using both real and fictional figures in Chinese American history, Ho Davies has created a masterful novel about what it is to feel like an outsider in the place you call home. It is also the story of America, told through the eyes of her immigrants." – The Bookseller (UK), Editor's Choice