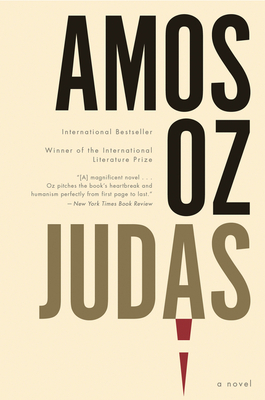 Judas
Paperback

* Individual store prices may vary.
Other Editions of This Title:
Digital Audiobook (11/7/2016)
Description
INTERNATIONAL BESTSELLER and winner of the International Literature Prize. At once an exquisite love story and a coming-of-age novel, an allegory for the state of Israel and for the biblical tale from which it draws its title, Judas is one of Amos Oz's most powerful novels.

Jerusalem, 1959. Shmuel Ash, a biblical scholar, is adrift in his young life when he finds work as a caregiver for a brilliant but cantankerous old man named Gershom Wald. There is, however, a third, mysterious presence in his new home. Atalia Abravanel, the daughter of a deceased Zionist leader, a beautiful woman in her forties, entrances young Shmuel even as she keeps him at a distance. Piece by piece, the old Jerusalem stone house, haunted by tragic history and now home to the three misfits and their intricate relationship, reveals its secrets.

"[A] magnificent novel . . . Oz pitches the book's heartbreak and humanism perfectly from first page to last."—New York Times Book Review

"Scintillating . . . An old-fashioned novel of ideas that is strikingly and compellingly modern."—Observer

"Oz has written one of the most triumphant novels of his career."—Forward

"A [big] beautiful novel . . . Funny, wise, and provoking."—Times (UK)
Praise For Judas…
Short-listed for the Man Booker International Prize  A New York Times Editors' Choice New York Times, Paperback Row "[A] magnificent novel… Oz pitches the book's heartbreak and humanism perfectly from first page to last, as befits a writer who understands how vital a political role a novelist can play."—New York Times Book Review "In this novel of nineteen-sixties Jerusalem, Shmuel Ash, lovelorn graduate student and lukewarm socialist, abandons his thesis ('Jewish Views of Jesus') to care for a frail, elderly Zionist living in a funeral villa. There he meets a cynical beauty who lost both her father and husband in the mid-century wars, backroom and battlefield, that defined the contours of Israeli statehood. The novel has a clear message; as Shmuel says, 'All the power in the world cannot transform someone who hates you into someone who likes you.' But Oz tempers this didactic edge by making Shmuel a hapless figure—with walking stick, inhalers, and baby-powdered beard—unimpressive to the aristocratic recluses he's stumbled among."—The New Yorker, "Briefly Noted" "A novel of ideas...Beautifully translated by Nicholas de Lange."—New York Review of Books "Even an annus horribilis can be redeemed if it contains a new Amos Oz novel."—The Forward "An intellectual biography of Judas, a tender narrative of love and heartbreak, and a thoughtful consideration of the stakes and limits of Israeli politics."—The Christian Century "Oz's prose, as captured in English by de Lange, illuminates an exquisite coming-of-age romance that also manages to comment on the origins of Zionism, the perception of the Israeli left and what it truly means to be a traitor."—Jewish Telegraphic Agency "Like Oz's nonfiction "A Tale of Love and Darkness," "Judas" grapples with big, historical matters for which there are no simple answers: the founding of Israel and the founding of Christianity. Both remain rich subjects to explore today."—St. Louis Post-Dispatch, "Best Books of 2016" "A scintillating novel...Many-layered, thought-provoking and – in its love story – delicate as a chrysalis, this is an old-fashioned novel of ideas that is strikingly and compellingly modern."—Observer "Oz has written one of the most triumphant novels of his career."—The Forward "Judas is a vibrant specimen of a nearly extinct species, the novel of ideas...A fascinating coming-of-age story."—San Francisco Chronicle "The novel gives a finely vivid and sympathetic picture of a Jerusalem (and an Israel) that has largely disappeared…This book is compassionate as well as painfully provocative, a contribution to some sort of deeper listening to the dissonances emerging from deep within the politics and theology of Israel and Palestine."—New Statesman "A very absorbing addition to [Oz's] remarkable oeuvre."—The Guardian   "A masterpiece: command of the word, mastery of construct, the ability to stimulate all the senses of the reader."—La Repubblica "Challenging, complex and strangely compelling… The ideas at the novel's centre have g —
HarperVia, 9781328745491, 320pp.
Publication Date: November 21, 2017
About the Author
AMOS OZ (1939–2018) was born in Jerusalem. He was the recipient of the Prix Femina, the Frankfurt Peace Prize, the Goethe Prize, the Primo Levi Prize, and the National Jewish Book Award, among other international honors. His work, including A Tale of Love and Darkness and In the Land of Israel, has been translated into forty-four languages.