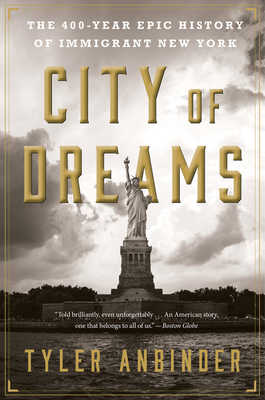 City of Dreams
The 400-Year Epic History of Immigrant New York
Paperback

* Individual store prices may vary.
Description
"Told brilliantly, even unforgettably ... An American story, one that belongs to all of us." — Boston Globe

"A richly textured guide to the history of our immigrant nation's pinnacle immigrant city has managed to enter the stage during an election season that has resurrected this historically fraught topic in all its fierceness." — New York Times Book Review
New York has been America's city of immigrants for nearly four centuries. Growing from Peter Minuit's tiny settlement of 1626 to a clamorous metropolis with more than three million immigrants today, the city has always been a magnet for transplants from all over the globe.
City of Dreams
is the long-overdue, inspiring, and defining account of New York's immigrants, both famous and forgotten: the young man from the Caribbean who relocated to New York and became a founding father; Russian-born Emma Goldman, who condoned the murder of American industrialists as a means of aiding downtrodden workers; Dominican immigrant Oscar de la Renta, who dressed first ladies from Jackie Kennedy to Michelle Obama. Over ten years in the making, Tyler Anbinder's story is one of innovators and artists, revolutionaries and rioters, staggering deprivation and soaring triumphs. In so many ways, today's immigrants are just like those who came to America in centuries past—and their stories have never before been told with such breadth of scope, lavish research, and resounding spirit.  
"A masterful achievement, City of Dreams is the definitive account of the American origin story, as told through our premier metropolis. Bold, exhaustive, always surprising, Anbinder's book is a wonderful reminder of how we came to be who we are." — Timothy Egan, best-selling author of The Immortal Irishman
Mariner Books, 9781328745514, 768pp.
Publication Date: October 10, 2017
About the Author
TYLER ANBINDER is a professor of history and former chair of the History Department at George Washington University. His first book, Nativism and Slavery, won the Avery Craven Prize of the Organization of American Historians. His second book, Five Points, won the New York City Book Prize of 2001. He served as a consultant to Martin Scorsese for Gangs of New York. His ancestors came to New York from southwest Germany, Poland, Ukraine, and Russia.