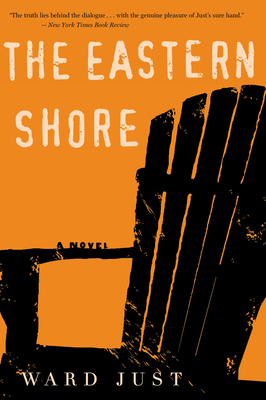 The Eastern Shore (Paperback)
Mariner Books, 9781328745576, 208pp.
Publication Date: October 24, 2017
* Individual store prices may vary.
Description
"A master American novelist." —Vanity Fair
Ned Ayres has never wanted anything but a newspaper career. His defining moment comes early, when Ned is city editor of his hometown paper. One of his beat reporters fields a tip: William Grant, the town haberdasher, married to the bank president's daughter and the father of two children, once served six years in Joliet. The story runs—Ned offers no resistance to his publisher's argument that the public has a right to know. The consequences, swift and shocking, haunt him throughout a long career until eventually, as the editor of a major newspaper in post-Kennedy-era Washington, DC, Ned has reason to return to the question of privacy and its many violations—the gorgeously limned themes running through Ward Just's elegiac and masterly new novel.  
"A doggedly restrained character study that advances its themes obliquely through atmosphere and tone.  Often, the effect is quietly, even elegiacally beautiful, evoking the rhythms of Ernest Hemingway's early fiction . . . A quietly affecting, mournful achievement." —
Richmond Times-Dispatch
"In Just's hands, the ambiguous motives behind the paper's pursuit of the story are riveting . . . The novel stands on Just's memorable study of Ned. Your heart goes out to this kindly, complex man who's 'not truly interested in the things of his own life, preferring the lives of others.'" —
Seattle Times
About the Author
WARD JUST (1935-2019) was the author of nineteen novels, including Exiles in the Garden, Forgetfulness, the National Book Award finalist Echo House, A Dangerous Friend, winner of the Cooper Prize for fiction from the Society of American Historians, and An Unfinished Season, winner of the Chicago Tribune Heartland Award and a finalist for the 2005 Pulitzer Prize.
Praise For The Eastern Shore…
Praise for Ward Just:

"A master American novelist." —Vanity Fair
 
"[Just's] vision of the people who run the world on our behalf is, for all their conventionality, the most profoundly subtle and, in its insight, the most radical." —Los Angeles Times Book Review
 
"There comes a moment . . . when a reader is brought up short by how spectacularly well Ward Just writes fiction . . . Its effect is nearly explosive." —Boston Globe
 
"Masterpieces of balance, focus, and hidden order . . . his stories put him in the category reserved for writers who work far beyond the fashions of the times." —Chicago Tribune