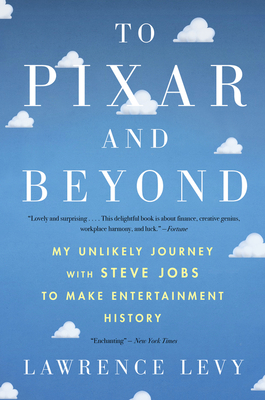 To Pixar And Beyond
My Unlikely Journey with Steve Jobs to Make Entertainment History
Paperback

* Individual store prices may vary.
Other Editions of This Title:
Digital Audiobook (10/31/2016)
Paperback, Japanese (5/24/2019)
Description
An insider's never-before-told story about how a struggling computer animation company called Pixar became one of the greatest entertainment organizations of all time. ¶"Part business book and part thriller—a tale that's every bit as compelling as the ones Pixar tells in its blockbuster movies."—Dan Lyons, best-selling author of Disrupted¶After he was dismissed from Apple in the early 1990s, Steve Jobs turned his attention to a little-known graphics company he owned called Pixar. One day, out of the blue, Jobs called Lawrence Levy, a Harvard-trained lawyer and executive to whom he had never spoken before. He hoped to persuade Levy to help him pull Pixar back from the brink of failure. This is the extraordinary story of what happened next: how Jobs and Levy concocted and pulled off a highly improbable plan that transformed Pixar into the Hollywood powerhouse it is today. Levy offers a masterful, firsthand account of how Pixar rose from humble beginnings, what it was like to work so closely with Jobs, and how Pixar's story offers profound lessons that can apply to many aspects of our professional and personal lives. ¶"[A] delightful book about finance, creative genius, workplace harmony, and luck."—Fortune ¶"Enchanting."—The New York Times ¶"I love this book! I think it is brilliant."—Ed Catmull, cofounder and president of Pixar Animation, president of Disney Animation, and coauthor of the bestseller Creativity Inc. ¶"A natural storyteller, Levy offers an inside look at the business and a fresh, sympathetic view of Jobs."—Success Magazine¶An Amazon Best Book of 2016 in Business & Leadership • A top pick on Fortune's Favorite Books of 2016 • A 2017 Axiom Business Book Award winner in Memoir/Biography ¶
Praise For To Pixar And Beyond: My Unlikely Journey with Steve Jobs to Make Entertainment History…
"Enchanting...What makes Mr. Levy's contribution so insightful is not that he plows old ground in greater depth but that he uses his personal story as vehicle to add a new dimension...Mr. Levy's ability to remain calm and clear-eyed in the face of singular personalities and business challenges translates into a crisp, even elegant, narrative...The power of Mr. Levy's writing and the success of his management at Pixar are both grounded in the same personal quality that is evident from the earliest pages of To Pixar and Beyond: humility." —New York Times "A lovely and surprising discourse on topics business books rarely touch. Levy is a rare humanist in the world of finance and technology. In describing the pre-IPO, pre-Toy Story Pixar, he captures the fragile and wonderful workplace dynamic anyone who loves their (difficult) job can appreciate... Reading how Levy played go-between is eye-opening and inspiring... This delightful book is about finance, creative genius, workplace harmony, and luck... That's a lot for one volume by a first-time author with a legal and financial background covering exceedingly well-trod material... Life obviously is about more than business, but few books discuss both so well." —Fortune "Revealing and humanizing ...[A]n epic tale of Levy's quest to balance the competing interests of the quiet artists and technologists who created Toy Story and the mercurial entrepreneur who controlled their professional fates." -FortuneFavorite Books of 2016 "[T]here is still an irresistible attraction to the story of Pixar, the little animation studio that could. Lawrence Levy turns it into a charming, upbeat tale – much like one of Pixar's animated features." –Financial Times "A natural storyteller, Levy offers an inside look at the business and a fresh, sympathetic view of Jobs."—Success Magazine "Levy has written a fascinating look at one of the most innovative companies of the early 21st century." —Publishers Weekly "A detailed and fascinating peek behind the curtains at Pixar before it became one of the most successful film studios in history." --Cult of Mac "Levy is an affable guide who writes with clarity... his account of the inner workings of the company, and the personalities that shaped it into what it has become, is an informative and engaging read."  —Shelf Awareness "What a delightful book about the creation of Pixar from the inside. I learned more about Mr. Jobs, Pixar and business in Silicon Valley than I have in quite some time. And like a good Pixar film, it'll put a smile on your face." —Andrew Ross Sorkin in The New York Times  "I love this book! I think it is brilliant. Of course I am biased, but even so, I think people will love this story—one they didn't even know existed. And Lawrence has told it beautifully." —Ed Catmull, Co-Founder and President Pixar Animation, President Disney Animation, bestselling author of Creativity Inc. "Lawrence Levy's To Pixar and Beyond is the gripping story of how, through hard work, vision, and a devotion to excellence, tiny Pixar transformed itself into a Hollywood powerhouse. But it's also something more: a wonderful buddy story—between Levy and Steve Jobs --and how their friendship and partnership trans —
Harper Business, 9781328745613, 272pp.
Publication Date: October 17, 2017
About the Author
LAWRENCE LEVY is a former Silicon Valley attorney and business executive who was personally recruited by Steve Jobs in 1994 as CFO and member of the Office of the President of Pixar Animation Studios. Levy was responsible for Pixar's business strategy and IPO and guided Pixar's transformation from a money-losing graphics company into a multibillion-dollar entertainment studio. He later joined Pixar's board of directors. Levy left corporate life to study Eastern philosophy and meditation and their relevance to modern life. He now writes and teaches on this topic and cofounded Juniper Foundation to pursue this work. Originally from London, Levy earned degrees from Indiana University and Harvard Law School. He lives with his wife, Hillary, in Palo Alto, California.