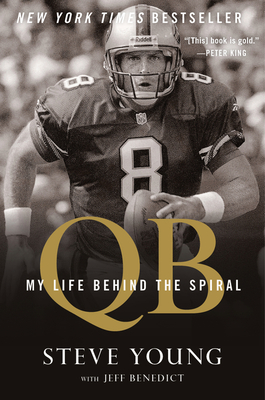 QB (Paperback)
My Life Behind the Spiral
Mariner Books, 9781328745729, 416pp.
Publication Date: October 10, 2017
* Individual store prices may vary.
Description
NEW YORK TIMES BESTSELLER
"This book is gold."—Peter King
"Intense."—San Francisco Chronicle
"Steve Young is a hero of mine, and his story is a source of inspiration for me. His perseverance, intelligence, and, most of all, grace under pressure NFL-style, make this book a fascinating read. Thanks, Steve, for sharing your story with one of your biggest fans!"—Tom Brady
 "Steve was extraordinary in every facet of life. I've never read a football book with more honesty and integrity—it's typical Steve. What a quarterback! What a man!" —Jim Nantz, CBS Sports
"All football fans know what a tremendously talented and successful quarterback Steve Young was in his NFL career. But what they don't know about are the challenges and personal obstacles Steve had to overcome to make his dreams come true. This is a most exciting and compelling story."—Roger Staubach

A stunningly candid look at what it takes to become a super-elite professional quarterback

Steve Young produced some of the most memorable moments in NFL history. But his most impressive victories have been deeply personal ones that were won when no one was watching. His remarkably revealing memoir is the story of a Mormon boy with a 4.0 GPA, a photographic memory, and a severe case of separation anxiety.
   As an eighth-string quarterback at Brigham Young University, it was doubtful that he would ever see any playing time. But Young became an All-American, finished second in the Heisman voting, and was the top draft choice out of college. Then, after signing the largest contract in sports history, anxiety nearly drove him to walk away from football completely.
   In short, Young's quest in life was always about grit. Now, he shares the experience of being inside his helmet while he faces down his toughest adversaries, both on and off the field.
About the Author
STEVE YOUNG is regarded as one of the greatest college and pro football players of all time. After a stellar career at Brigham Young University, the left-handed quarterback played professionally for more than fifteen years in the NFL, primarily with the San Francisco 49ers. He received numerous accolades during his playing days, including being named Most Valuable Player of Super Bowl XXIX, Sports Illustrated and Sporting News Player of the Year from 1992–1994, and the NFL's Most Valuable Player for 1992 and 1994. In 2005, Young was inducted into the Pro Football Hall of Fame. He is one of the top-rated quarterbacks in NFL history. These days, in addition to his ongoing on-air work with ESPN's Monday Night Football and his commitment to a number of charitable endeavors, Young is a managing director and cofounder of HGGC, a private equity fund based in San Francisco. As well as his undergraduate degree, Young also holds a law degree from BYU. He lives with his wife and family in Palo Alto.
JEFF BENEDICT is an author, a special features writer for Sports Illustrated, and a television and film producer. His feature stories and essays have appeared on the cover of Sports Illustrated and in the pages of the New York Times and Los Angeles Times, as well as been the basis for segments on 60 Minutes, 20/20, 48 Hours, Good Morning America, and the Discovery Channel. He is a New York Times best-selling author who has written fifteen books on topics ranging from violence against women to a deadly E. coli outbreak to the discovery of a 10,000-year-old skeleton in North America.
Jeff's most recent book—The System: The Glory and Scandal of Big-Time College Football—is being developed into a television drama by Starz. Jeff is a producer and writer for the series. Jeff is also an executive producer on the forthcoming motion picture film Little Pink House, starring Catherine Keener and Jeanne Tripplehorn. The movie is based on Jeff's book by the same title.
Praise For QB: My Life Behind the Spiral…
"Steve Young is a hero of mine, and his story is a source of inspiration for me. His perseverance, intelligence, and, most of all, grace under pressure NFL-style, make this book a fascinating read. Thanks, Steve, for sharing your story with one of your biggest fans!" —Tom Brady
 
"All football fans know what a tremendously talented and successful quarterback Steve Young was in his NFL career. But what they don't know about are the challenges and personal obstacles Steve had to overcome to make his dreams come true. This is a most exciting and compelling story." —Roger Staubach
 
"There has never been a QB like Steve Young, and there has never been a football memoir quite like QB: A Life. Young's battles with anxiety make you forget you are reading about a Hall of Famer, and make you root for him at every turn. This is a revealing, honest, compelling book that any fan will enjoy." —Michael Rosenberg, senior writer, Sports Illustrated
 
"Steve was not just another Hall of Fame QB—he was extraordinary in every facet of life. His passion, preparation, and attention to detail is so vivid you feel as though this QB has put you right in the middle of a huddle of life. I've never read a football book with more honesty and integrity—it's typical Steve. What a quarterback! What a man!" —Jim Nantz, CBS Sports
 
"Steve Young's scrambling, pinpoint passing, and perseverance helped make him an NFL Hall of Fame quarterback. He wowed us every Sunday. Until reading QB, though, I had no idea about the personal mountains he had to climb to make his dreams come true. This is a most memorable story for all fans." —Chris Berman, ESPN