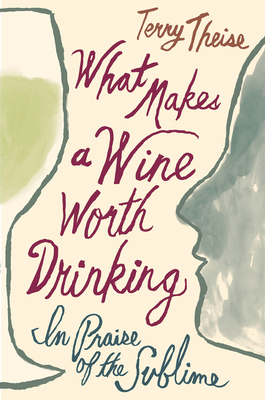 What Makes A Wine Worth Drinking
In Praise of the Sublime
Hardcover

* Individual store prices may vary.
Description
Winner of the Louis Roederer International Wine Writers' Awards Chairman's Award
A Best Wine Book of the Year by The New York Times
A "Best Wine Gift" by WineSpeed

A paean to authentic wines, describing their fundamental qualities and their power to improve and enrich our lives, from "one of the wine world's most intriguing personalities" (New York Times).

What makes a wine worth drinking? As celebrated wine writer Terry Theise explains in this gem of a book, answering that seemingly simple question requires us to look beyond what's in our glass to consider much bigger questions about beauty, harmony, soulfulness, and the values we hold dear. Most of all, Theise shows, what makes a wine worth drinking is its authenticity. When we choose small-scale, family-produced wine over the industrially produced stuff, or when we opt for subtle, companionable wines over noisy, vulgar ones, we not only experience their origins with the greatest possible clarity and detail—we also gain a new perspective on ourselves and the world we inhabit. In this way, artisanal wine is not only the key to good drinking; it is also the key to a good life.

An unforgettable literary journey into the heart and soul of wine, What Makes a Wine Worth Drinking is a gift to be cherished from a writer "whose id is directly connected to his mouth" (Eric Asimov, New York Times). 
Praise For What Makes A Wine Worth Drinking: In Praise of the Sublime…
"...I loved this book. Mr. Theise's companionable ruminations provide much to ponder, preferably with a glass of great wine."—Eric Asimov, The New York Times ("Best Wine Books of 2018") "Grown-up wine writing, full of emotion…and, in these dangerously cynical times, exactly what we wine enthusiasts—we human beings—need."—The World of Fine Wine "With Theise at the helm, a 'wine moment'…feels achievable, even to the novice. This intoxicating book illuminates a path to savoring good wine, body, and spirit."—Publishers Weekly "Theise's fans, as well as those just meeting him for the first time, will revel as he leads us on an existential tour of wine." —Dave McIntyre, Washington Post   "Will charm any wine lover...Theise's impassioned and erudite writing inspires as well as instructs, and most certainly complements the complexity of your favorite wine." —Alder Yarrow, Vinography "Terry's book is so much more than a guide to what makes wine worth drinking. It is the story of one man's complex love affair with wine, fraught with beauty, sadness, poignancy, wonderment, perplexity, and finally, surrender. If you're a wine drinker, this book will transform the way you think about wine. It did for me."—Karen MacNeil, author of The Wine Bible and creator of WineSpeed   "Compelling and poetic, Terry Theise's latest book is an intricate look into his brilliant wine mind, and an invitation to join in his lifelong journey of understanding and appreciation. A great read!"—Rajat Parr, co-author of Secrets of the Sommeliers   "A deeply philosophical meditation on wine as a sort of technology of the sacred—or put another way, how the sacred finds its way into our lives through the humble medium of wine.  As far as the 'right attitude' toward wine, Theise proposes something rather akin to Martin Buber's "I-Thou" relationship: an attitude beyond respect, indeed one of active reverence.  If you are mystified (and who amongst us is not from time to time?) by the incredibly complex world of wine, Theise's modern Guide to the Vinously Perplexed is for you."—Randall Grahm, founder, Bonny Doon Vineyard  "An extraordinary book from one of today's most important voices in wine. With erudite vision and eloquently persuasive prose, Theise reflects on a lifelong relationship with wine, presenting wine as a companion rather than merely a consumable product, arguing the moral importance of value judgment and offering insights on why and how you should care about what you drink. This is mandatory reading for anyone seeking to engage wine on more than a superficial level."—Peter Liem, author of Champagne and ChampagneGuide.net "The philosopher prince of American wine merchants reflects upon his craft in this deeply personal odyssey in wine.  Seamlessly merging autobiography and wider contemplation, What Makes a Wine Worth Drinking is at once uproariously funny and seriously profound. Essential reading for anyone concerned about authenticity in food and drink."—Francis Percival, co-author, Reinventing the Wheel: Milk, Microbes, and the Fight for Real Cheese —
Harvest, 9781328762214, 192pp.
Publication Date: November 6, 2018
About the Author
Terry Theise, winner of the James Beard Foundation's Award for Outstanding Wine and Spirits Professional, is an importer of boutique wines from Germany, Austria, and Champagne. His articles have appeared in The World of Fine Wine magazine. He was Wine & Spirits Man of the Year in 2001 and Food and Wine magazine's Importer of the Year in 2006. His award-winning first book, Reading Between the Wines, has been hailed as "the single best book I've ever read on why wine matters" (Karen MacNeil, author of The Wine Bible).He lives in Roslindale, MA.