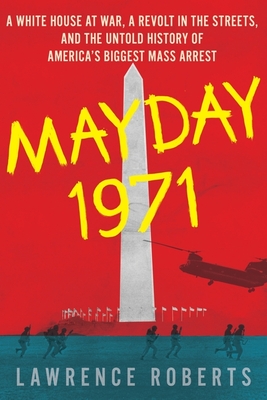 Mayday 1971
A White House at War, a Revolt in the Streets, and the Untold History of America's Biggest Mass Arrest
Hardcover

* Individual store prices may vary.
Other Editions of This Title:
Digital Audiobook (7/27/2020)
Paperback (4/27/2021)
MP3 CD (7/28/2020)
Description
A vivid account of the largest act of civil disobedience in US history, in Richard Nixon's Washington

They surged into Washington by the tens of thousands in the spring of 1971. Fiery radicals, flower children, and militant vets gathered for the most audacious act in a years-long movement to end America's war in Vietnam: a blockade of the nation's capital. And the White House, headed by an increasingly paranoid Richard Nixon, was determined to stop it.

Washington journalist Lawrence Roberts, drawing on dozens of interviews, unexplored archives, and newfound White House transcripts, recreates these largely forgotten events through the eyes of dueling characters. Woven into the story too are now-familiar names including John Kerry, Jane Fonda, and Daniel Ellsberg, leaker of the Pentagon Papers. It began with a bombing inside the U.S. Capitol—a still-unsolved case to which Roberts brings new information. To prevent the Mayday Tribe's guerrilla-style traffic blockade, the government mustered the military. Riot squads swept through the city, arresting more than 12,000 people. As a young female public defender led a thrilling legal battle to free the detainees, Nixon and his men took their first steps down the road to the Watergate scandal and the implosion of the presidency.
 
Mayday 1971 is the ultimately inspiring story of a season when our democracy faced grave danger, and survived.
 
Praise For Mayday 1971: A White House at War, a Revolt in the Streets, and the Untold History of America's Biggest Mass Arrest…
"Award-winning investigative reporter Lawrence Roberts tells the story superbly from start to finish . . . With a talent for research and an eye for colorful detail, Mr. Roberts presents a lot of new and overlooked material . . . Mayday has been paid less attention than other protests of the period, and its significance overlooked. Mr. Roberts's first-rate book redresses that imbalance."  —Wall Street Journal "A deeply researched narrative of Nixon's mass arrest of the thousands of protesters who flooded the capital in the darkest days of the Vietnam War."  —New York Times "A coherent, fast moving, and fascinating story."  —Christian Science Monitor "Fascinating… It's impossible to read Mayday 1971 without thinking of our own recent summer of unrest — and the autumn of discontent we face." —John Kelly, Washington Post "A great read on this remarkable event." —Philadelphia Inquirer "Vivid and deeply sourced . . . Roberts convincingly argues that the White House's authoritarian attitudes and actions foreshadowed the Watergate scandal."  —Publishers Weekly   "Roberts conveys the personal and political impact of a pivotal event in American history in a narrative that will engage readers of the time period and resonate with today's social justice activists."  —Library Journal "Kiff VandenHeuvel narrates this intense reexamination of Mayday 1971's mass protests in Washington, DC, as if he were reporting on a current event. His voice sounds charged, his pace is quick, and the result creates a dramatic audiobook. This is as it should be for a retelling of the highest number of mass arrests (12,000) in our nation's history." —AudioFile Magazine "Perceptive, thoroughly researched . . . Roberts creates a tense, brisk narrative . . . [and] offers sharply drawn portraits of key White House personnel and of many protestors . . .  A vivid history of passionate protest." —Kirkus Reviews "A brilliant investigation of the tense days when war, democracy and law collided on the streets of Washington, Mayday 1971 brings it all back in vivid detail and riveting story-telling. Here is a real-life thriller that shows the strength of our society and our system, important lessons for today's turmoil." —David E. Hoffman, author of The Billion Dollar Spy Roberts "relates the shameful story of what happened that year like a mystery writer.... He pinpoints the origins of this extraordinary drama." —Washington Independent Review of Books One of 2020's "most anticipated debut books."  —Library Journal "A riveting history crafted from first hand-testimonies of a pivotal time in our democracy. Roberts has unearthed compelling new dimensions of this important story." —Lynn Novick, director with Ken Burns of The Vietnam War   "This unraveling of the Mayday saga is not just history at its most illuminating, and top-drawer storytelling, but a narrative that resonates today, when our democracy is again being challenged." —Larry Tye, author of Demagogue: The Life and —
Mariner Books, 9781328766724, 448pp.
Publication Date: July 28, 2020
About the Author
LAWRENCE ROBERTS has been an investigative editor with ProPublica, the Washington Post, Bloomberg News, and the Huffington Post Investigative Fund. He was a leader on teams honored with three Pulitzer Prizes. Mayday 1971 is his first book.