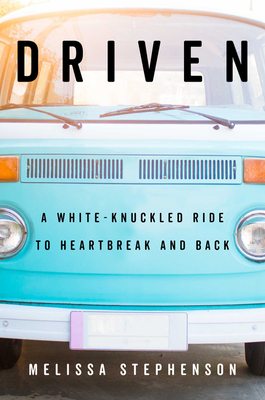 Driven
A White-Knuckled Ride to Heartbreak and Back
Hardcover

* Individual store prices may vary.
Other Editions of This Title:
Paperback (6/18/2019)
Compact Disc (7/24/2018)
MP3 CD (7/24/2018)
Compact Disc (7/24/2018)
Description
For fans of Wild, a searing memoir about one woman's road to hope following the death of her troubled brother, told through the series of cars that accompanied her

Growing up in a blue-collar family in the Midwest, Melissa Stephenson longed for escape. Her wanderlust was an innate reaction to the powerful personalities around her, and came too from her desire to find a place in the world where her artistic ambitions wouldn't be thwarted. She found in automobiles the promise of a future beyond Indiana state lines.

From a lineage of secondhand family cars of the late '60s, to the Honda that carried her from Montana to Texas as her new marriage disintegrated, to the '70s Ford she drove away from her brother's house after he took his life (leaving Melissa the truck, a dog, and a few mixed tapes), to the VW van she now uses to take her kids camping, she knows these cars better than she knows some of the people closest to her. Driven away from grief, and toward hope, Melissa reckons with what it means to lose a beloved sibling.

Driven is a powerful story of healing, for all who have had to look back at pain to see how they can now move forward.
Praise For Driven: A White-Knuckled Ride to Heartbreak and Back…
"Wanderlust is instilled in Stephenson from a young age, and cars both enable her spirit of adventure and allow her to get at intangible emotions while dealing with very tangible objects…Moving…We need more stories from women like [this]…[who] crave new experiences and knowledge, and are frank about the compromises they have to make for their families."—Outside

"Driven is an edgy memoir of cars, crises, and coming of age...[it's] worth reading for a quality more difficult to portray in dust jacket copy: being in the hands of a real writer and watching the mastery of craft on the page as [Stephenson] condenses and expands the moments of ordinary life into story, casting for insight and meaning...It's clear we're in the hands of a professional...[she] sets a scene so we feel like we're inside her skin...Stephenson exploits the bread and butter of memoir — parsing childhood experiences and complicated family dynamics — but Driven also explores edgier, more experimental terrain...Both the irony, and the beauty, of this book is that it isn't so much a story about her brother at all. This story is hers."—Texas Observer  

"Reading Melissa Stephenson's memoir Driven is like listening to a cool older cousin recount her version of your family history. The Missoula-based author references her own adventures (hitchhiking in Alaska, walking the Appalachian Trail solo) almost as asides, letting them quietly illustrate her strength of character without overtaking the main focus: her relationship with her troubled older brother, Matthew, and what his suicide at 28 revealed about the loved ones he left behind...Vividly specific [and] universal."—Missoula Independent

"It is the kind of busted knuckle-geekiness obsession Stephenson brings to her story, with humor and all-too-familiar pathos over simple details of any given automobile, that makes this book something special…Stephenson can flat-out write. She is a marvelous storyteller, with clean, simple prose that bears a surprising amount of emotional weight. Memoirs only work if the writer can make the reader care about their life — and that is far from automatic. Stephenson succeeds, and Driven is a debut to be proud of and a story, though often gut-wrenching, that many people will love."—Missoulian

"For Melissa Stephenson, cars represented getting out of her hometown in Indiana and steering herself her toward a promising future. Her memoir touches on depression, suicide, grief, and alcoholism, and how through it all, she kept moving forward. Driven will take you on a ride — one that you'll seriously enjoy and think about for years to come."—Hello Giggles

"In a passionate memoir, Stephenson finds comfort and freedom in the cars that grounded the turbulence and restlessness of her life."—Shelf Awareness

"A compassionate and honest narrative."—The Write Question, Montana Public Radio

"A coming-of-age memoir about wanderlust, grief, and perseverance, Stephenson's first book packs an emotional wallop . . . Readers of grief memoirs will especially want to seek this out, but so should anyone looking for a story of finding strength in oneself."—Booklist

"What a thrill to ride shotgun with Melissa Stephenson, 'Werewolves of London' blasting as she takes us along on a keen-eyed, big-hearted, and quintessentially American road-trip to self-discovery and a deeper understanding of her late, troubled, and charismatic older brother."—Rob Spillman, author of All Tomorrow's Parties

"Melissa Stephenson's Driven does the hard and wonderful work of exhuming the beauty from which disconnection and heartbreak is woven. Perhaps no life, she reminds us, is ever yet fully lived; and there's a beauty in that, too."—Rick Bass, author of For a Little While

"Driven is written with a poet's ear and a traveler's grit, and it will be a comfort to anyone who has watched a loved one self-destruct, or struggled with the complicated identity of little sister. Melissa Stephenson shines a light on her brother's dark path and ends up finding a road of her own."—Sarah Hepola, author of Blackout

"Lyrical and eloquent, Stephenson's book is a journey of pain, beauty, and healing that also celebrates the life of her tragically misunderstood brother. Raw, tender, and uniquely envisioned."—Kirkus Reviews, starred review

"Stephenson insightfully maps her family history with tales of strife and love; her beloved brother's mental illness and suicide; her marriage, motherhood, and divorce; and finally finding her voice as a writer. Stephenson's memoir offers a rewarding twist on an American story, and is filled with love, grief, grit, and healing."—Publishers Weekly

"Not all writers are survivors and not all survivors are writers but Melissa Stephenson is both and goddamn is she good. Driven is a book you will want to hold tight against your heart, to take with you everywhere you go. Piercing and beautiful."—Domenica Ruta, author of With or Without You

"With a searing honesty, Melissa Stephenson examines the decisions of her life and the often unexpected consequence.  Driven races through time like one of the many automobiles she drives, repairs, and loves.  Ultimately, she loves literature more, and this book is the grand and glorious result."—Chris Offutt, author of Country Dark
Houghton Mifflin Harcourt, 9781328768292, 256pp.
Publication Date: July 24, 2018
About the Author
MELISSA STEPHENSON earned her B.A. in English from the University of Montana and her M.F.A. in fiction from Texas State University. Her writing has appeared in publications such as The Rumpus, the Washington Post, ZYZZYVA, and Fourth Genre. Driven is her first book. She lives in Missoula, Montana, with her two kids.
or
Not Currently Available for Direct Purchase