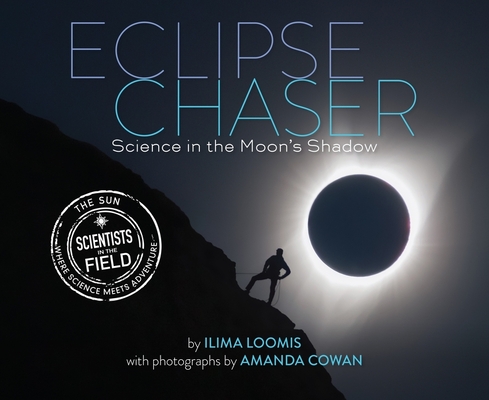 Eclipse Chaser
Science in the Moon's Shadow (Scientists in the Field Series)
Hardcover

* Individual store prices may vary.
Description
The August 2017 solar eclipse is the chance of a lifetime for astronomer Shadia Habbal—years of planning come down to one moment of totality.  Will everything go off as planned?  

On August 21, 2017, much of America stood still and looked up as a wide swath of the country experienced totality—a full solar eclipse. Even in areas outside the path of totality, people watched in awe as the moon cast its shadow on the sun. For most, this was simply a once-in-a-lifetime experience.

Not so for Shadia Habbal, who travels the world in search of solar eclipses in order to study the sun's corona. Solar wind and storms originating in the corona can have big effects on our planet. They can disrupt technology, expose aircraft to radiation, and even influence global climate change.

In the months leading up to the 2017 eclipse, Shadia assembles a team of scientists to set up camp with her in Mitchell, Oregon. Years earlier, a long, expensive trip to Indonesia to study an eclipse failed when the skies remained too cloudy to see it. Shadia is determined to have the 2017 eclipse be a success. Will the computers fail? Will smoke from nearby fires change direction? Will the cloudy skies clear in time? Readers will be on the edge of their seats as they count down the months, days, hours, and finally minutes until totality.
Praise For Eclipse Chaser: Science in the Moon's Shadow (Scientists in the Field Series)…
★ "Stellar science teamwork in an unusual spotlight." —Kirkus, STARRED review

"The awe and wonder of scientific research shine. An excellent addition to the 'Scientists in the Field' series." —School Library Journal

"Loomis's descriptions of this complex science are accompanied by special supplemental sections that make the book even more accessible...[Cowan's] pictures vividly capture mood and emotion, adding a truly human element to the adventure: the event is more than data in a textbook, it's hopes and dreams built on a few precious minutes....Budding astronomers should find much to enjoy in these pages and the Eclipse Chaser herself is likely to spark a light of interest in others as well."—Shelf Awareness

"This latest entry in the much-honored Scientists in the Field series invites readers to follow solar physicist Shadia Habbal and her team of observers studying the sun's coronal atmosphere during solar eclipses.... Loomis describes the team's labors in a suspenseful." —Booklist
HMH Books for Young Readers, 9781328770967, 80pp.
Publication Date: December 10, 2019
About the Author
Ilima Loomis is an award-winning freelance writer and journalist specializing in reporting on scientific research, especially in the areas of Earth and planetary science, oceans, astronomy, and space.  She has contributed to publications including Science, Science News for Students, National Geographic Traveler, and Spirituality & Health. She is based on Maui, Hawai'i. This is her first book for Houghton Mifflin Books for Young Readers