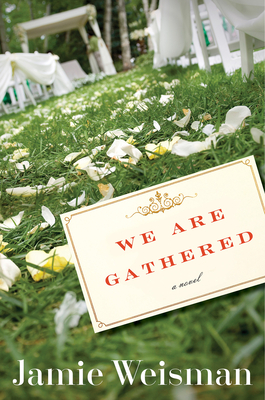 We Are Gathered
Hardcover

* Individual store prices may vary.
Other Editions of This Title:
Paperback (6/4/2019)
Compact Disc (7/24/2018)
Compact Disc (7/24/2018)
MP3 CD (7/24/2018)
Description
"A big-hearted and clear-eyed story of life's biggest choices: who to love and how best to love them…Compulsively readable and oh so worth the read."
—Heather Harpham, author of Happiness: The Crooked Little Road to Semi-Ever After  
 
YOU ARE INVITED…
 
To the wedding of Elizabeth and Hank. But the bride and groom are beside the point. Because, on this hot Atlanta afternoon, the people of the hour are the wedding's (adoring, envious, resentful, hilarious) guests.
 
Among them, Carla, Elizabeth's quick-witted, ugly duckling childhood best friend turned Hollywood film scout with a jaundiced view on life (and especially on weddings); Elizabeth's great-aunt Rachel, who is navigating a no-man's-land between cultures and identities; Elizabeth's wheelchair-bound grandfather Albert, who considers his legacy as a man in the boardroom, but mostly in the bedroom; and Annette, the mother of the bride, reminded now of her youthful indiscretions in love.
 
Tender and bitingly funny, We Are Gathered pulls you in and carries you through a (dysfunctional, loving, witty, unforgettable) world and family; it is a not-to-be-missed debut from a "writer to watch" (Caroline Leavitt).
 
Praise For We Are Gathered…
Long-listed for the 2019 JQ Wingate Literary Prize
Nominated for the Georgia Author of the Year Award, First Novel Category
One of Reading Group Choices' Most Popular June Books

"Skillfully told through multiple first-person narratives, We Are Gathered portrays not only the couple's story, but also—or rather, primarily—the stories of their friends and family…. Jamie Weisman adroitly constructs a community of characters, each created with a private network of thoughts and feelings, hopes and dreams…a masterful portrait of both sharp and delicate beauty." —Jewish Book Council

"As sparkling as a glass of champagne, and as moving as a wedding kiss, Weisman deconstructs the novel—and the nuptial—to tell a story about the guests, all of whom are bound to their pasts, created by their pain and elevated by their passions, set against the blazing hope of happily ever after. 'You can't know who you are until the end of the story,' says one character, but in this novel, it's clear who Weisman is from the first sentence: a writer to watch."
—Caroline Leavitt, best-selling author of Pictures of You and Cruel Beautiful World

"We are Gathered is suffused with insight and warmth, interweaving the voices of vastly different characters in a big-hearted and clear-eyed story of life's biggest choices: who to love and how best to love them. The fast-moving, playful intelligence Jamie Weisman brings to this book makes it both compulsively readable and oh so worth the read."
—Heather Harpham, author of Happiness: The Crooked Little Road to Semi-Ever After  

"With dazzling storytelling and a stunning eye for truth, Jamie Weisman gives voice to the never-heard in We Are Gathered, revealing the interior lives of wedding guests as they reckon with paths taken—and not. An amazing book."
—Randy Susan Meyers, author of The Widow of Wall Street

"Jamie Weisman's debut novel We Are Gathered is a pleasure. Like the best kind of party, it has an engaging, energetic mood, lots of captivating people to get to know, and no one wants to leave at the end."
—Tova Mirvis, author of The Book of Separation and The Ladies Auxiliary
 
"Weisman glides through several points of view with a graceful fluidity, illuminating the complex interior lives of her characters, and in doing so creates a poignant slice of life much greater than the sum of its eloquent parts."
—Kris D'Agostino, author of The Antiques

"Unique…compelling…creatively put together."
—Book Riot, "All the Books"

"Elizabeth Gottlieb is getting married; and although her bridegroom isn't Jewish, the family has invited 150 guests to the celebration. This debut novel by memoirist Weisman, however, is not about Elizabeth but about several of the guests at the wedding...Weisman's ability to explore these troubled minds creates a multifaceted story of the difficulties people face."
—Library Journal
Houghton Mifflin Harcourt, 9781328793294, 288pp.
Publication Date: June 5, 2018
About the Author
JAMIE WEISMAN is the author of the memoir As I Live and Breathe: Notes of a Patient-Doctor. She runs her own private dermatology practice just outside Atlanta, where she lives with her husband, two daughters, and their dogs. We Are Gathered is her debut novel.
or
Not Currently Available for Direct Purchase