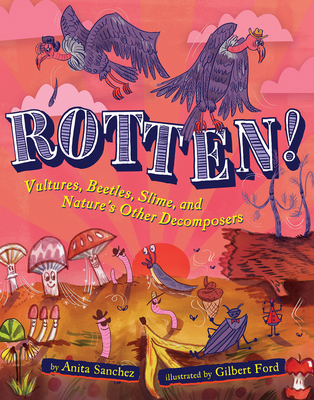 Rotten!
Vultures, Beetles, Slime, and Nature's Other Decomposers
Hardcover

* Individual store prices may vary.
Description
A funny and fact-filled look at decomposition in all of its slimy glory, illustrated with dazzling full-color art by Gilbert Ford. Vultures, fungi, dung beetles, and more aid in this fascinating and sometimes smelly aspect of the life cycle that's right under our noses.

What's that terrible smell? It's the revolting scent of rot. But being rotten isn't necessarily bad. If nothing ever rotted, nothing new could live.
Decomposition may seem like the last stop on the food chain, but it's just the beginning. When dead plants and animals decay, they give life to a host of other creatures, and each one helps ecosystems thrive. Decomposition happens in the forest, the ocean—even in your stomach and between your teeth! From vultures and sharks to bacteria, maggots, mushrooms, and more, discover the dirty rotten truth about one of nature's most fascinating processes.
Praise For Rotten!: Vultures, Beetles, Slime, and Nature's Other Decomposers…
"Thankfully, most stuff rots. This colorfully illustrated effort is aimed at a grade school audience that's sure to be appreciative of an oft-stinky subject."--Kirkus

"Rot in all its forms is on ­delightfully disgusting display in this introduction to decomposition."--School Library Journal

"Even readers who don't buy the claim that "decomposition can seem . . . almost magical" will come away appreciating how artfully nature moves in cycles."--Booklist

"Librarians who are "decomposing" their science collections in the interest of promoting fresh growth will want to take a look at this title."--The Bulletin of the Center for Children's Books
HMH Books for Young Readers, 9781328841650, 96pp.
Publication Date: January 22, 2019
About the Author
Anita Sanchez is the author of Leaflets Three: The Story of Poison Ivy, the middle-grade historical novel TheInvasion of Sandy Bay, Teeth of the Lion: The Story of the Beloved and Despised Dandelion, and Karl, Get Out of the Garden!:Carolus Linnaeus and the Naming of Everything, a picture-book biography. Visit Anita online at anitasanchez.com.
 Gilbert Ford is the illustrator of picture books such as Mr. Ferris and Wheel and Solider Song, as well as numerous covers for novels for young readers. His illustrations have appeared in books, magazines, newspapers, toys, billboards and advertisements. Visit Gilbert online at gilbertford.com.