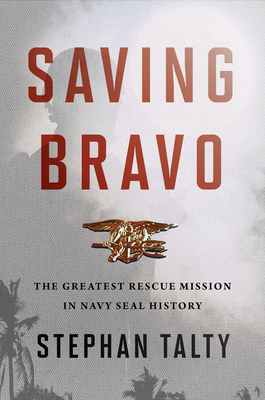 Saving Bravo
The Greatest Rescue Mission in Navy SEAL History
Hardcover

* Individual store prices may vary.
Other Editions of This Title:
Digital Audiobook (10/29/2018)
Paperback (10/29/2019)
Description
From the author of A Captain's Duty, the New York Times best-selling account of Captain Phillips, comes the untold story of the most important rescue mission not just of the Vietnam War, but the entire Cold War.

One American aviator, who knew our most important secrets, crashed behind enemy lines and risked capture by both the North Vietnamese and the Soviets. One Navy SEAL and his Vietnamese partner had to sneak past them all to save him.

At the height of the Vietnam War, few American airmen are more valuable than Lieutenant Colonel Gene Hambleton. His memory is filled with highly classified information that the Soviets and North Vietnamese badly want. When Hambleton is shot down in the midst of North Vietnam's Easter Offensive, US forces place the entire war on hold to save a single man hiding among 30,000 enemy troops and tanks. Airborne rescue missions fail, killing eleven Americans. Finally, Navy SEAL Thomas Norris and his Vietnamese guide, Nguyen Van Kiet, volunteer to go after him on foot. Gliding past hundreds of enemy soldiers, it takes them days to reach Hambleton, who, guided toward his rescuers via improvised radio code, is barely alive, deeply malnourished, and hallucinating after eleven days on the run.

In this deeply researched, untold story, award-winning author Stephan Talty describes the extraordinary mission that led Hambleton to safety. Drawing from dozens of interviews and access to unpublished papers, Saving Bravo is the riveting story of one of the greatest rescue missions in the history of the Special Forces.
Praise For Saving Bravo: The Greatest Rescue Mission in Navy SEAL History…
"Saving Bravo is a meticulously researched and masterfully told war story that will capture you and take you deep into the darkest jungles of Vietnam. It won't release you until you've sweated through every page of what indeed qualifies as the greatest rescue mission in Navy SEAL history." —Eric Blehm, New York Times bestselling author of Fearless, Legend, and The Only Thing Worth Dying For "A gripping true story of unbelievable courage. Talty puts a tingle at the nape of your neck and a knot of horror in the pit of your stomach." —Captain Rich Phillips, author of the New York Times bestselling A Captain's Duty   "A terrifying story of aviators shot down behind enemy lines. Saving Bravo gives us a fresh and insightful look into the chaotic rescue of Gene Hambleton deep in the jungles of Vietnam. A must read, packed with unsung heroes." —U.S. Marine Corps Staff Sergeant Michael Golembesky, New York Times bestselling author of Level Zero Heroes "Expertly researched and brilliantly told. The biggest rescue operation of the Vietnam War depended on the will of Gene Hambleton to evade the enemy and survive - and the wills of Navy SEAL Tom Norris and Nguyen van Kiet to save him. Bravo shows us the enormous sacrifices that went into the mission. This is the stuff that heroes are made of." – Stephen Templin, New York Times bestselling author of SEAL Team Six "Stephan Talty does it again. In Saving Bravo, Talty puts his prodigious story-telling and research skills to work on the miraculous story of Gene Hambleton, an over-the-hill flyboy who ejects out of a jet into enemy territory in Vietnam. A true story of human survival and the largest rescue mission of the Vietnam War, told so vividly you can practically hear the gunfire." —A.J. Baime, New York Times bestselling author of The Accidental President  "Saving Bravo is the best account I have read of this mission.  As a former SEAL I am very familiar with this legendary operation. Talty's research and writing lets you get to know the men and what they are feeling in this tribute to human perseverance. This book proves that real world SEAL ops are better than fiction." —Howard Wasdin, New York Times bestselling author of SEAL Team Six "Talty skillfully and engagingly tells the dramatic story of 12 fateful days in the life of then-52-year-old Air Force navigator Gene Hambleton... [He] brings in geopolitical and military strategy issues in this fully realized rescue story that will appeal to those in search of a (mostly) positive event that took place during the Vietnam War." —Publishers Weekly "A taut study of the largest military search-and-rescue operation in history and the lessons learned…[Talty] shows informed appreciation for military culture and the workings of war…[with] a well-conceived work of military history dissecting a seemingly minor episode that still speaks volumes."—Kirkus Reviews —
Mariner Books, 9781328866721, 336pp.
Publication Date: October 30, 2018
About the Author
STEPHAN TALTY is the award-winning author of Agent Garbo,Empire of Blue Water, and other best-selling works of narrative nonfiction. His books have been made into two films, the Oscar-winning Captain Phillips and Only the Brave. He is also the author of two psychological thrillers, including the New York Times bestseller Black Irish, set in his hometown of Buffalo. He has written for the New York Times Magazine,GQ, and many other publications. Talty now lives outside New York City with his family.
or
Not Currently Available for Direct Purchase