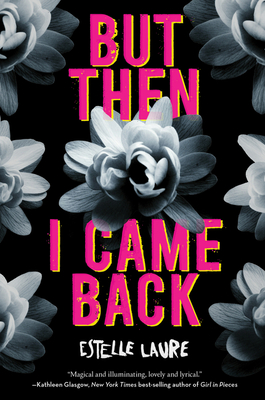 But Then I Came Back (Paperback)
HMH Books for Young Readers, 9781328869319, 320pp.
Publication Date: July 10, 2018
Other Editions of This Title:
Hardcover (4/4/2017)
* Individual store prices may vary.
Description
Waking from a coma, once cynical Eden sees the world in a new light and opens her heart to unfamiliar firsts, including love with Joe, a boy searching for answers to life's big questions. But Then I Came Back is a must-read for fans of David Arnold (Mosquitoland), Gayle Forman (If I Stay), E. Lockhart (We Were Liars), and Nicola Yoon (Everything, Everything).

From the author of This Raging Light comes the story of Eden Jones, a seventeen-year-old girl who feels lost after surviving a near fatal accident. Unable to connect with her family and friends, Eden forms an unlikely relationship with Joe, a boy who comes to the hospital to visit Jasmine, a friend who may soon be gone forever. Eden is the only person who can get through to Jasmine, but is she brave enough to face a world that's bigger and more magical than she ever would have allowed? Lyrical, unexpected, and romantic, Estelle Laure's new novel is about interwoven lives, long goodbyes, and the imperfect beauty of young love.
About the Author
Estelle Laure believes in love, magic, and the power of facing hard truths. She has a BA in Theatre Arts and an MFA from Vermont College of Fine Arts in Writing for Children and Young Adults, and she lives in Taos, New Mexico, with her family. Her work is translated widely around the world. Visit her at estellelaure.com and on Twitter at @starlaure.
 
Praise For But Then I Came Back…
* "Rendered with insight and compassion, Eden's struggles to make peace with the human condition add up to a riveting coming-of-age story." 
—Kirkus, starred review

"Laure creates an intriguing blend of realism and the unknowable in her sophomore novel. . . . Eden is simultaneously tough and fragile, and her struggle to figure out what her life should look like is compelling." 
—Publishers Weekly

"The romantic and thoughtful story of Eden Jones, a 17-year-old dancer. . . . the appeal lies in Eden's original, creative, and thought-provoking first-person (mostly) narrative. Fans of the first title will be happy to see Lucille through Eden's eyes, but this companion novel stands solidly alone." —Booklist

"Hand this to readers who like angst, romance, and a touch of otherworldliness..." —VOYA

"But Then I Came Back is a hauntingly beautiful dreamscape of sense, memory, fate, magic, and love. If you love mystical stories with sumptuously lyrical writing and characters who take up residence in your heart, this book is for you. In prose that shimmers like sunlight on water and sings like a ballad, Estelle Laure weaves a devastatingly beautiful tale of memory, fate, friendship, and love. Fans of Jandy Nelson and A.S. King take note."
—Jeff Zentner, author of The Serpent King
 
"But Then I Came Back is magical and illuminating, lovely and lyrical. Laure's examination of loss and longing, of saying goodbye to the past so you can say hello to the future, is a story you don't want to miss."
—Kathleen Glasgow, New York Times bestselling author of Girl in Pieces
 
"Much like Laure's writing, Eden's story is haunting and raw. You will root for her as she struggles through her new reality and fall with her as she finds love."
—Goldy Moldavsky, author of Kill the Boy Band


Praise for This Raging Light:

Winter 2015-2016 Kids' Indie Next Pick!

"Her first-person narration is lyrical, akin to that of a Francesca Lia Block character, but there's an undercurrent of roughness in her voice… heartbreakingly hopeful, lyrically told..." —Kirkus

 "Estelle Laure's prose is utterly gorgeous, even as it lays out the story of a girl dealing with the failings of her parents, death, and her own insecurities." —BookRiot

"Estelle Laure's This Raging Light might be YA, but it's got plenty of grown-up appeal." —entertainmentweekly.com

"Laure's debut stands out for her keen understanding of the spectrum of human emotions, and her ability to put tough feelings into beautiful prose."
—Horn Book

"In an assured debut, Laure gives Lucille a fierce stubbornness that keeps her going. . . The characters are well drawn, and Laure effectively depicts the adrenaline rush of love." —Publishers Weekly

"This Raging Light is a funny, heartwrenching, and soulful read as Lucille develops her own personal family, bloodline or not. It's not one you'll soon forget." —Bustle

"Lucille's fresh, first-person voice spills over with metaphor, poetically capturing her emotional landscape with force and fury, frantic love and absolute exhaustion." —Shelf Awareness

"Laure's debut is brilliant and not to be missed." —RT Book Reviews

"Lucille may not take down a beast or assassinate any super bads, but she's what heroines look like and love like in real life." —Justine magazine

"[a] poetic, heartbreaking read that will resonate with teens." —BookPage online

"The narrative rings authentic, especially as Lucille wrestles with romantic pangs. Thankfully, there's enough wry humor to balance the worry and poignancy. Above all, you'll love steadfast Lucille and keep caring about what comes next." —Atlanta Journal Constitution 

"Lucille is a steel-strong, deeply human heroine fighting against impossible odds." —BNTEENblog

"Readers will be seduced by the love affair budding between Digby and Lucille as much as she is. The characters are believably flawed, but eminently likeable, leaving the reader with hope for humanity." —Montana Public Radio

"Laure's debut stands out for her keen understanding of the spectrum of human emotions, and her ability to put tough feelings into beautiful prose." —Horn Book

"Bursting with feeling, like a seventies pop song, Estelle Laure's This Raging Light should be read at a feverish clip and then passed on to your favorite friend." —Campus Circle

"I loved this book. I was torn between wanting to devour it in one breathless read and needing to stop and savor each gorgeous turn of phrase.  This is a remarkable debut." —Morgan Matson, author of Amy & Roger's Epic Detour and Since You've Been Gone

"This Raging Light is a funny, poetic, big-hearted reminder that life can—and will—take us all by surprise sometimes." —Jennifer E. Smith, author of The Statistical Probability of Love at First Sight and The Geography of You and Me

"Estelle Laure writes with power and lyricism—but more than that, she writes honestly from the heart. Definitely a writer to watch!" —A.M. Jenkins, Printz Honor winning author of Repossessed

"With This Raging Light, Estelle Laure establishes herself as a literary heavyweight. Laure's characters mimic her writing, at once visceral and brave, unafraid to confront love in its every facet—surprising, surpassing, flawed. This book is a thick quilt in a cold room, and I want to wrap myself in it." —David Arnold, author of Mosquitoland

"[Laure] has a raw, authentic voice and a passion for storytelling." —Matt de la Peña, Pura Belprée honoree and award-winning YA novelist of The Living and Mexican WhiteBoy