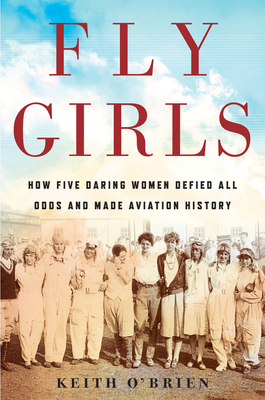 Fly Girls
How Five Daring Women Defied All Odds and Made Aviation History
Hardcover

* Individual store prices may vary.
Other Editions of This Title:
Paperback (3/5/2019)
Paperback, Large Print (8/22/2019)
Compact Disc (8/7/2018)
Compact Disc (8/7/2018)
MP3 CD (8/7/2018)
Library Binding, Large Print (10/17/2018)
Description
A NEW YORK TIMES BESTSELLER

"Exhilarating." —New York Times Book Review

"Riveting." —People

"Keith O'Brien has brought these women—mostly long-hidden and forgotten—back into the light where they belong. And he's done it with grace, sensitivity and a cinematic eye for detail that makes Fly Girls both exhilarating and heartbreaking." —USA Today

The untold story of five women who fought to compete against men in the high-stakes national air races of the 1920s and 1930s — and won
 
Between the world wars, no sport was more popular, or more dangerous, than airplane racing. Thousands of fans flocked to multi‑day events, and cities vied with one another to host them. The pilots themselves were hailed as dashing heroes who cheerfully stared death in the face. Well, the men were hailed. Female pilots were more often ridiculed than praised for what the press portrayed as silly efforts to horn in on a manly, and deadly, pursuit. Fly Girls recounts how a cadre of women banded together to break the original glass ceiling: the entrenched prejudice that conspired to keep them out of the sky.

O'Brien weaves together the stories of five remarkable women: Florence Klingensmith, a high‑school dropout who worked for a dry cleaner in Fargo, North Dakota; Ruth Elder, an Alabama divorcee; Amelia Earhart, the most famous, but not necessarily the most skilled; Ruth Nichols, who chafed at the constraints of her blue‑blood family's expectations; and Louise Thaden, the mother of two young kids who got her start selling coal in Wichita. Together, they fought for the chance to race against the men — and in 1936 one of them would triumph in the toughest race of all.
 
Like Hidden Figures and Girls of Atomic City, Fly Girls celebrates a little-known slice of history in which tenacious, trail-blazing women braved all obstacles to achieve greatness.
Praise For Fly Girls: How Five Daring Women Defied All Odds and Made Aviation History…
A NEW YORK TIMES BEST SELLER

A Time Magazine Best Book for Summer
A Costco "Pennie's Pick"
Named a "Must Read" by Bustle, BookPage, Garden & Gun, Parade
One of iBooks' "Summer's Most Anticipated Books"
An Amazon "Best Book of the Month"
"Exhilarating...vibrant...O'Brien's prose reverberates with fiery crashes, then stings with the tragedy of lives lost in the cockpit and sometimes, equally heartbreaking, on the ground."—New York Times Book Review

"Keith O'Brien has brought these women—mostly long-hidden and forgotten—back into the light where they belong. And he's done it with grace, sensitivity and a cinematic eye for detail that makes "Fly Girls" both exhilarating and heartbreaking." —USA Today
"Mr. O'Brien, a former reporter for the Boston Globe working in the tradition of 'Hidden Figures' and 'The Girls of Atomic City,' has recovered a fascinating chapter not just in feminism and aviation but in 20th-century American history." —Wall Street Journal

"A riveting account that puts us in the cockpit with Amelia Earhart and other brave women who took to the skies in the unreliable flying machines of the '20s and '30s." —People Magazine
"Let's call it the Hidden Figures rule: If there's a part of the past you thought was exclusively male, you're probably wrong. Case in point are these stories of Amelia Earhart and other female pilots who fought to fly."—Time

"This book ends like a perfect landing, taking its place in readers' hearts just like the women at its core took their place in history."—The Coil
 
"Keith O'Brien's spectacularly detailed Fly Girls [recreates] a world that can still inspire us today."—BookPage
 
"[An] engrossing mix of group biography and technology history."—Nature 
 
"[A] page-turner that will make you appreciate just how soaring the spirit of women has always been."—MindBodyGreen

"Fly Girls is an inspiring and insightful story of five courageous women who risked their lives and made a place for women in the male-dominated field of aviation. Keith O'Brien has shone a light on the forgotten struggle of women for equality as well as the little-known aspect of aviation history. Fly Girls is as much about the courageous female pilots as it is about the history of aviation. This meticulously researched and brilliantly written book brings those brave aviators to life. Keith O'Brien has filled the holes in scholarship about women's struggle and aviation." —Washington Book Review
"O'Brien details in crisp and engaging writing how his subjects came to love aviation, along with their struggles and victories with flying, the rampant sexism they experienced, and the hard choices they faced regarding work and family. Highly recommended for readers with an interest in aviation history, women's history, cultural history, and 20th-century history." — Library Journal, STARRED review

"Journalist O'Brien tells the exciting story of aviators who, though they did not break the aviation industry's glass ceiling, put a large crack in it....This fast-paced, meticulously researched history will appeal to a wide audience both as an entertaining tale of bravery and as an insightful look at early aviation." —Publishers Weekly  

"A vivid, suspenseful story of women determined to defy gravity—and men—to fulfill their lofty dreams." —Kirkus Reviews

"Air races captivated the nation during the golden age of aviation in the 1920s and 1930s, and few participants drew more attention than the female pilots who challenged the male-dominated field. O'Brien focuses on five of those women...The narrative flows easily....as O'Brien shifts between them, showing their competitive spirit and camaraderie even in the face of the trying circumstances of the first Women's Air Derby in 1929." —Booklist

"This is more than history; it is a powerful story for our times. This book has it all: adventure, tragedy, and heroes who overcame cruel prejudice to rule the air. Fly Girls reads like a heart-stopping novel, but this story is all true—and thoroughly inspiring." —Karen Abbott, author of Liar, Temptress, Soldier, Spy

"Newspapers loved them, of course: lady fliers! But men didn't want them in their races. Other forces conspired against them too. Storms loomed. Planes crashed and burned. But no challenge could stop the remarkable community of female pilots at the core of Fly Girls. During the golden age of flight, they fought for the chance to race – and won. This is a thrilling story of courage, competition, skill, and triumph." —Liza Mundy, author of Code Girls

"America's past is full of remarkable women who have been unjustly forgotten. Fly Girls gives its heroines their due at last. It is a thrilling and important story, superbly told." —David Maraniss, Pulitzer Prize–winning author of Once in a Great City

"At the dawn of aviation, when every flight was a test of courage, a remarkable band of female pilots proved that a woman's place is in the sky – or anywhere else she wants to be. This book is a soaring tribute to forgotten American heroes, filled with white-knuckle thrills and gut-wrenching emotion. It'll take your breath away." —Mitchell Zuckoff, author of 13 Hours
 
"If you liked The Boys in the Boat or Unbroken, you'll love Fly Girls. This story—carefully researched and expertly written—offers an irresistible cast of characters and high-octane drama. Buckle up; you're in for a hell of a ride." —Jonathan Eig, author of Ali
Eamon Dolan/Houghton Mifflin Harcourt, 9781328876645, 352pp.
Publication Date: August 7, 2018
About the Author
Keith O'Brien is journalist who has written for the New York Times and Politico and he's a longtime contributor to National Public Radio. His work has appeared on shows such as All Things Considered, Morning Edition, and This American Life. He is a former staff writer for the Boston Globe and the author of Outside Shot: Big Dreams, Hard Times, and One County's Quest for Basketball Greatness. He lives in New Hampshire.
 
or
Not Currently Available for Direct Purchase