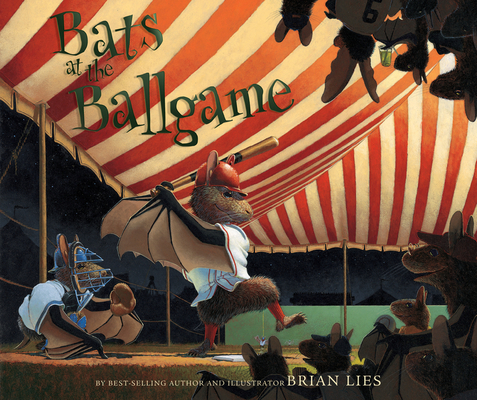 Bats at the Ballgame (A Bat Book) (Paperback)
HMH Books for Young Readers, 9781328886132, 32pp.
Publication Date: April 3, 2018
Other Editions of This Title:
Digital Audiobook (5/23/2013)
Hardcover (9/6/2010)
* Individual store prices may vary.
Description
On deck and ready for the spring lineup, New York Times bestselling author-illustrator Brian Lies's ode to "batty" baseball fans.

Hurry up! Come one—come all! 
We're off to watch the bats play ball! 

You think humans are the only ones who enjoy America's national pastime? Grab your bat—the other kind—and your mitt, because it's a whole new ballgame when evening falls and bats come fluttering from the rafters to watch their all-stars compete. Get set to be transported to the right-side-up and upside-down world of bats at play, as imagined and illustrated by best-selling author-illustrator Brian Lies.
 
About the Author
Brian Lies is the award-winning author-illustrator of the New York Times bestsellers Bats at the Beach, Bats at the Library, Bats at the Ballgame, and Bats in the Band. He has written and illustrated more than twenty books for children. Born in Princeton, New Jersey, Brian lives on the South Shore of Massachusetts with his family.
www.BrianLies.com 
Praise For Bats at the Ballgame (A Bat Book)…
"Baseball stadiums have an innate magic, never more so than in the hands of Lies, whose latest has the winged creatures gathering for an epic game, complete with 'beenuts and Cricket Jack,' and an upside down audience" —Publishers Weekly, starred review
"The visual effect is quite stunning, with some fantastically disorienting upside-down spreads to reflect the fans' hanging position, and much of the language is utterly delicious."—Kirkus Reviews, starred review
"Careful readers will find plenty of inventive details to make this latest outing to the bats' nocturnal world worthwhile." —School Library Journal
Praise for Brian Lies' New York Times best-selling books:
Bats at the Beach
"Brilliant, brilliant paintings . . . just a whiz-bang summer book, anytime book. Everybody should look at this." —Daniel Pinkwater, NPR's Weekend Edition Saturday
"Perfect for sharing with younglings of the wingless sort." —Kirkus Reviews
"The book truly soars in the dark yet luminescent art. . . . A grand adventure." —School Library Journal
"Fetching . . . [A] wonderful read-aloud." —Newsday
Bats at the Library
"The library-after-dark setting works a magic all its own, taking Lies and his audience to an intensely personal place." —Publishers Weekly, starred review
"[Lies] brings a sure, expressive and transporting hand to this story of a colony of bats paying a nighttime visit to a small-town library." —Kirkus Reviews
"Illustrations teem with bats so charming they will even win over chiroptophobes." —Booklist
"Another tale of bat mischief . . . the charm is all in the story itself." —New York Times Book Review