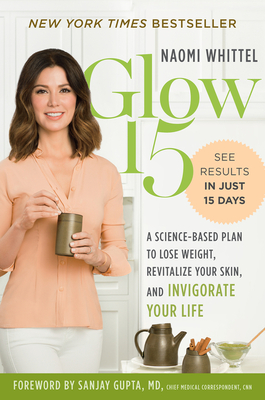 Glow15
A Science-Based Plan to Lose Weight, Revitalize Your Skin, and Invigorate Your Life
Hardcover

* Individual store prices may vary.
Other Editions of This Title:
Paperback (3/5/2019)
MP3 CD (9/10/2018)
Compact Disc (9/10/2018)
Description
A New York Times Bestseller

Have you put on weight in recent years that you can't lose? Do you crave more energy and stamina in your day? Is your skin drier than it used to be? Has your hair started to feel dry and look limp?

If you said yes to one or more of these questions, then Glow15 is your answer. Based on the breakthrough Nobel Prize-winning science of autophagy—the process by which cells remove toxins, recycle parts, and repair their own damage—Glow15 is a lifestyle plan that will make you look and feel younger. In just 15 days, you'll begin to harness the power of autophagy to drop pounds, get glowing skin, and restore your energy through

• DIET Discover IFPC: a combination of intermittent fasting and protein cycling to lose weight—and wrinkles.
• ENERGY Drink an autophagy-activating ketogenic tea to boost your metabolism.
• EXERCISE Do less to get more out of your workouts.
• SLEEP Identify your sleep type and create a customized routine for your best rest yet.
• BEAUTY Find the newest ingredients and cutting-edge treatments to get glowing.

Naomi Whittel travels from spice markets in Bangalore, India, to farms in Okinawa, Japan, to vineyards in Bordeaux, France, with one mission: to discover the purest health-promoting ingredients that can help women transform their lives. Her travels give her unprecedented access to renowned scientists around the world, and in Glow15 she shares the research and advice she's learned from these experts, who include MDs, dermatologists, sleep doctors, nutritionists, and fitness physiologists.

Get step-by-step guidelines from America's best-loved "wellness explorer" for each part of this easy-to-follow program, including more than 50 delicious autophagy-boosting recipes, as well as illustrated exercises you can do at home. Plus, find out what this 44-year-old CEO and mother of four does to defy aging—from her personal autophagy hacks, to youth-boosting "Powerphenols," to how to get glowing.
Praise For Glow15: A Science-Based Plan to Lose Weight, Revitalize Your Skin, and Invigorate Your Life…
A New York Times Bestseller "Glow15 teaches you how to turn on a cellular superpower called autophagy. It's one of the biggest secrets to staying young! Read this book if you want to feel—and look—young for the rest of your life!" —DAVE ASPREY, founder of Bulletproof Coffee and New York Times best-selling author of Head Strong and The Bulletproof Diet "The science of autophagy in skincare is astounding! Naomi Whittel teaches us that we can activate our skin cells to act younger – fighting off signs of aging on the deepest level from the inside out." —DENDY ENGLEMAN, MD, celebrity dermatologist "Glow15 is the book we have been waiting for. Through clear and practical strategies based on exciting new science, Naomi Whittel maps out how we age and how to slow—and even reverse—the aging process. If you find yourself aging year by year (which means all of us), then this book is for you." —MARK HYMAN, MD, director of the Cleveland Clinic Center for Functional Medicine and #1 New York Times best-selling author of Eat Fat, Get Thin —
Harvest, 9781328897671, 320pp.
Publication Date: March 6, 2018
About the Author
Naomi Whittel is a leading nutritional expert and media personality. She is the founder of Reserveage Nutrition and CEO of Twinlab Consolidated Holdings, where she develops solutions for wellness, better health, longevity, and natural beauty. Named by Prevention magazine as the nation's leading female innovator in the natural products industry, she and her products have been praised by the Wall Street Journal, Vogue, ELLE, Harper's Bazaar, ABC News, PBS, The Doctors, Dr. Oz, SHAPE, Good Morning America, and the TODAY show, among many others. She appears regularly on QVC, and her products are found in more than 38 countries. Born in Switzerland, Whittel lives in Florida with her husband and their four children. Learn more about Naomi and subscribe to her newsletter at naomiwhittel.com.