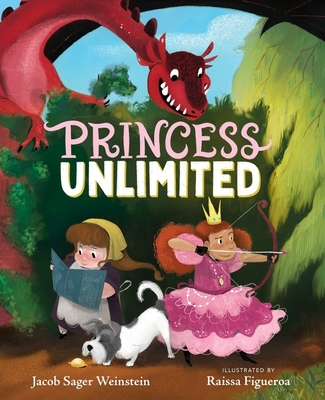 Princess Unlimited
Hardcover

* Individual store prices may vary.
Description
The funny and empowering tale of a determined princess who takes matters into her own hands when a dragon ravages her kingdom and her royal parents are too preoccupied with frills and sparkles to help.

The kingdom is under attack from a dragon, and the king and queen have emptied the royal coffers to buy sparkly things for the princess. But Princess Susan doesn't want sparkly things! She wants to save the kingdom! So, with the help of an outspoken scullery maid and a loyal canine companion, she rolls up her sleeves and gets to work. As formidable as the dragon is, Princess Susan's most daunting challenge may be convincing her parents to pay attention to what she wants and actually listen to her. Fortunately, the resourceful and entrepreneurial princess has a perfect (and delightfully unexpected) plan to ensure that everyone—even the dragon—lives happily ever after.
 
Praise For Princess Unlimited…
"In a tale that mixes business with heroics, Weinstein's (Lyric McKerrigan, Secret Librarian) text is full of determination, and Figueroa's (We Wait for the Sun) art has the compositional verve and plucky characterizations of classic Disney animation."—Publishers Weekly
 
"It is always delightful to find a children's story that shakes things up, encouraging laughter, bravery, and individuality…. Sager Weinstein's story is a reminder that communication isn't easy, but it is worthwhile. Figueroa's art is lush and fierce…. This essential purchase smashes societal barriers erected against gender and is an enjoyable reminder to think outside the box."—School Library Journal
 
Clarion Books, 9781328904744, 32pp.
Publication Date: November 9, 2021
About the Author
Jacob Sager Weinstein's picture books include Lyric McKerrigan, Secret Librarian, illustrated by Vera Brosgol. His work for adults has appeared in The New Yorker, McSweeney's, andThe Onion. He lives in London. jacobsagerweinstein.com Twitter: @jacobsw

Raissa Figueroa is an illustrator and graphic designer based in San Diego, California. Her art graces such picture books as Princess, Inc., by Jacob Sager Weinstein, and Oona, by Kelly DiPucchio. rizzyfig.com, Twitter and Instagram: @rizzyfig