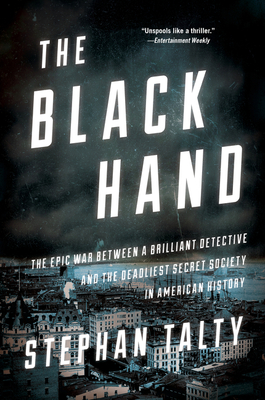 The Black Hand (Paperback)
The Epic War Between a Brilliant Detective and the Deadliest Secret Society in American History
Mariner Books, 9781328911193, 336pp.
Publication Date: April 17, 2018
Other Editions of This Title:
Hardcover (4/25/2017)
MP3 CD (6/27/2017)
Compact Disc (12/7/2018)
* Individual store prices may vary.
Description
"Gripping . . . A valuable recounting of a lurid and little-known episode in American history." — Washington Post
 
Beginning in the summer of 1903, an insidious crime wave stirred New York City, then the entire country, into panic. The children of Italian immigrants were being kidnapped and dozens of innocent victims gunned down. Bombs tore apart tenement buildings. Judges, senators, Rockefellers, and society matrons were threatened with gruesome deaths. The perpetrators' only calling card: the symbol of a black hand.
     Standing between the American public and the Black Hand's lawlessness was Joseph Petrosino. Dubbed "the Italian Sherlock Holmes," he was a dogged and ingenious detective and master of disguise. As the crimes grew ever more bizarre, Petrosino and his all-Italian police squad raced to capture members of the secret criminal society before the nation's anti-immigrant tremors exploded into catastrophe.
     The Black Hand is a fast-paced story of mystery, terror, sacrifice, and honor in turn-of-the-century America, from a master of narrative nonfiction.
 
 "Taut, brisk, and very cinematic." — Newsday
About the Author
STEPHAN TALTY is the award-winning author of Agent Garbo,Empire of Blue Water, and other best-selling works of narrative nonfiction. His books have been made into two films, the Oscar-winning Captain Phillips and Only the Brave. He is also the author of two psychological thrillers, including the New York Times bestseller Black Irish, set in his hometown of Buffalo. He has written for the New York Times Magazine,GQ, and many other publications. Talty now lives outside New York City with his family.
Praise For The Black Hand: The Epic War Between a Brilliant Detective and the Deadliest Secret Society in American History…
"What a terrific read! Through incredible historical research and a detective's eye for the telling detail, Stephan Talty chronicles Joseph Petrosino's dogged pursuit of cold-blooded extortionists and killers. It's a story about immigration, urban life, and the struggle of law enforcement to confront the terror spread by a start-up criminal underworld at the turn of the twentieth century."
—Dick Lehr, author of the New York Times bestseller Black Mass 

"The Black Hand is a fascinating immersion into an almost forgotten time and culture in which a mysterious criminal enterprise terrorized immigrants seeking a new life in America. Stephan Talty's book provides a richly woven, engrossing tale of one man determined to help his fellow Italian Americans resist the threat and prosper. A solid addition to the American history library."
—Gregory A. Freeman, author of The Forgotten 500

"Stephan Talty is a marvelous storyteller, and with The Black Hand, he's hit a gusher: the true tale of one of New York City''s greatest detectives at war with a lethal secret society and at odds with his own department. In Talty's hands, this is a thrilling instant classic."
—Robert Kolker, author of the New York Times  bestseller Lost Girls

"Given the secret nature of the Black Hand—which terrorized New York and the nation a century ago—Talty's account is extraordinarily detailed. Even more intimate is the portrait of Petrosino, chief Mafia detective. An important and gripping book."
—A. J. Baime, author of The Arsenal of Democracy

"Readers of this propulsive, cinematic book will feel transported to a crucial moment in our history. Stephan Talty's masterful portrayal of this early age of organized crime swept me up instantly and didn't let go until the final page. In the spirit of The Black Hand's richly evoked Italian-American world, I say 'bravo.'"
—Charles Brandt, author of the New York Times bestseller I Heard You Paint Houses

"The Black Hand is nonfiction noir at its best: a real-life Godfather prequel that pits an unforgettable Italian-American hero against the seemingly unstoppable menace that would become the New York Mafia."
—Mark Adams, author of the New York Times bestseller Turn Right at Machu Picchu

"Stephan Talty's thoroughly researched The Black Hand vividly recounts the rise of Italian organized crime in New York, the Italian immigrant police detective who led the fight against it, and the anti-Italian hysteria it aroused across America. It's a great book." —Tyler Anbinder, author of City of Dreams

"Stephan Talty's The Black Hand offers a fascinating glimpse of a period in New York City in what is a classic and suspenseful account of a growing terror and the detective who won't give up, no matter what it costs him."—Gilbert King, Pulitzer Prize–winning author of Devil in the Grove

"The story of what [Petrosino] did almost single-handedly, as well as the systems he devised to do so, is fascinating, and the persecution, low pay, abuse, and ignorance of the immigrants' rich culture strike a chord close to home these days. Talty is an excellent storyteller, and this particular story is highly relevant as America's next set of immigrants struggles for acceptance."—Kirkus Reviews, starred review