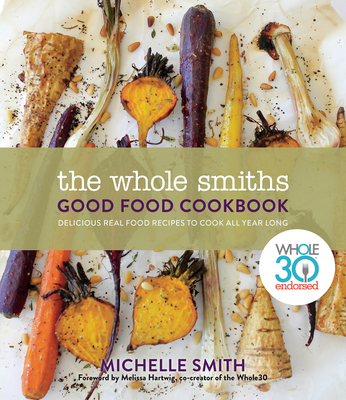 The Whole Smiths Good Food Cookbook
Whole30 Endorsed, Delicious Real Food Recipes to Cook All Year Long
Hardcover

* Individual store prices may vary.
Description
Delicious and healthful recipes from the popular blog TheWholeSmiths.com–fully endorsed by Whole30

As fans of the Whole30 know, it can be challenging to figure out how to eat for the other 335 days of the year. Michelle Smith, creator of the blog The Whole Smiths, has the answers. This cookbook, the first ever fully endorsed and supported by Whole30, offers a collection of 150 recipes to keep Whole30 devotees going strong. Many recipes like Spaghetti Squash Chicken Alfredo are fully Whole30-compliant, and all are gluten-free, but you'll also find recipes with a careful reintroduction of grains, like the tortillas in the Chile Enchilada Bake. Some recipes include beans and legumes, so there are plenty of vegetarian options. There are even desserts like Chocolate Chip and Sea Salt Cookies! Throughout the book, icons help readers identify which recipes fit their dietary constraints (and which are easily adaptable), but perhaps most important of all, the recipes are a delicious way to help anyone achieve a long-term approach to good health.
Praise For The Whole Smiths Good Food Cookbook: Whole30 Endorsed, Delicious Real Food Recipes to Cook All Year Long…
"… the recipes truly shine in inventive fare, like salmon with shredded squash and dill; dairy-free broccoli with chicken ranch potatoes; a recipe called Cloud Eggs Furikake, which features a baked egg yolk nested atop whipped egg whites. Each recipe is noted for its applicability for vegan, paleo, and Whole30 dieters, should they have questions. Throughout, Smith suggests flavorful recipes for such standbys as sweet potato hash, salmon-avocado salad, and barbecue chicken meatballs, all of which come together in minutes. Health-minded home cooks who aren't adhering to a strict dietary regimen will find new dishes to incorporate into regular rotation." —Publishers Weekly "Michelle's food ticks all my boxes: healthy, realistic, delicious, and fun. There are lots of Whole30-compliant recipes, but plenty of variety for your food freedom. And it's stuff I can actually pull off on a richly scheduled day; whole-food, nutritious meals that also taste fantastic." —from the Foreword by Melissa Hartwig, Whole30 Headmistress   "I'm a longtime reader of The Whole Smiths and Michelle's debut cookbook is everything I was hoping it would be: fun, fabulous, family-tested recipes that are perfect for everyone who loves good food!" —Michelle Tam, New York Times best-selling cookbook author and creator of Nom Nom Paleo   "This book is full of inspiration and wonderful recipes that solve the problem of what to make for dinner." —Teri Turner, founder and creator of nocrumbsleft   "Michelle truly keeps it real in her new book—real food, and real talk!  I appreciate how approachable the recipes are, and love how I can find all the ingredients at my local grocery store! She focuses on an abundance of healthy and delicious meal ideas that are easy to prepare and will leave you and your family satisfied. This book is a perfect addition to any health-inspired cookbook collection!" —Kirsten Buck, Buck Naked Paleo   "The Whole Smiths Good Food Cookbook should be a staple in all homes that are wanting to clean up their diets and lifestyle. Each recipe is unique and creative yet approachable to all levels of home cooks. I know that busy families will love and live off this book, and I look forward to making many of these dishes." —Alex Snodgrass, creator of The Defined Dish
Harvest, 9781328915092, 288pp.
Publication Date: June 5, 2018
About the Author
Michelle Smith is the blogger behind the popular food blog, The Whole Smiths, and author of the best-selling The Whole Smiths Good Food Cookbook. She resides in the San Francisco Bay Area with her husband and two young daughters. When Michelle's children were born, she started paying close attention to the foods they were eating and quickly realized how much processed food had become "normal" food in so many households, hers included. After dabbling in the paleo diet she quickly saw improvement in her family's overall health and wellness and was hooked. Shortly thereafter, she decided to start a food blog called the Whole Smiths and share the recipes that she was creating for her family. Michelle is passionate about creating healthy dishes the entire family will enjoy and doesn't feel that clean eating should feel pretentious, but accessible and fun for everybody. When she's not tinkering around in the kitchen she enjoys hiking, yoga, and live music.